A traditional Scottish kilt themed Elope in Puglia
Getting married in Italy is one most beautiful desire that our brides have in their drawer!
However looking at Italy the choice is not easy. Destination should certainly match your personality satisfy your wishes.
There are many regions in Italy featuring wonderful landscapes, traditional destination that can make your dreams come true. One of these is Puglia!
The so-called heel of the boot of Italy and it could be the perfect destination for your big day.
Valle d'Itria is now recognized as the Wedding Valley, as the matter of fact it has many wonderful venues that could be ideal for a traditional Italian wedding. One of the most popular destinations in Puglia is definitely Polignano a Mare.
Just like Ellisha and Timothy did. They arrived a few days before the big day to enjoy Puglia. They lodged in an amazing apartment masseria very close to the town of Polignano. They wanted a relaxing and fun experience to spend with their friends and witnesses.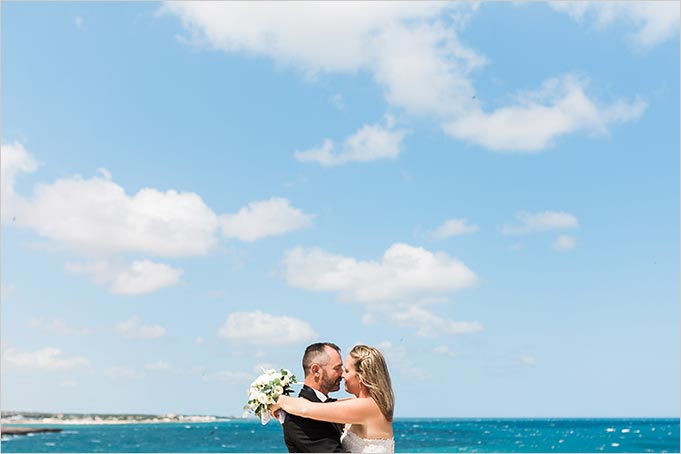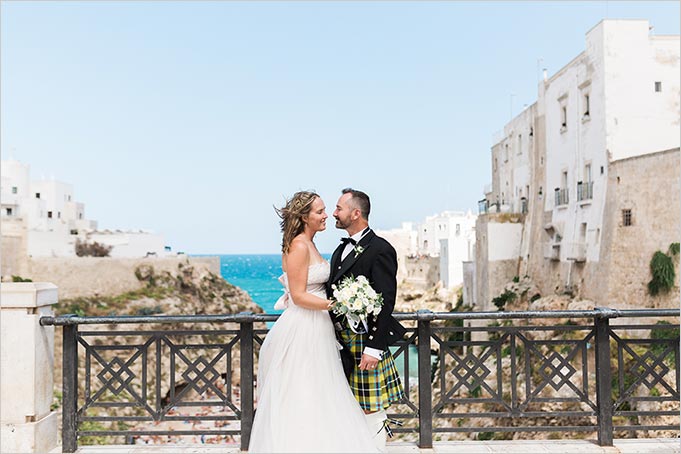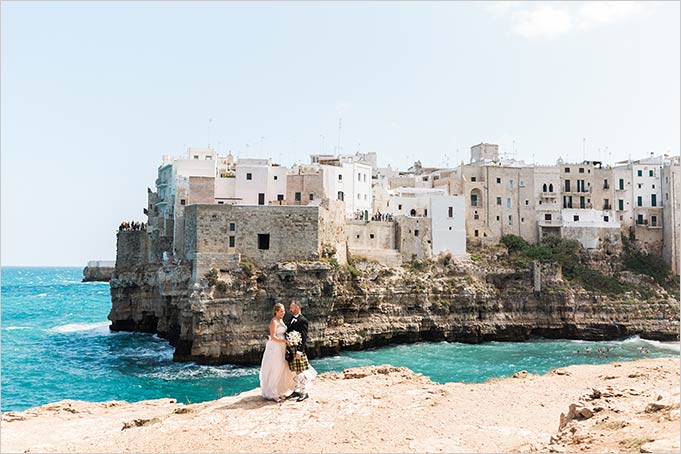 The wedding day was beautiful. It was a bit windy and the sun was shining. Everything was ready to give Elliha and Timothy the most exciting emotions. Puglia is a land kissed by sun, you can breathe a clean, genuine air… you just stay here forever! This is how they felt. They were incredibly happy about their choice!
An intimate Elope in Puglia
Ellisha and Timothy are English, they come from Penzace UK. They chose Polignano a Mare as their wedding destination. Are you wondering why?
Certainly explanations are more than plausible! The place has crystal clear waters, caves and breathtaking sceneries. The town is one of the most listed in terms of tourism and overlooks completely overhanging Adriatic Sea. Those people lucky enough to visit it will be certainly fascinated.
They decided to get married in summer, and planning their event was a real pleasure for me!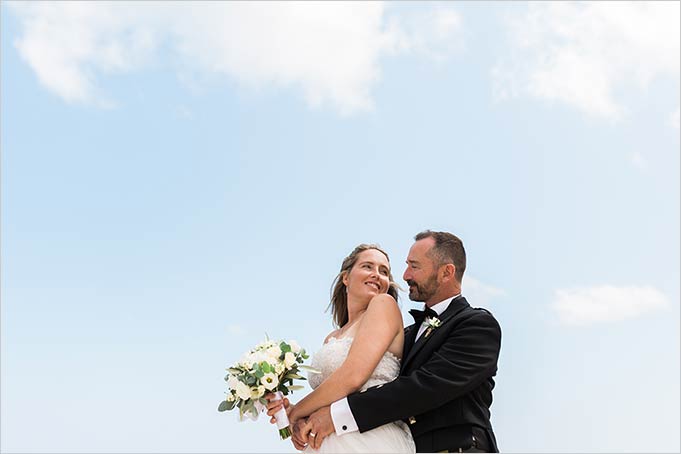 Legal Civil Ceremony in Polignano a Mare – Puglia
Preparations for the wedding started a couple of months before the big day. Once selected the ceremony venue everything was so simple and exciting.
The ceremony was very private and intimate. They only had two witnesses as guests. Everything was taken care of down to the smallest details for them. We planned the ceremony at Pini Pascali museum. It is located just 4 minutes from Polignano a Mare center overlooking the sea. The venue let you admire Adriatic sea and the sky from the inside, thanks to its large glass walls. A wonderful ceremony venue indeed!
Bridal bouquet and the mini bouquet had in their hands were both inspired by summer season. They were made up of white peonies pink roses and some touches of olive trees to recall Puglia.
Bride's was incredibly happy, her eyes shone with joy. Groom's candor was particularly striking: a figure distinguished by its grandeur and elegance.
It was a romantic elope ceremony!
Groom did not wear the classic wedding suit or a tuxedo, but his traditional Scottish kilt. His choice was made to honor his origins. And that was great!
Wedding ceremony was intimate and romantic. Witnesses were very happy about the wedding venue chosen and to be their with their friends in such an important day.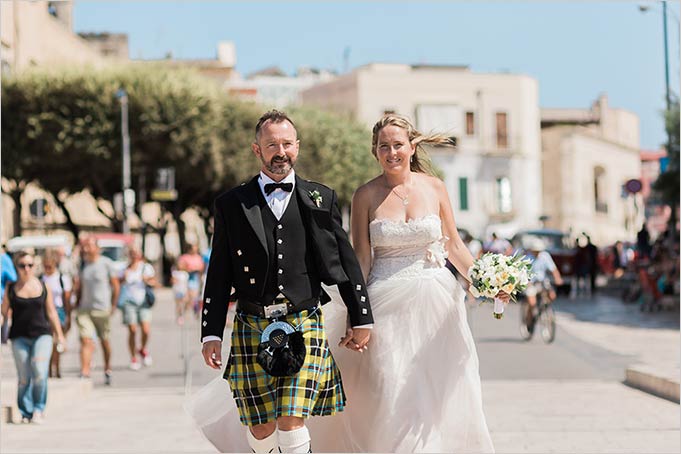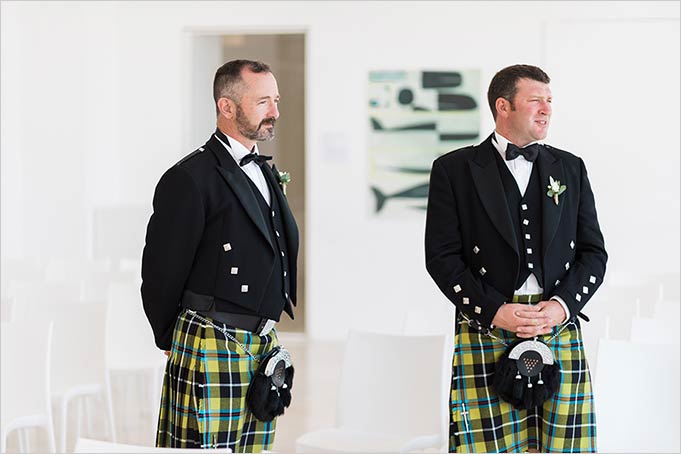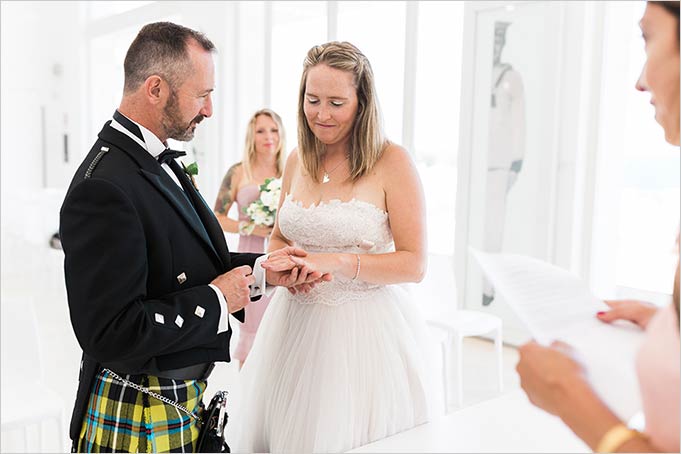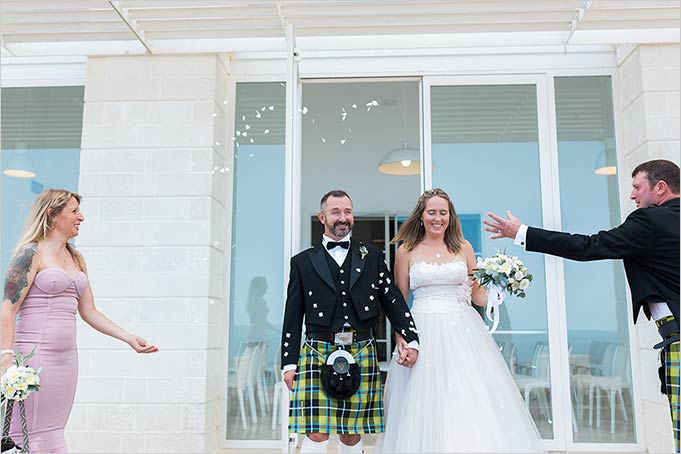 Wedding photos in Polignano a Mare
After the ceremony outside of the municipal building, couple chose to keep on walking through the streets of Polignano a Mare
This was possible because Polignano roads are not busy. Polignano has a fairly quiet pace of life, far from the usual hectic routine we are used to. It was an unforgettable moment, sparkling and very emotional, wedding photos are a great memento!
Thanks to the excellent work of Antonio di Rocco photographer.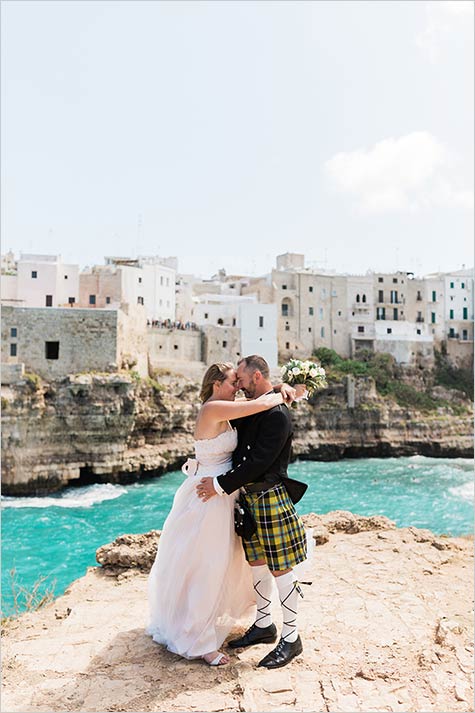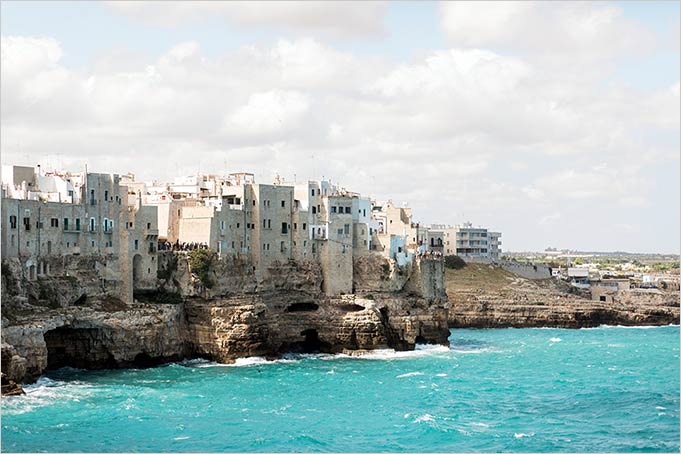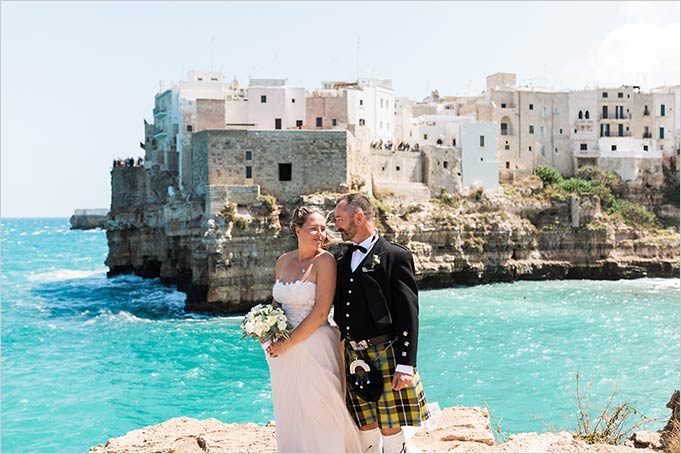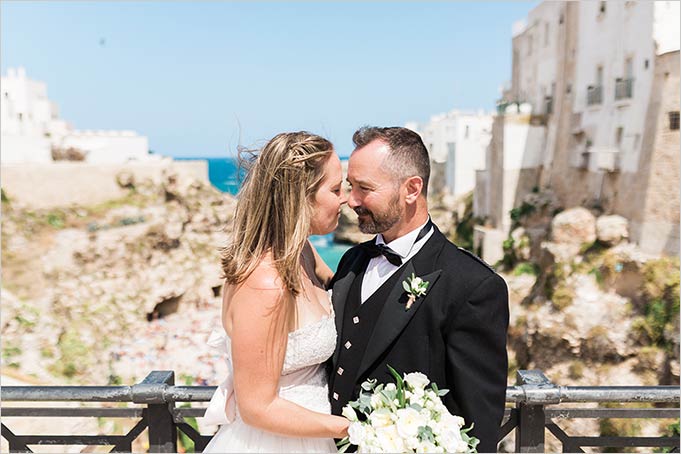 Walking along traditional roads of Polignano a Mare
No use of a car or any other vehicle! We preferred the simplicity that most of the time makes the difference in a wedding.
The whole village seemed to be partying, the passers-by stopped to admire Ellisha and Tim, beautiful and original, other passers-by would ask them for a picture together, attracted by the peculiarity of the groom's dress. That was magic for all of them and all of us!
These joyful moments are just here in these spectacular romantic shots.
For their wedding lunch we suggested beautiful Donna Gina restaurant overlooking the sea.
This made the moment even more enchanting!
Wedding photos describe amazing moments that will remain etched in bride and groom's minds forever. It was a fabulous day.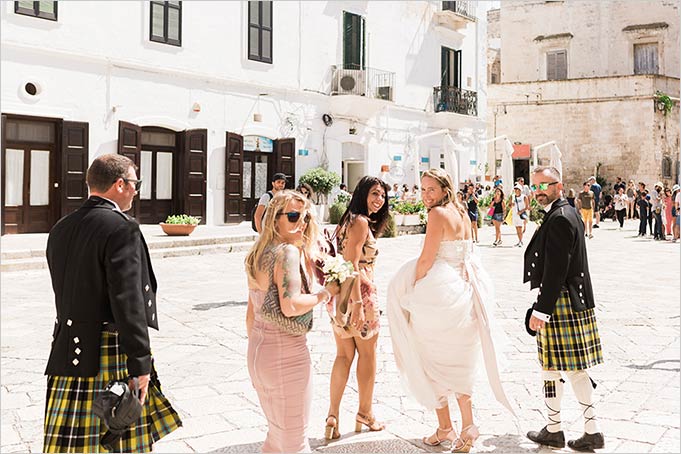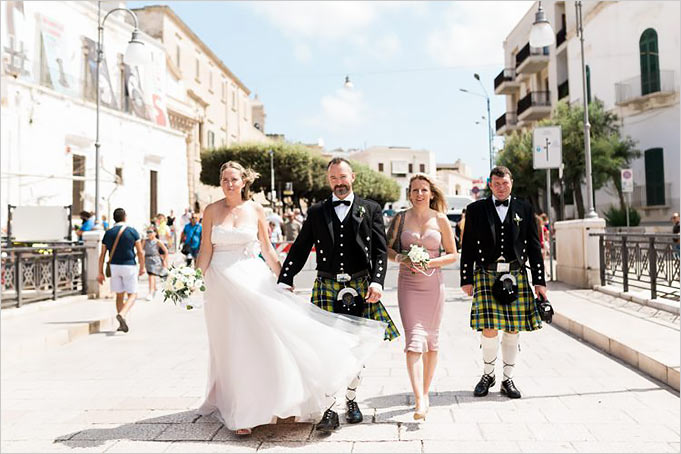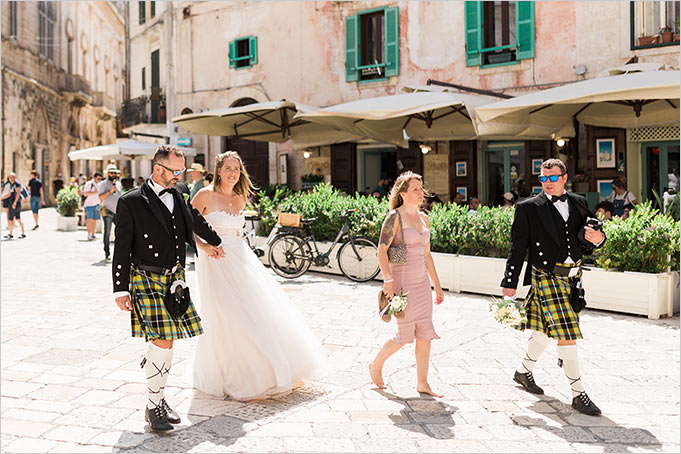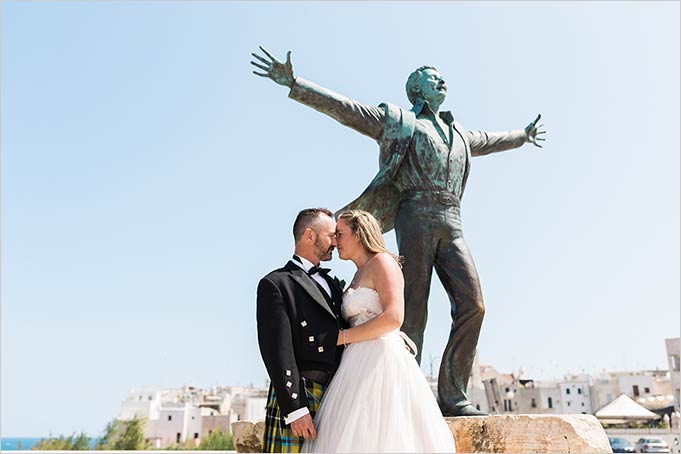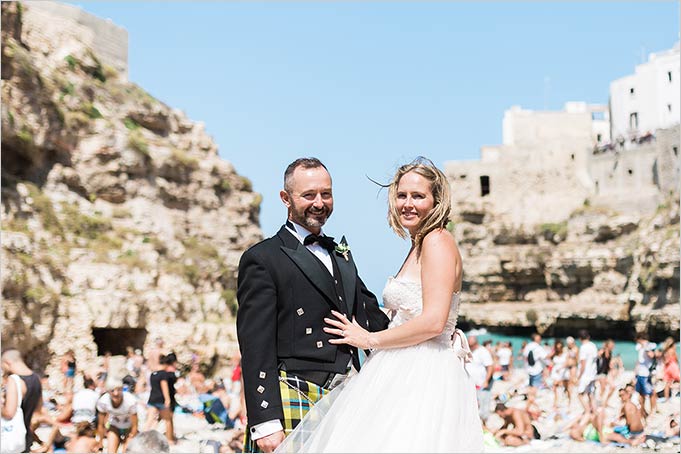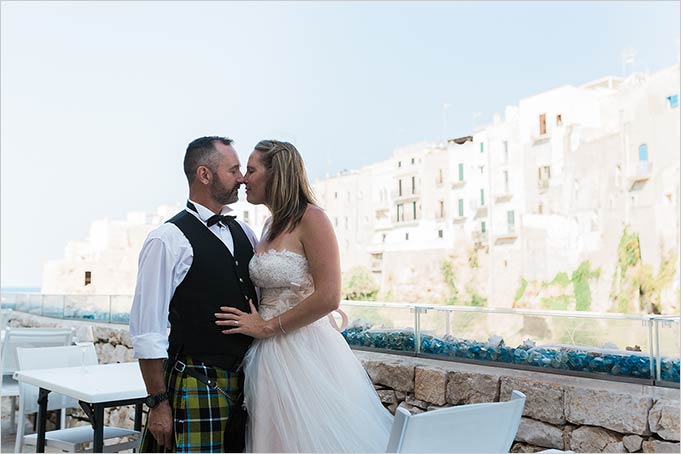 Puglia region offers unique emotions!
If you want to a similar experience, choose Puglia and you will not regret it.
Dreamlike locations, great food and wonderful people distinguishes this ideal place.
It must be said that over the sea, Puglia offers several precious places, such farms, resorts or a ancient villas. There are many possibilities and I invite you to visit Puglia in person to get an idea of the evokative reality.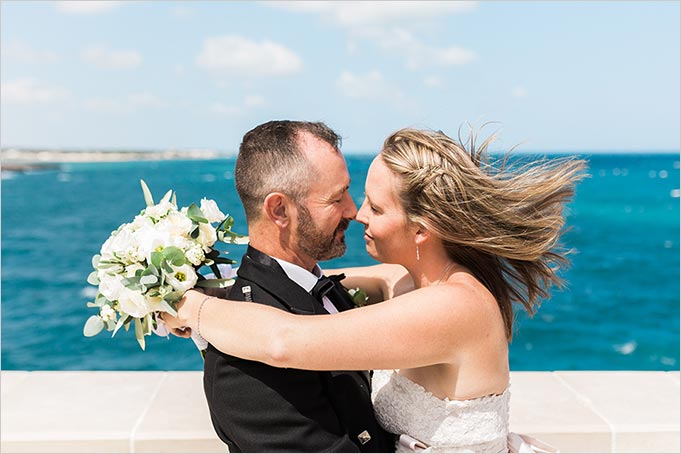 Getting married in Puglia means giving space to your dreams!