An intimate wedding in Sicily
Posted at 6 February 2023
in
Sicily
Sicily is a particularly unique destination for a wedding in Southern Italy. The story I'm going to tell you is fantastic!
On a beautiful Sicilian summer day, Dana and Rich celebrated their Intimate wedding in Sicily!
They arrived in Taormina from faraway Canada to exchange vows surrounded by their closest loved ones.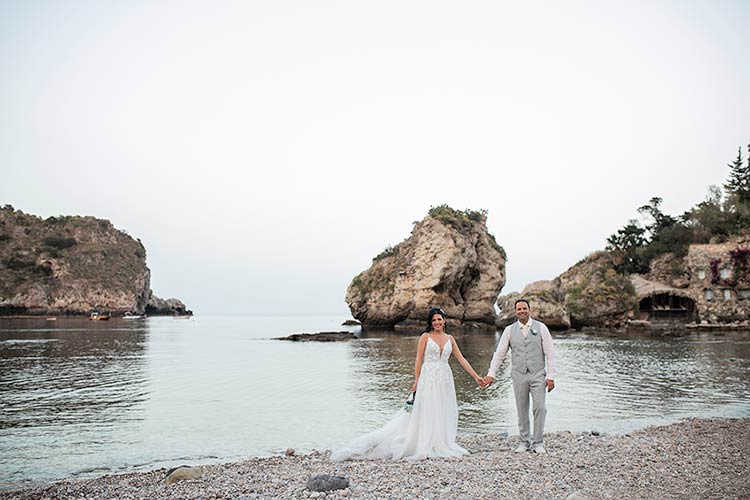 An intimate wedding in Sicily
Taormina is magic!
As soon as they arrived in the small Sicilian town, they were enchanted by the breathtaking views and the charming atmosphere in the streets of Taormina's historic center. Dana and Rich were concerned when we started preparing for the event, and I proposed they organize their Sicilian wedding in Taormina. They needed to learn about Sicily well and feared they would not find a unique place for their wedding. But they soon changed their opinion when they arrived in Taormina, an enchanting place that attracts many tourists worldwide every year. Here you can find history, culture, nature, and fun!
They immediately fell in love with the location where the ceremony and the reception took place. A beautiful and charming resort overlooking the sea of Taormina and nestled in the Isola Bella Nature Reserve, La Plage resort.
It was inspiring to be next to Dana and Rich on their wedding day…. they were very excited, mainly because they had their families and loved ones close by with whom to share their intimate wedding in Sicily.
An intimate wedding in Sicily
Getting ready at a private villa in Taormina
The groom and bride got ready in a beautiful private villa in the historic center of Taormina with a breathtaking sea view.
Bride Dana was excited and overjoyed to get ready with the most important girls in her life and her young son by her side at all times. It was an emotional moment that moved everyone present. The essence of an intimate wedding in Sicily.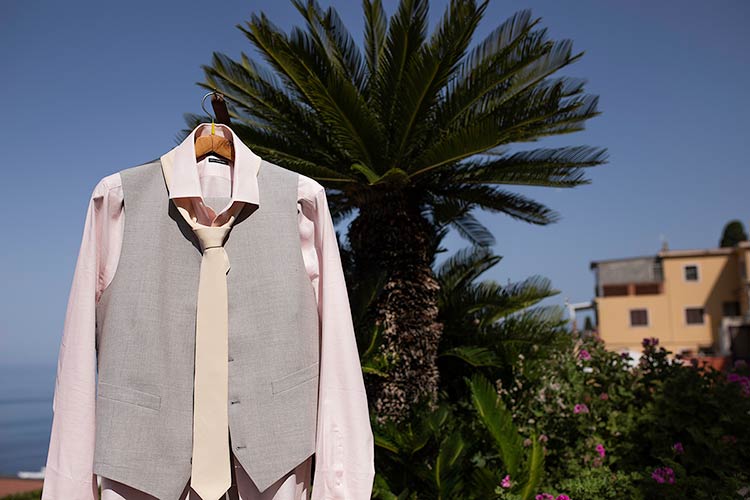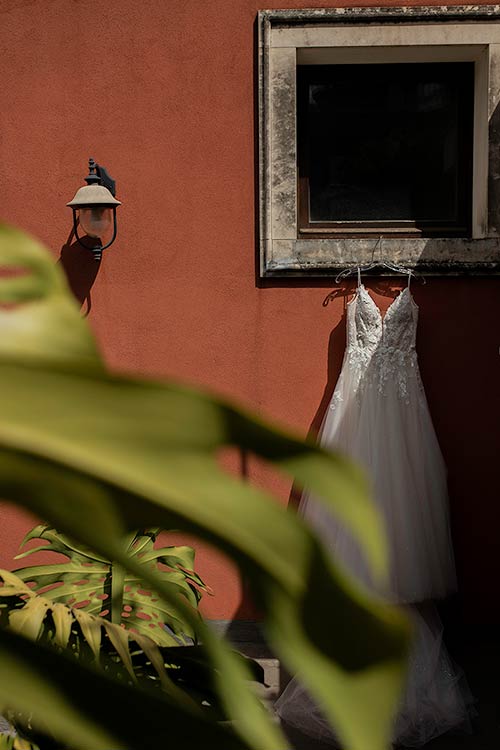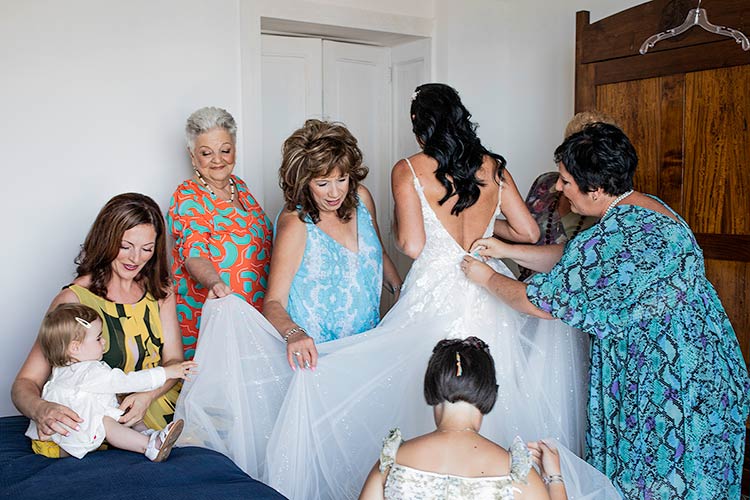 An intimate wedding in Sicily
A ceremony with a view over Isola Bella in Taormina
The bride walked down the aisle, to the notes of Ave Maria – F. Schubert, into the beautiful terrace overlooking the Sicilian sea that the bride and groom chose to crown their dream of love: an intimate wedding in Sicily! Radiant by her father's side, she walked down the long corridor to the ceremony venue, where an emotional groom awaited her. The exchange of vows was followed by the ribbon ritual involving the whole family. Everything was accompanied by the violin and cello playing their most moving songs.
Among sea-blue hydrangeas and white flowers, the ceremony ended with throwing rice and petals.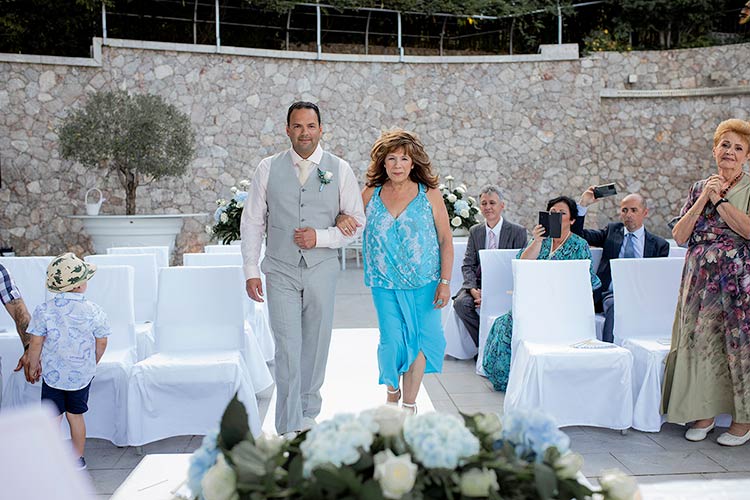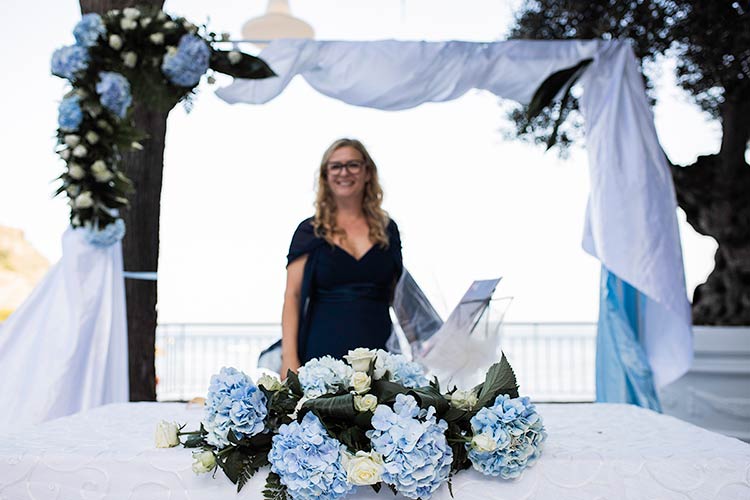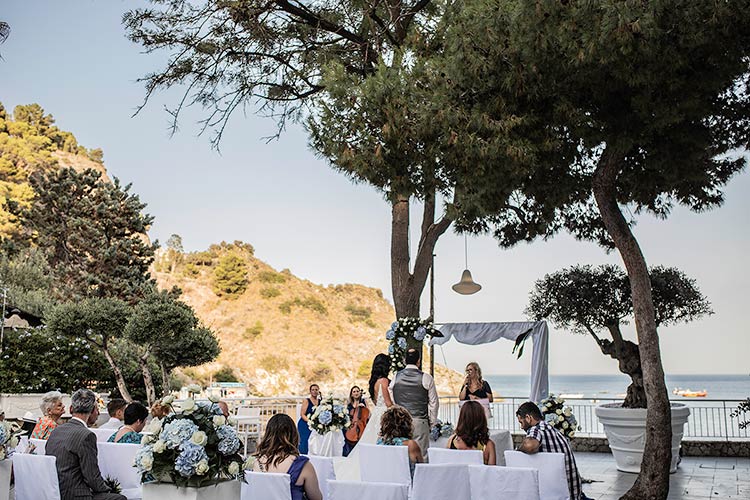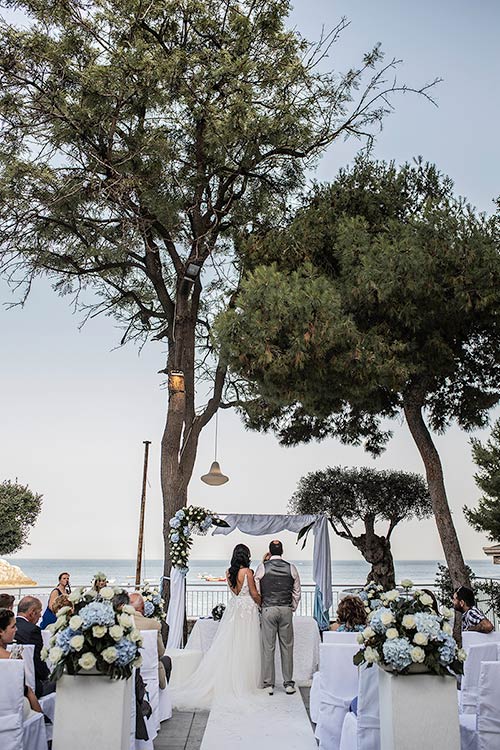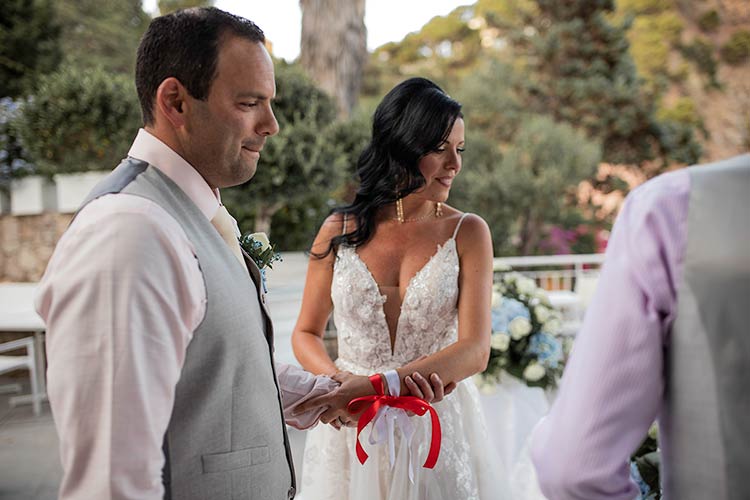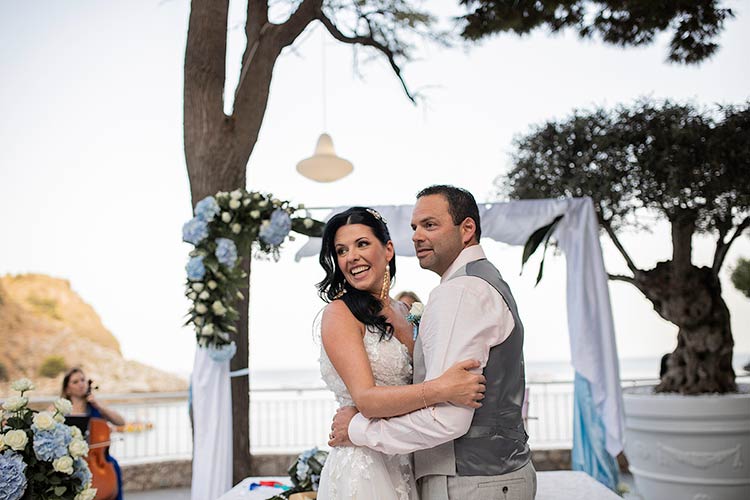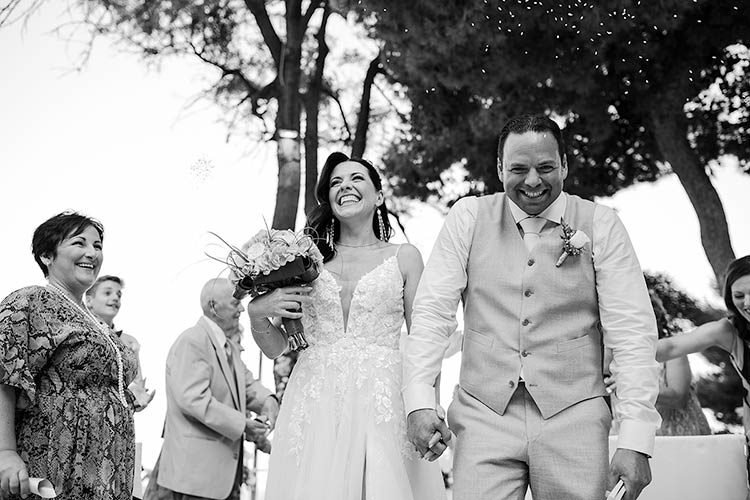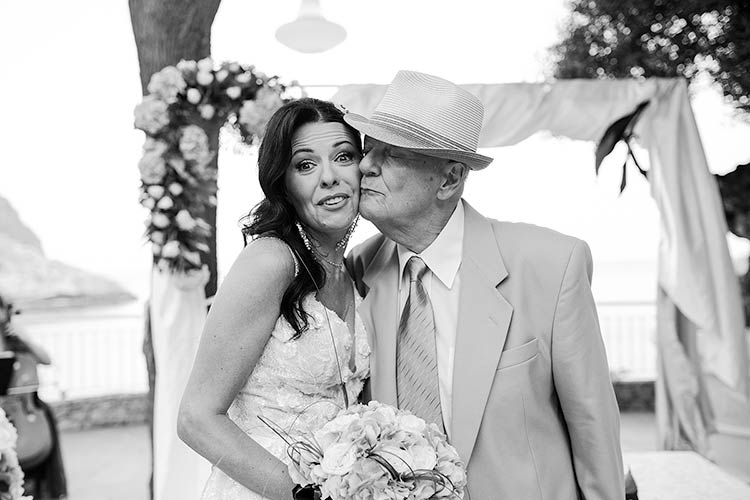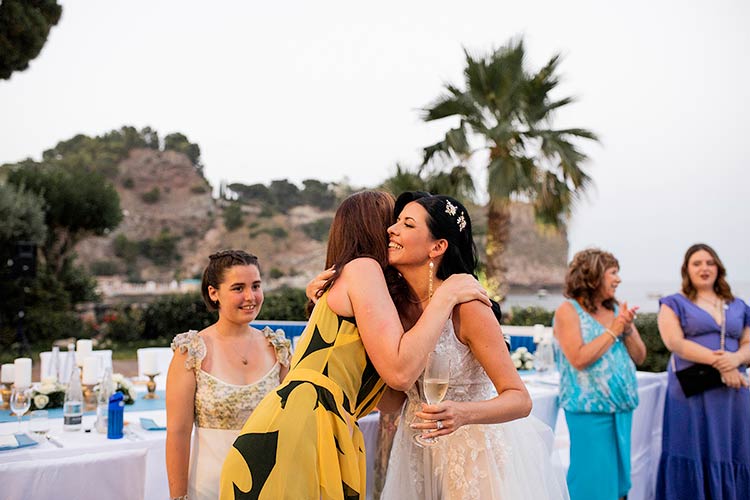 The bride and groom could not miss photos along the beautiful beach before Isola Bella. A strip of private beach that served as a backdrop for photos of intimate and beautiful moments.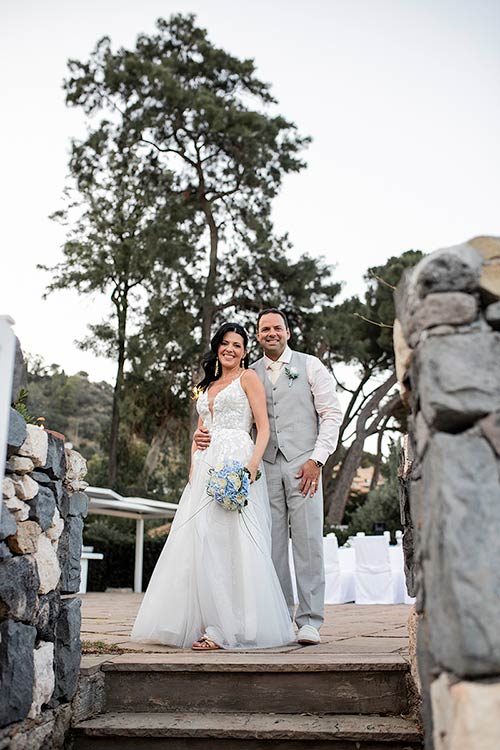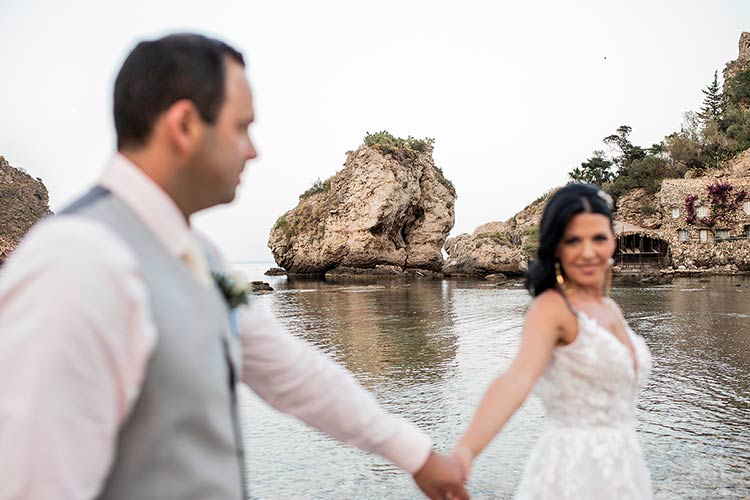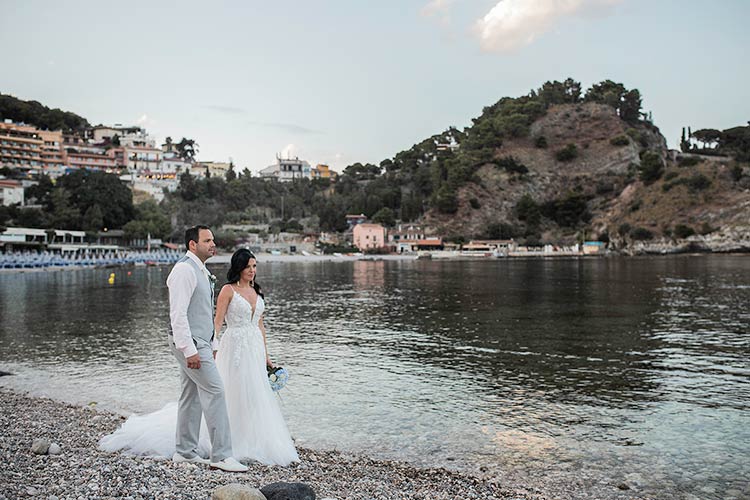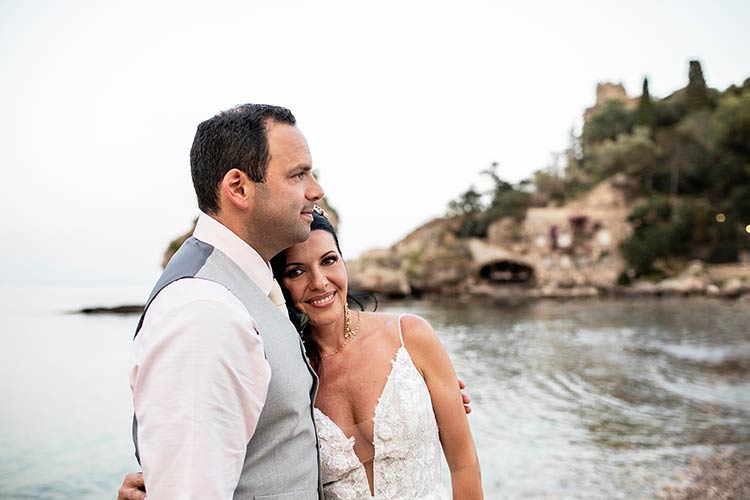 An intimate wedding in Sicily
Moonlight wedding reception on the Isola Bella terrace
A beautiful imperial table welcomed guests on the terrace overlooking the sea and hosted the wedding dinner for this intimate wedding in Sicily. Golden candelabras, candles, and flowers framed an evening full of good Sicilian food and excellent music.
A musical duo with saxophone underscored the most beautiful moments, with sophisticated music alternating with Romanian music to pay homage to the bride and her family.The wedding reception ended with cutting the wedding cake, a beautiful multi-tiered cake with marine decorations in keeping with the surrounding landscape, and a rich buffet of typical Sicilian sweets.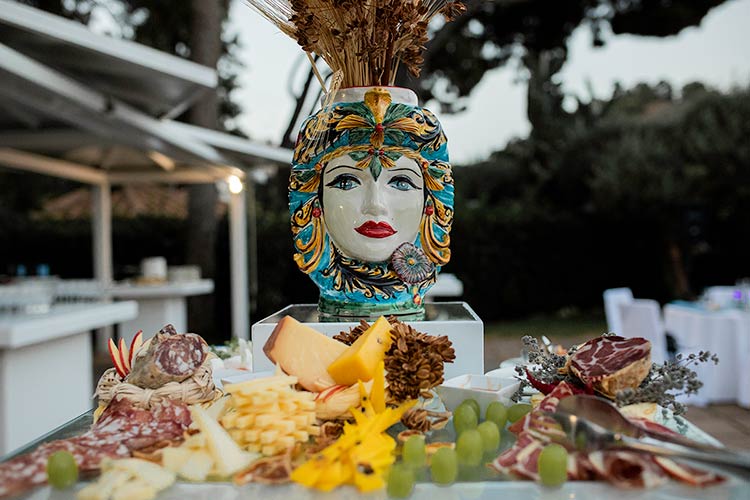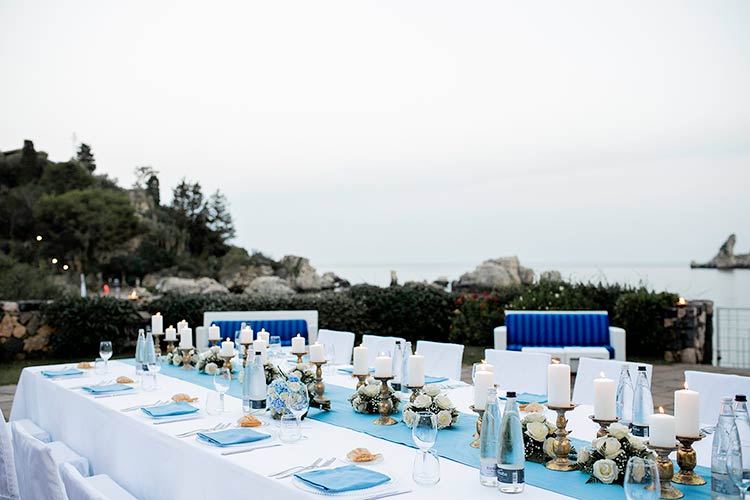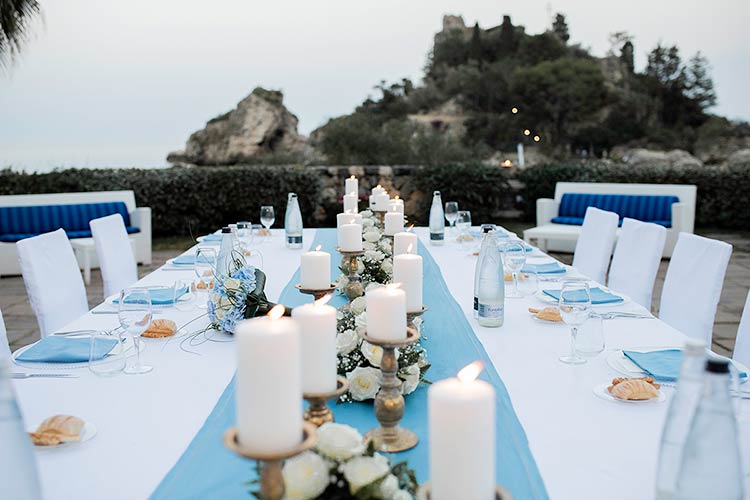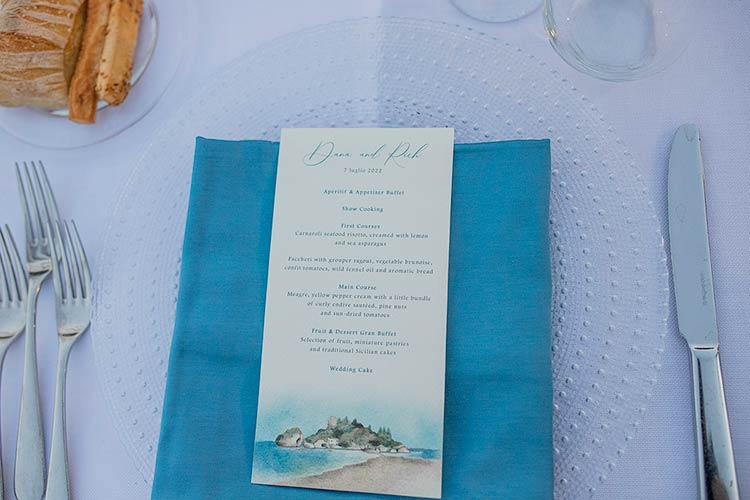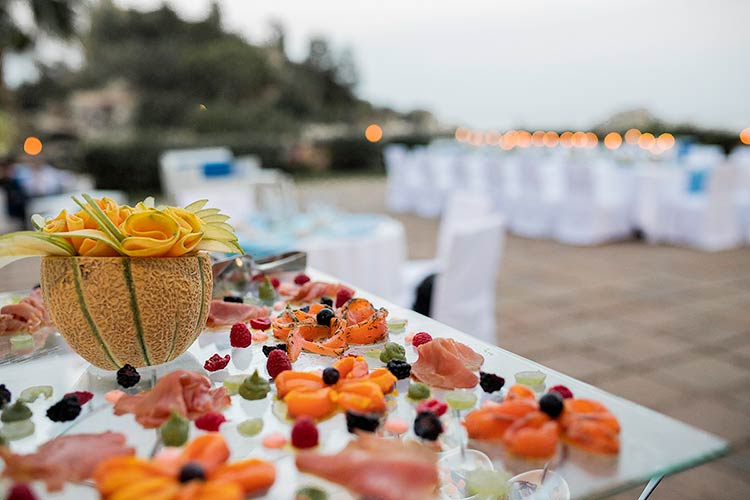 After the wedding cake, the bride and groom and their friends and relatives danced the night away.
All this is getting married in Sicily!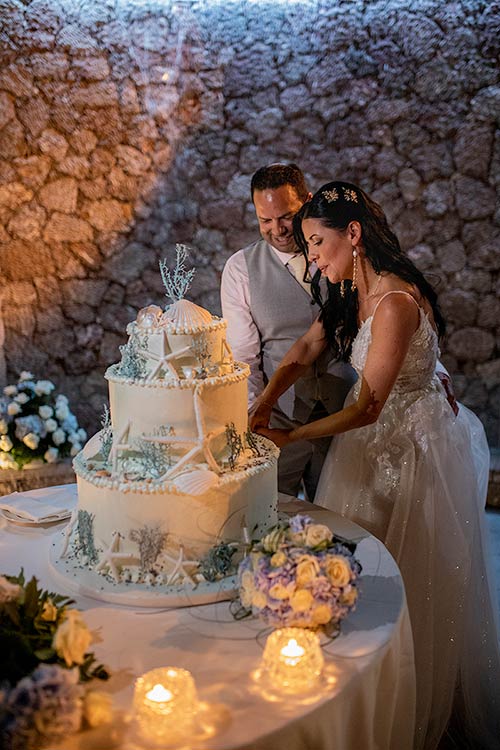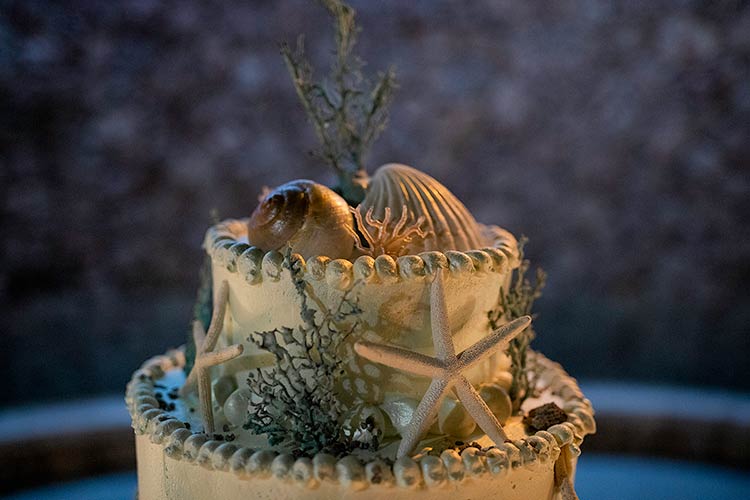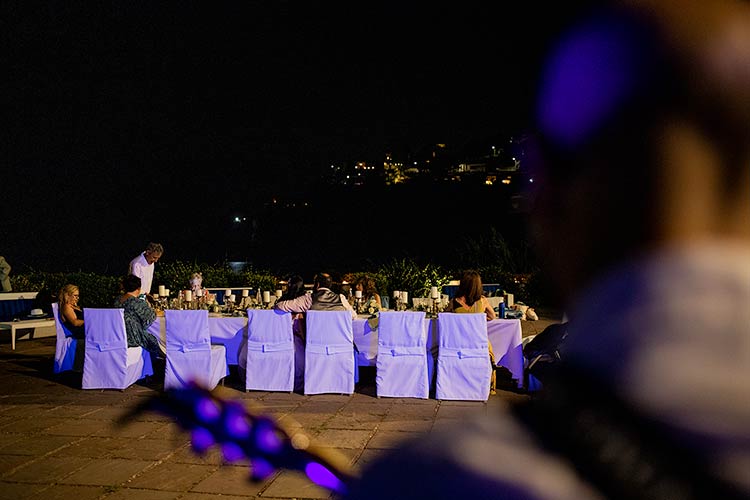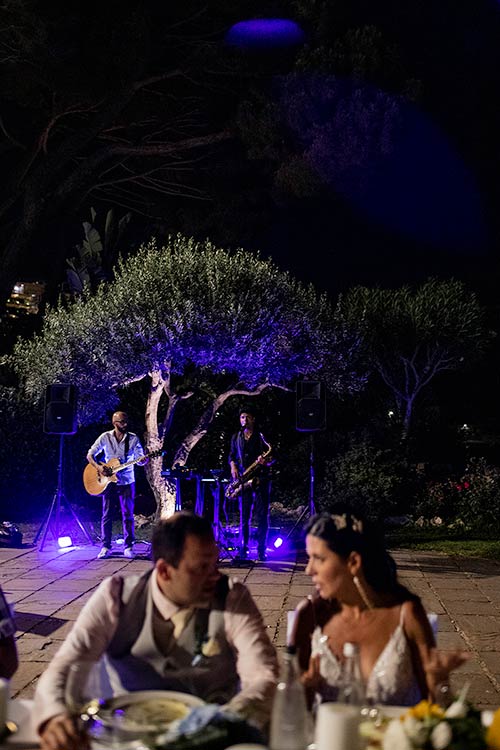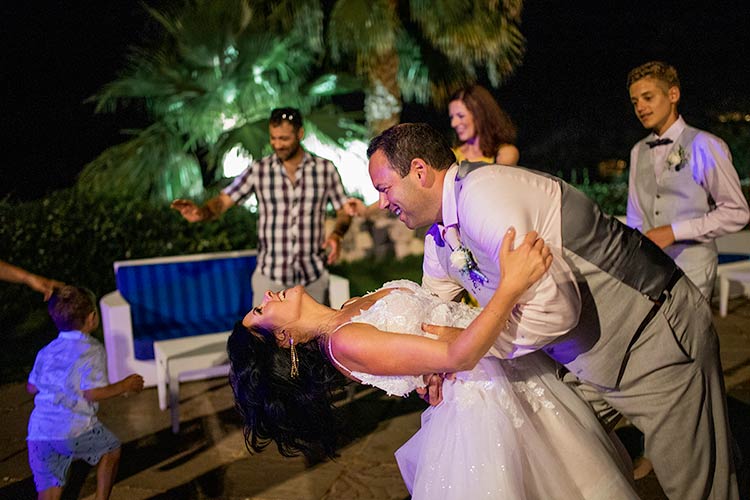 Special thanks to photographer Karen Boscolo for taking these fantastic wedding photos of Dana and Rich's intimate wedding in Sicily.
Thanks for giving us these beautiful shots!
Did you enjoy the wedding we planned in Sicily?
Contact us, we will be happy and proud to plan your special wedding in Sicily