A Scottish wedding in Sicily
Posted at 3 January 2020
in
Sicily
A romantic late summer wedding! Sharon and Rod are a couple in love who wanted to fulfill their dream of love in a unique and fascinating place. They chose Sicily for their dream wedding in Italy! When I suggested to celebrate their wedding in a castle with a beautiful terrace and magnificent sea views, bride and groom got very excited! They wanted a simple, intimate elegant ad most of all a Scottish wedding in Sicily by the Mediterranean Sea and they had it!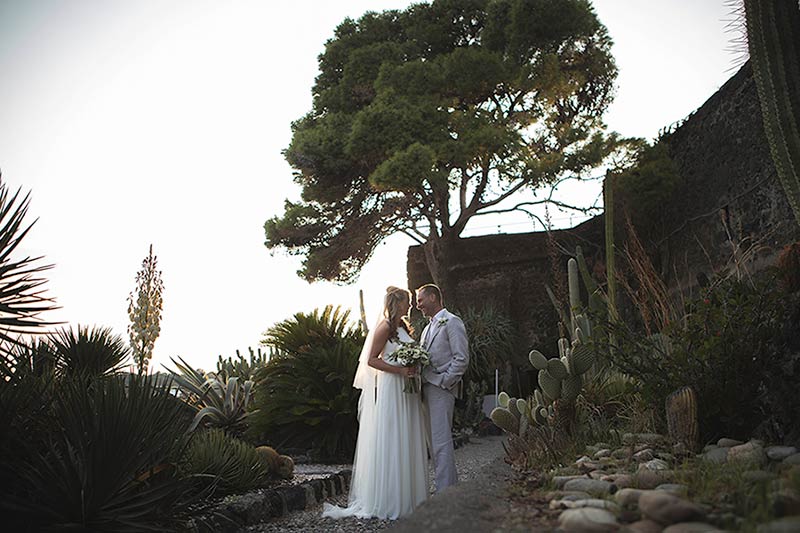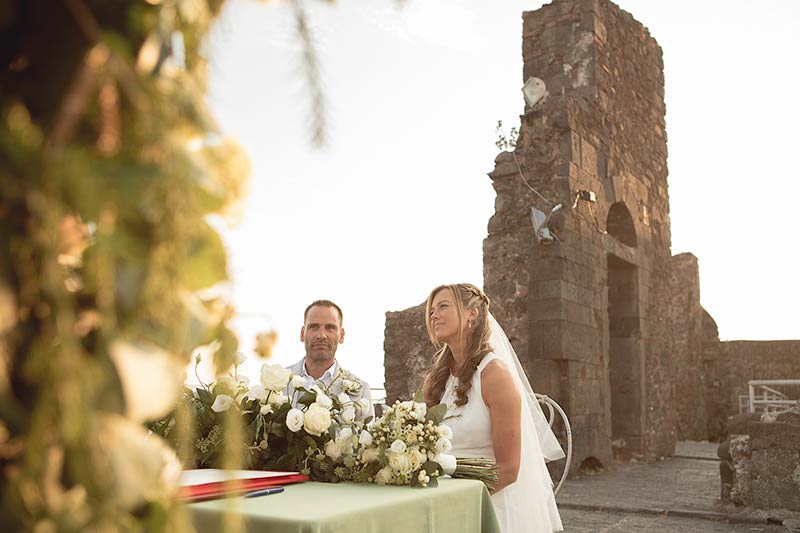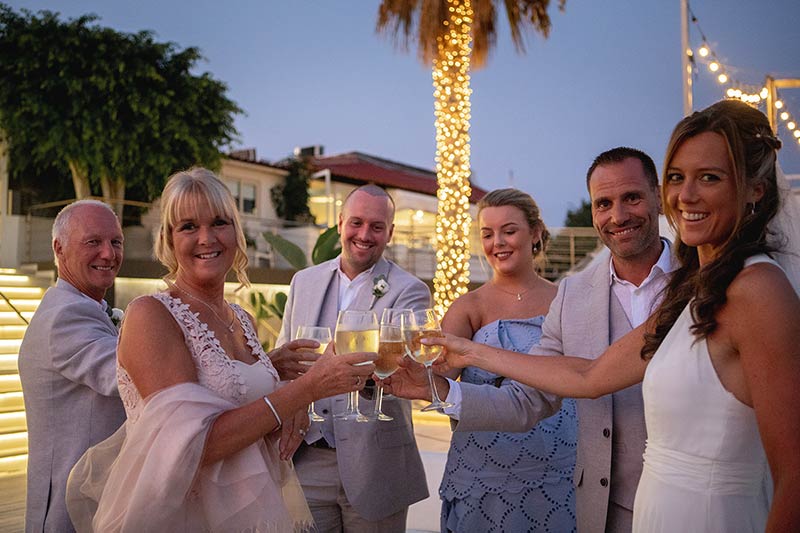 Sharon and Rod chose to celebrate their wedding in a romantic historical venue. They chose Norman castle of Aci Castello. It is a very fascinating wedding venue with its terraces overlooking cobalt blue sea and lava rocks coming from Etna Volcano.
Bride and groom fell in love with many Sicilian spots where they could plan their special day. At the end they decided to celebrate their legal civil ceremony on the terrace of the castle overlooking the stacks of Aci Trezza. For their wedding reception dinner they chose and to stay beautiful city of Taormina.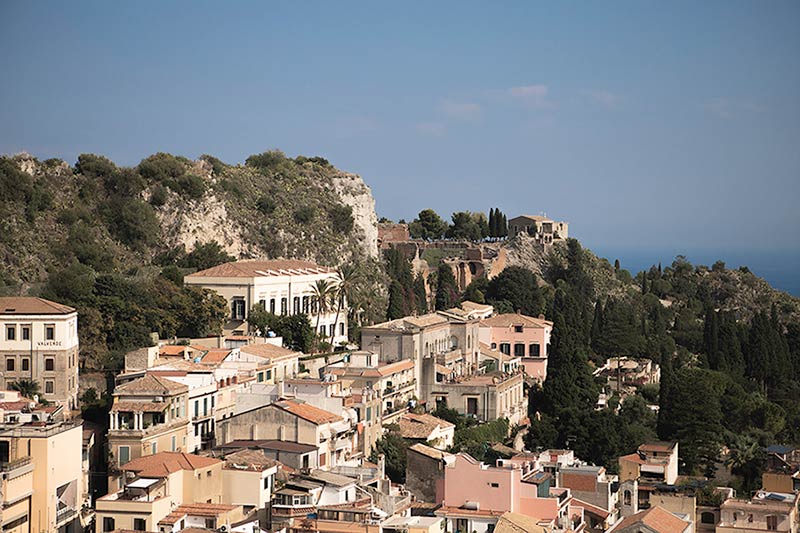 A Scottish wedding in Sicily
Getting ready in a modern hotel in the heart of ancient Taormina
Sharon and Rod chose a hotel in downtown Taormina to get ready. The atmosphere was relaxed. Rod decided to spend the hours before the wedding ceremony in a beautiful swimming pool with a fantastic view over Taormina.
Meanwhile, Bride and her mother got ready their suite. When she wore her beautiful wedding dress and she took her wonderful bridal bouquet of avalanche roses, lisianthus, eucalyptus leaves they got really emotional.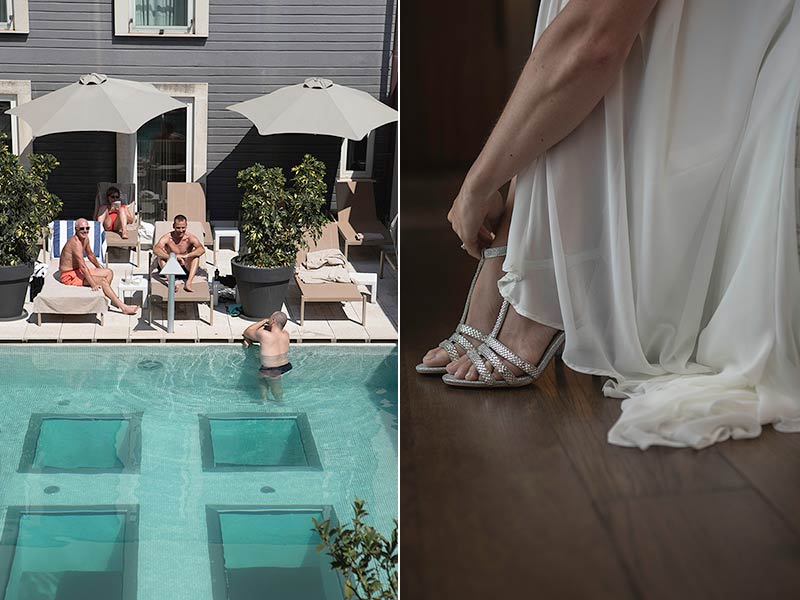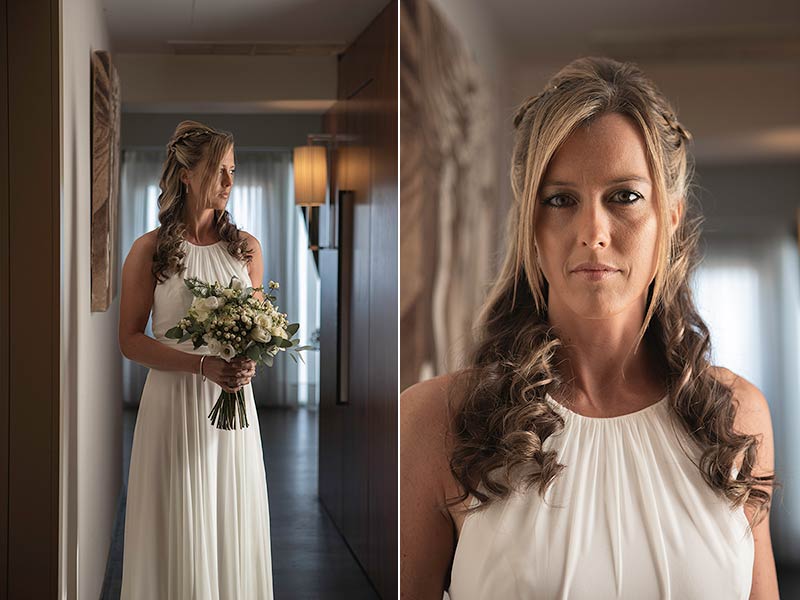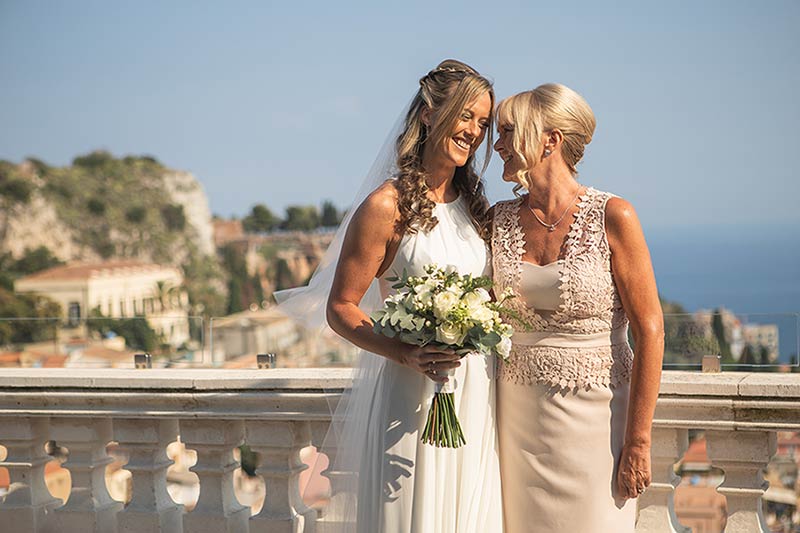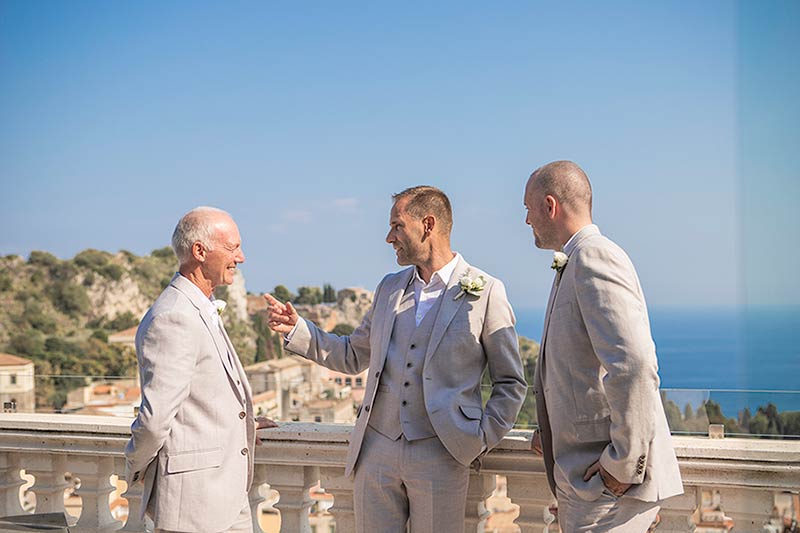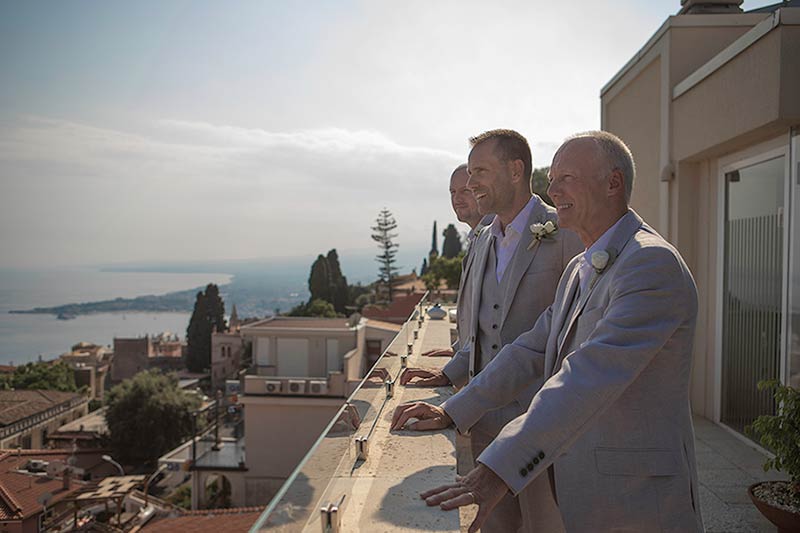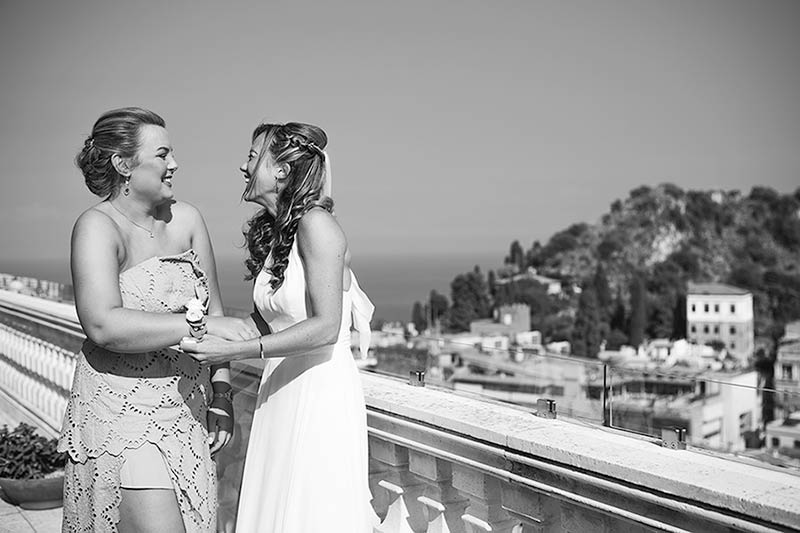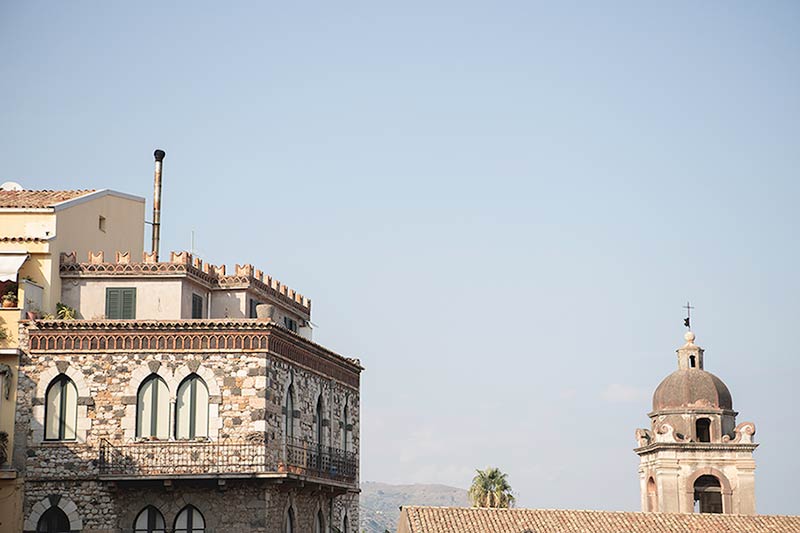 A romantic and intimate ceremony at the castle
Sharon and Rod Scottish wedding in Sicily was really romantic! The ceremony begun with the sound of a violin accompanying the bride walking down the aisle.
The view over the stacks of Aci Trezza was amazing. A magnificent
arch of flowers
framed groom and the bride love promises. An intimate and romantic atmosphere that moved not only the bride and the groom and their guests but also some tourists who were there.
We placed white flowers on the chairs around the arch of flowers, The the terrace and the entire view was incredibly romantic.
After the wedding ceremony, bride and groom took some time for them to have some fun getting their wedding photos in the beautiful botanical garden on one of the terraces of the castle.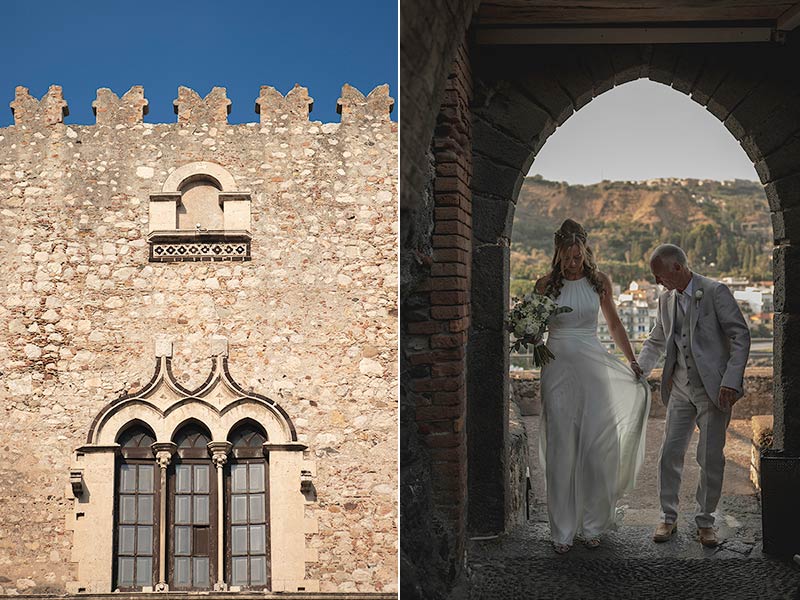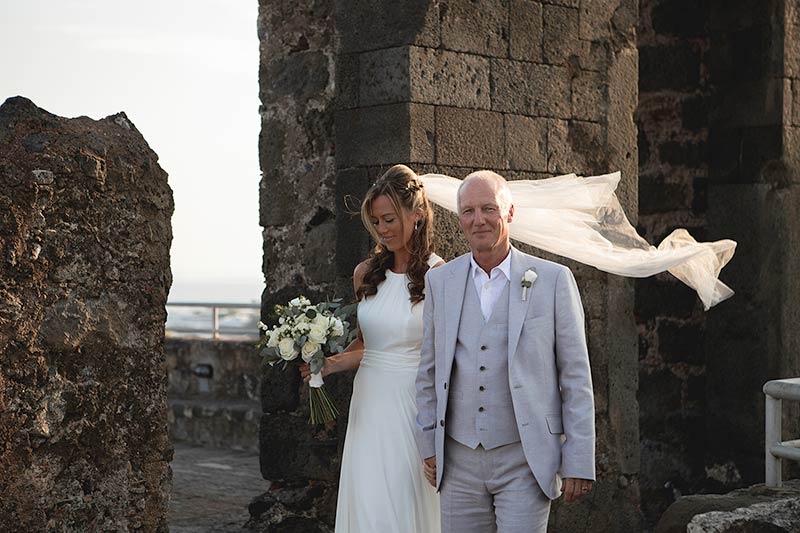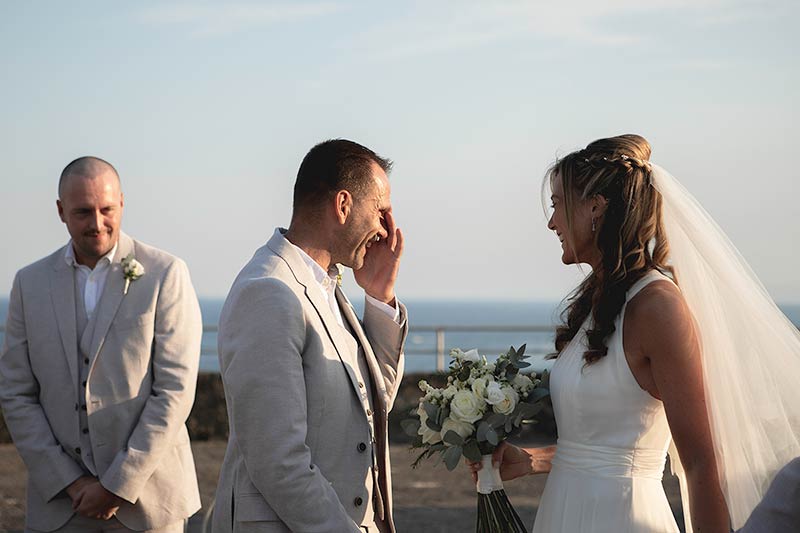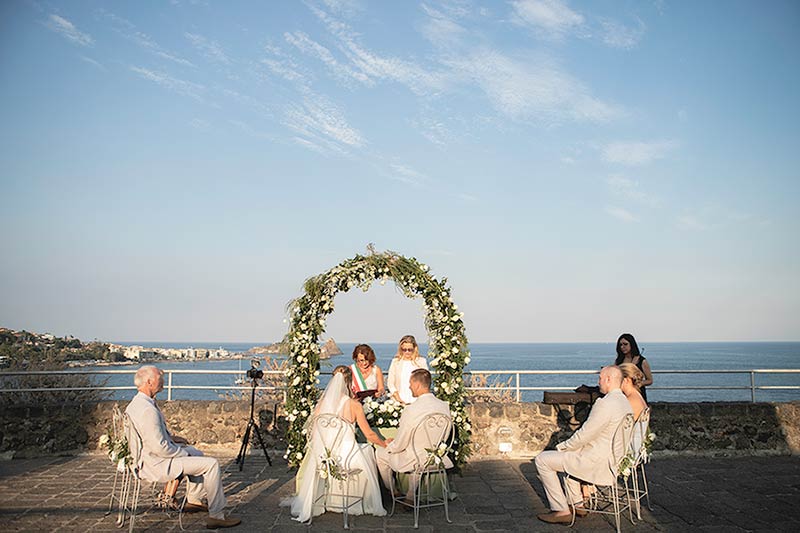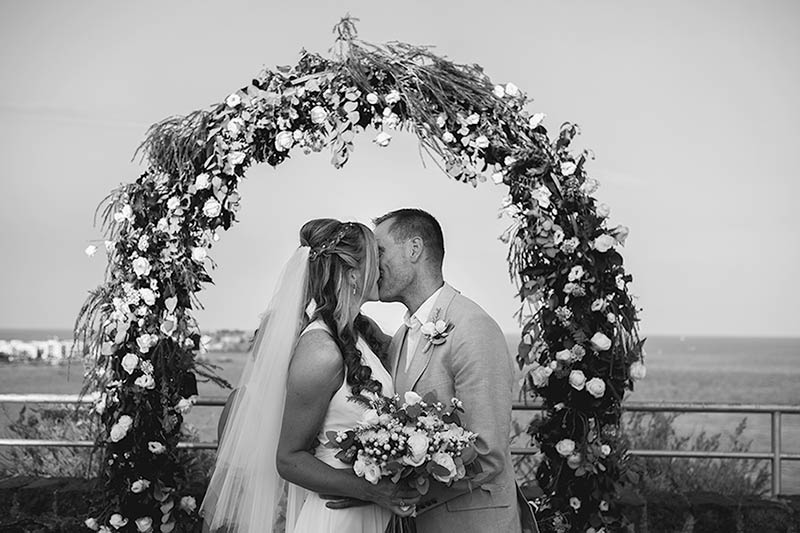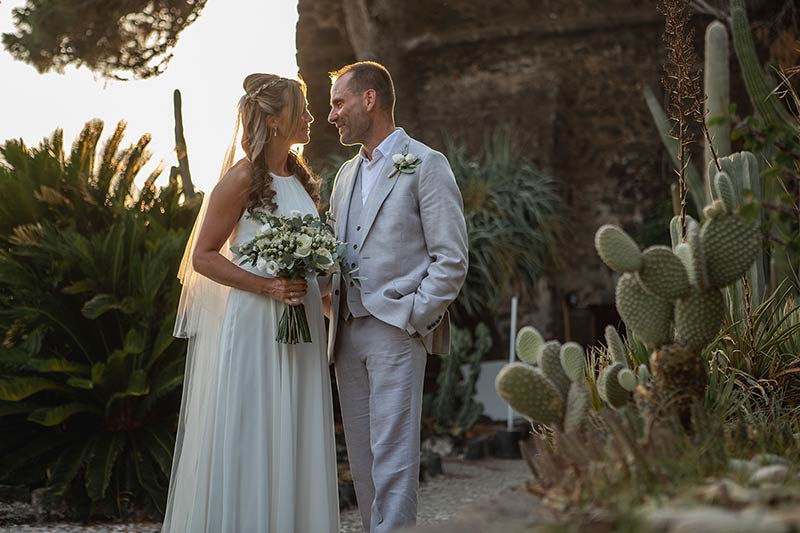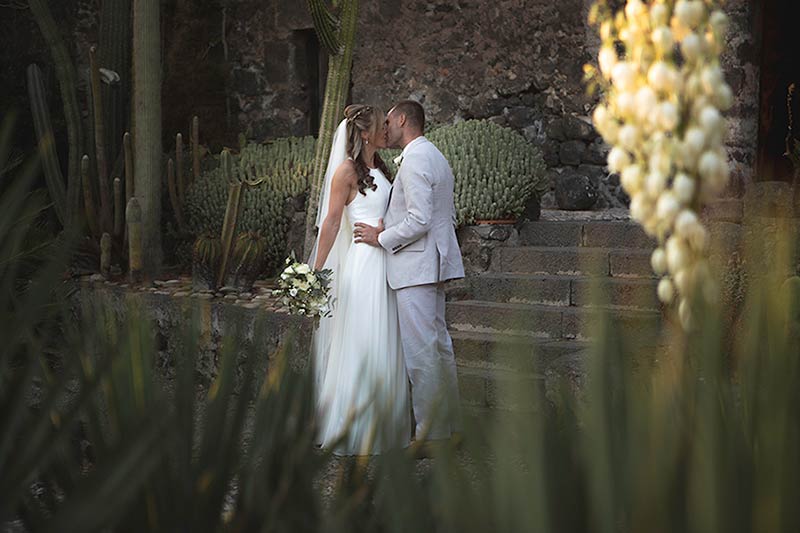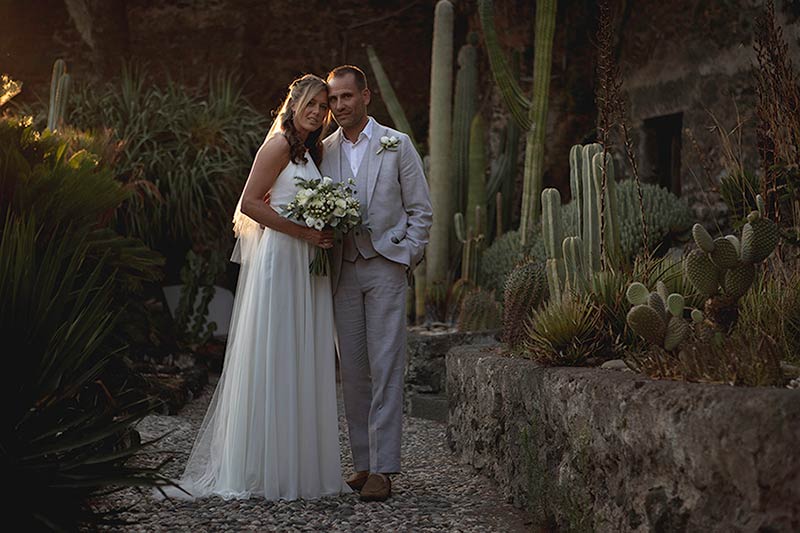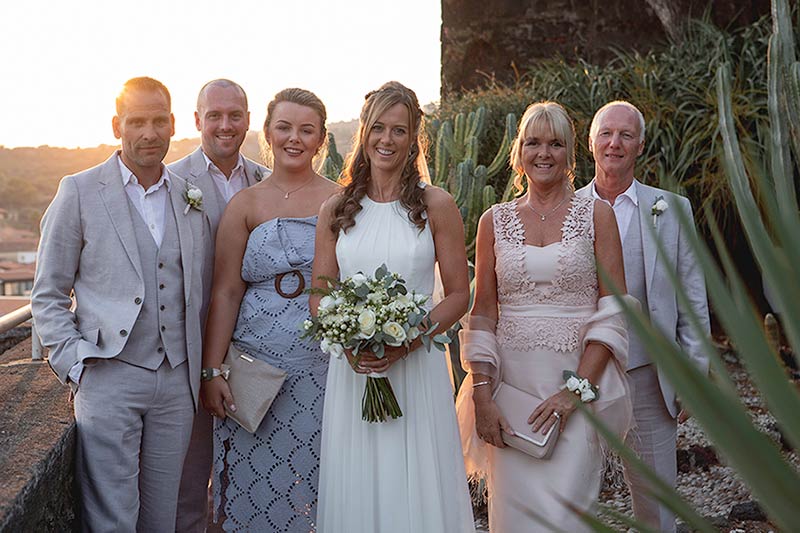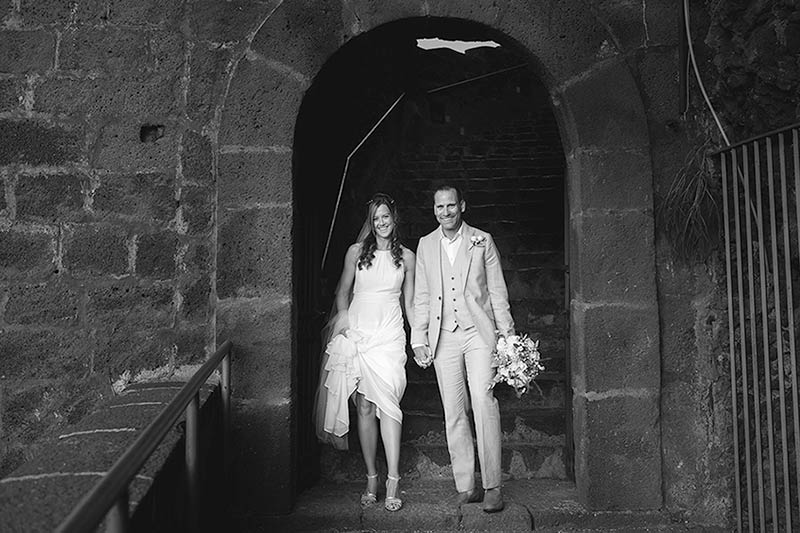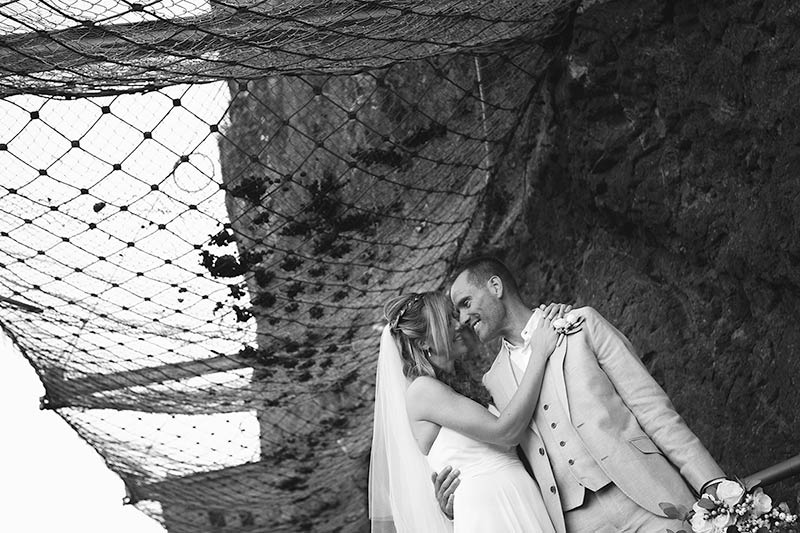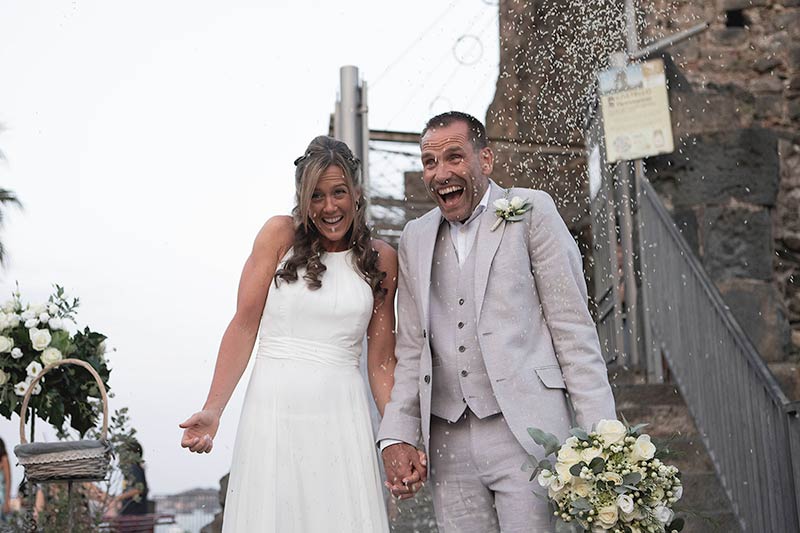 An Intimate aperitif by Mediterranean Sea of Sicily and a Gourmet dinner in Taormina
With a beautiful modern car bride and groom reached a lovely
beach resort
for an intimate aperitif with close family. A wonderful time to take under a starry sky.

A romantic Scottish wedding in Sicily can be this and much more…
For their wedding dinner Sharon and Rod chose a magnificent terrace located on the top floor of a
5-star hotel in Taormina
historic centre. A Michelin starred chef prepared amazing traditional Sicilian dishes for the bride and groom and their guests. They all enjoyed a wonderful wedding meal under a starry sky overlooking a breathtaking view over wonderful Taormina.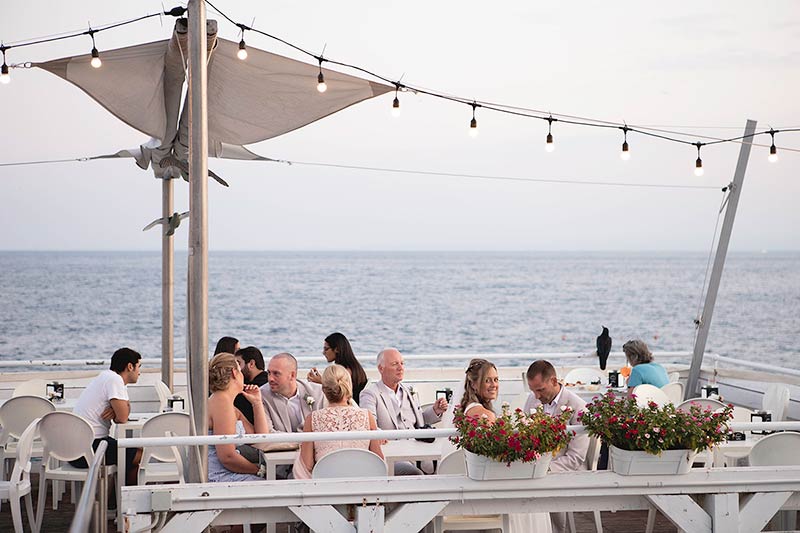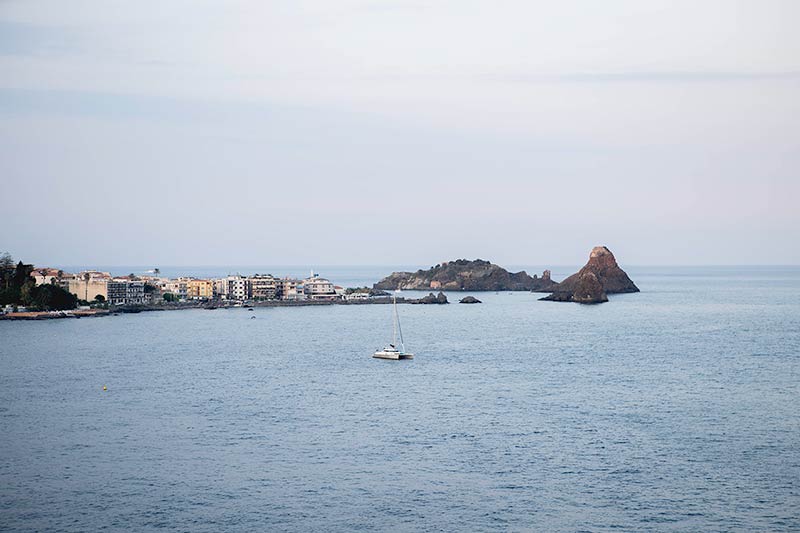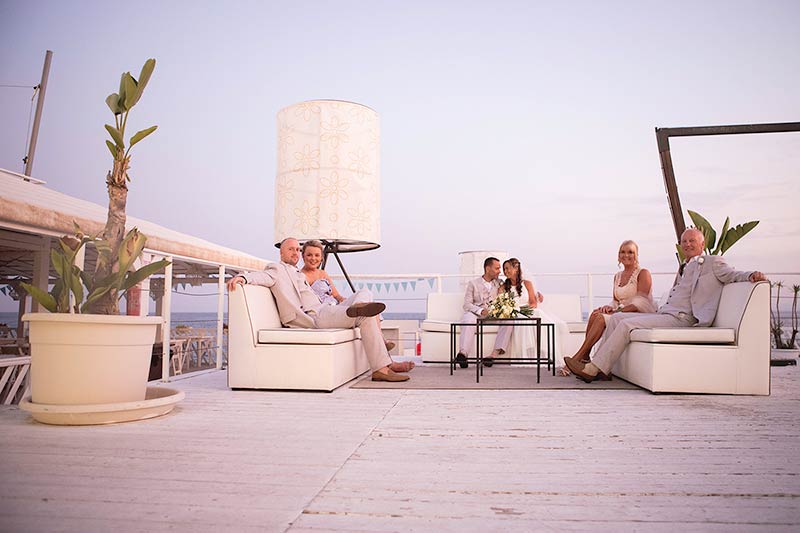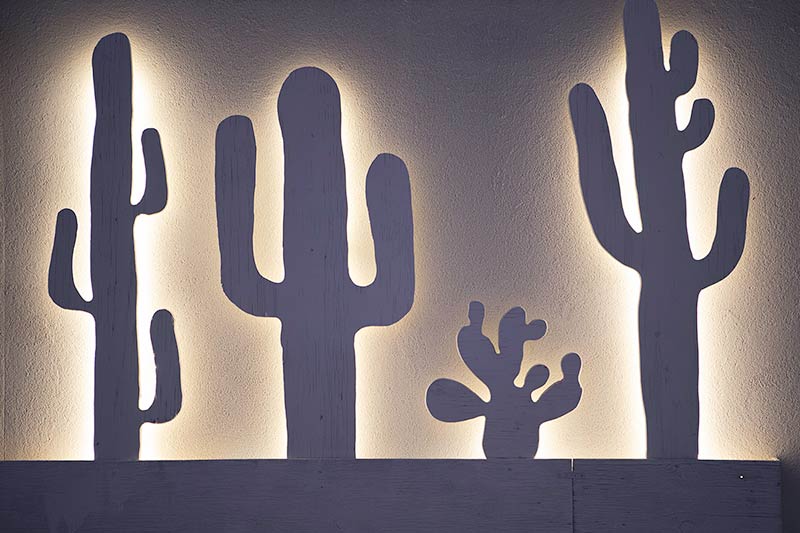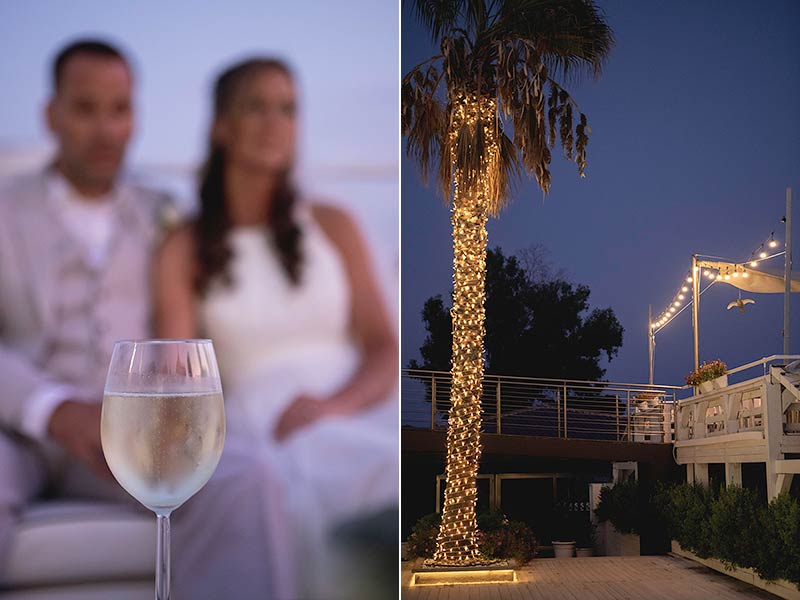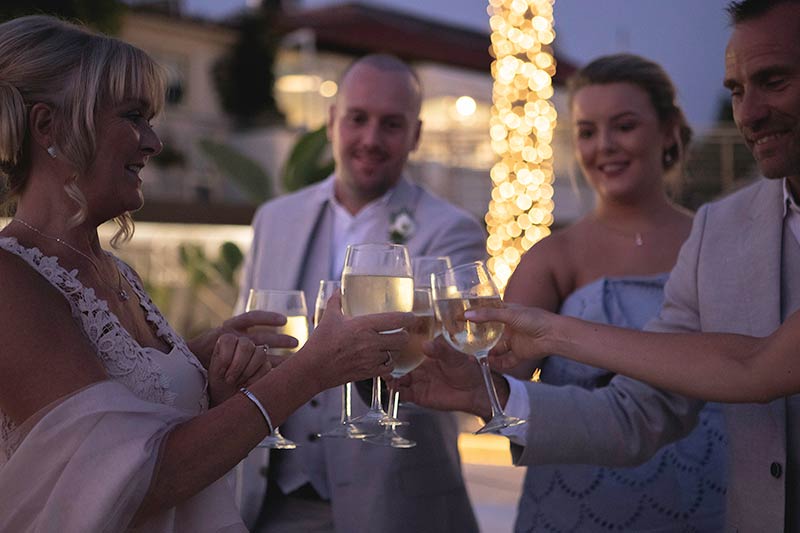 A special thanks to Karen Boscolo to take these amazing wedding photos. Thanks for giving us these beautiful shots of Sharon and Rod's Scottish wedding in Sicily!
Did you enjoy the wedding we planned in Sicily?
Contact us, we will be happy and proud to plan your special wedding in Sicily!