A wonderful Wedding in Cyclops Riviera – Sicily
Posted at 29 April 2018
in
Sicily
A romantic Italian wedding in Cyclops Riviera in Sicily just a little North from amazing Catania with romantic wedding ceremony in a Norman Castle! Angela and Charlie are a very young American couple who have decided to crown their dream of love in beautiful Sicily.
Sicily is a one of Italian major Island and it is a fantastic land. It has rich traditions, culture, amazing architecture and art, delicious food and wines and enchanting nature and views over Mediterranean sea or countryside. 
Bride bride's parents many years ago got married in Sicily so this is a real coming back from the family! In Sicily blue sea merges with the blue of the sky, and Norman castle could be the ideal venue for a wedding in Sicily.
Angela and Charlie chose it for their civil ceremony was. Castle emerges in all its splendour.
They whole group of family and friends arrived from the United States, with their exuberance they cheered the small town of Acicastello Sicily.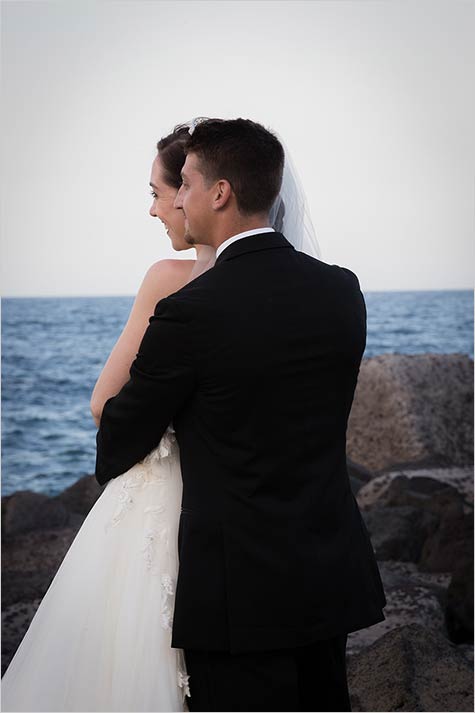 Getting ready overlooking the Faraglioni of Aci Trezza
For their getting ready they chose the village of Aci Trezza. It is a small fishermen village close to Catania laying on the sea. It faces famous Cyclops Islands and offers to tourists a stunning view. The ideal spot for a seaside wedding in Sicily. Aci Trezza is also well known as it was the set of Giovann Verga's writer I Malavoglia novel and Luchino Visconti director's movie La Terra Trema (The Earth Trembles – 1948). Someone says also that is is just here that a famous cook Francesco Procopio dei Coltelli invented italian ice cream in 1700 (gelato!). Wow! Did you know that? 
Angela and Charlie chose this small village full of history to get ready and they did it with style in a lovely hotel. Hair and make up session, red flowers delivery and all was ready for the wedding ceremony.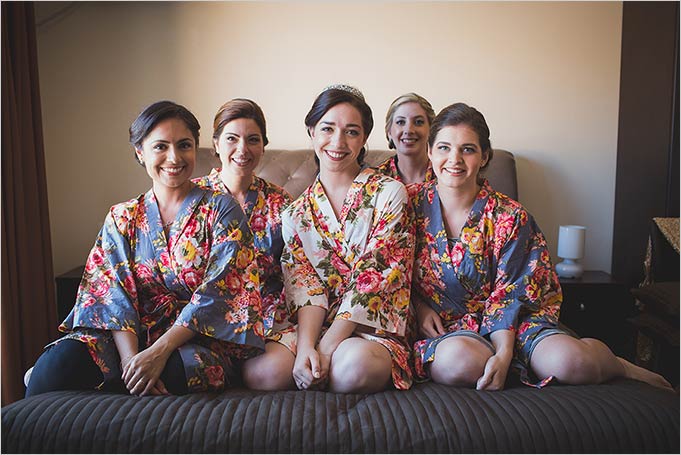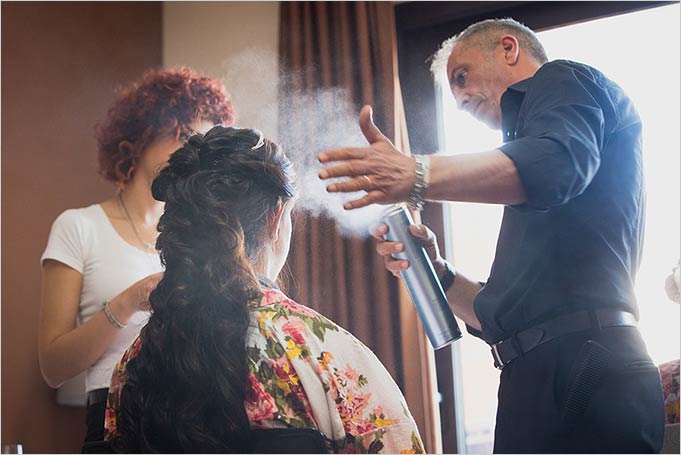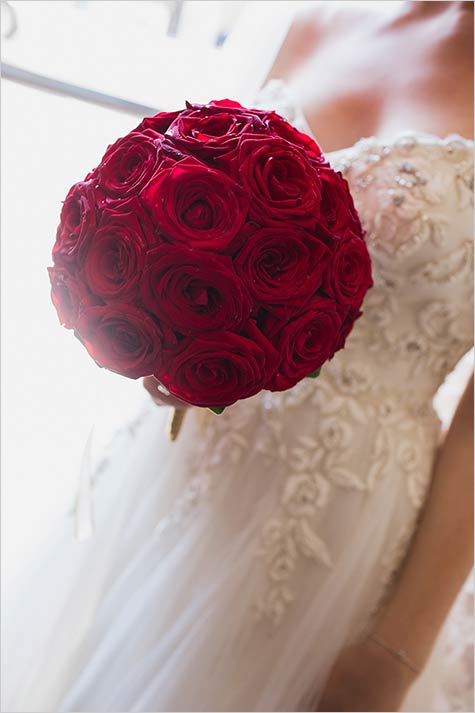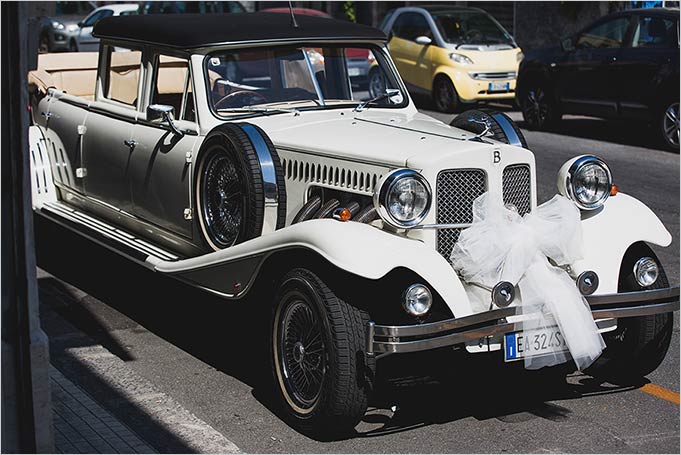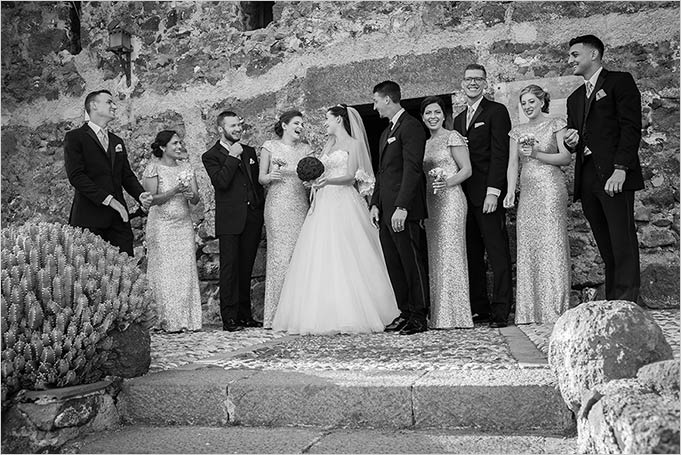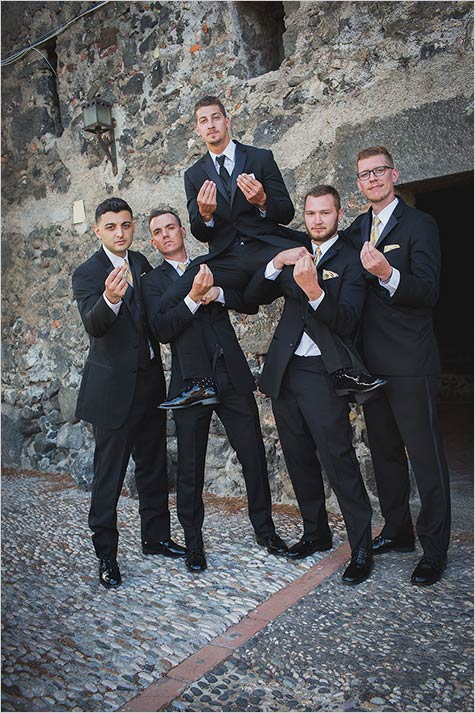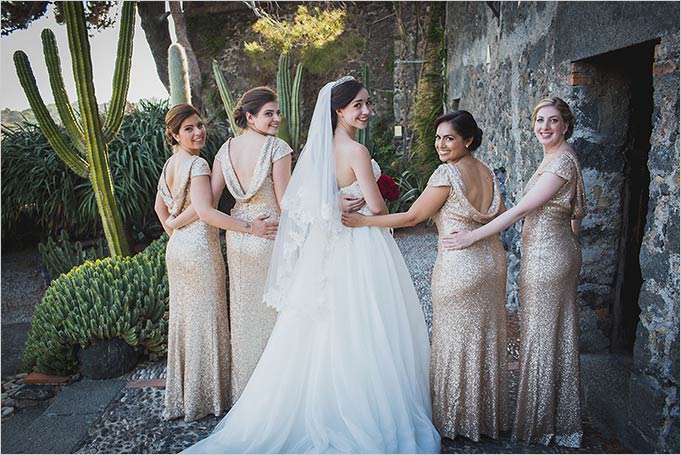 Civil ceremony at Norman Castle – Sicily
On a splendid sunny day Angela and Charlie celebrated their legal civil ceremony at Norman Castle terrace overlooking the sea. What a perfect spot for a romantic seaside wedding in Italy! Colors bride chose for her wedding were red and gold. Two strong and determined shades like the bride and groom personalities. Bridal bouquet was a splendid and perfect sphere of red roses that matched perfectly all floral decorations of the castle and the wedding reception. Castle was enriched with stunning floral arrangements.Bride and groom room were both very excited when they exchanged their wedding vows. During their wedding ceremony they also added the the ritual of wine exchanging cups of local wines as promise of their love. Relatives and friends were very moved, while the musicians played the romantic Twilight song.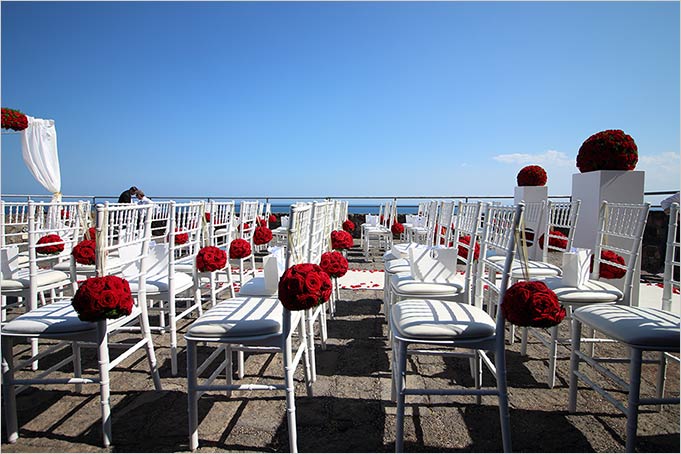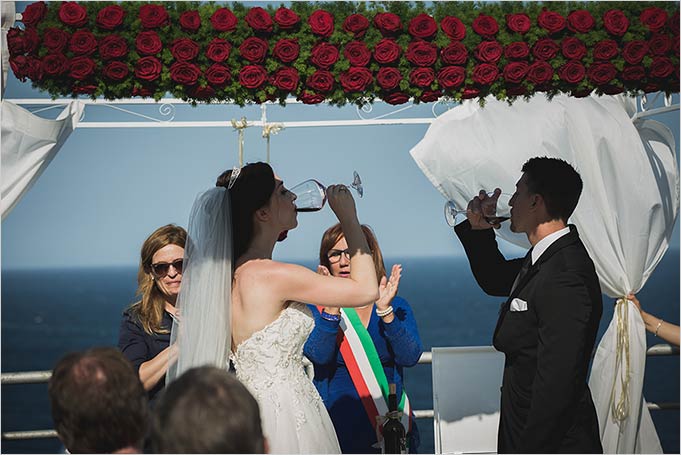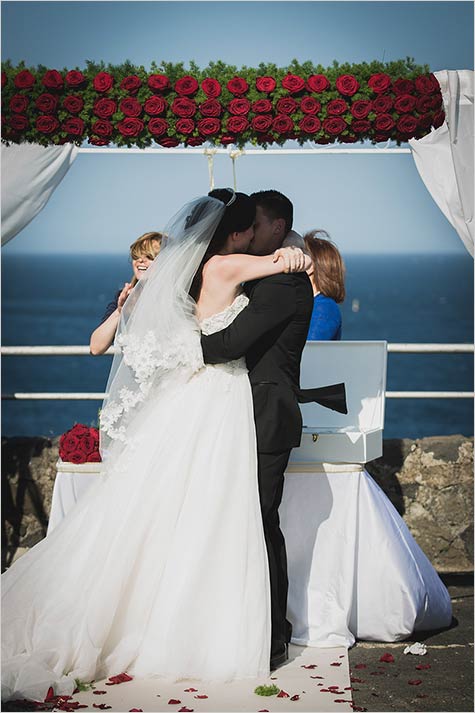 Wedding reception in a traditional Sicilian restaurant
For their wedding reception Angela and Charlie chose a traditional and authentic Sicilian restaurant. Large vases of red roses balls on the welcome aperitif buffet tables welcomed guests. A traditional "Ape Piaggio" (tuk tuk), the typical three-wheeled italian vehicle, was the background for a fun photo-booth.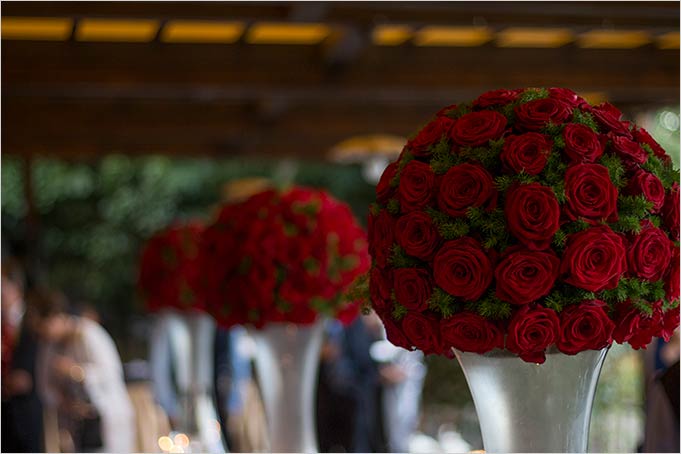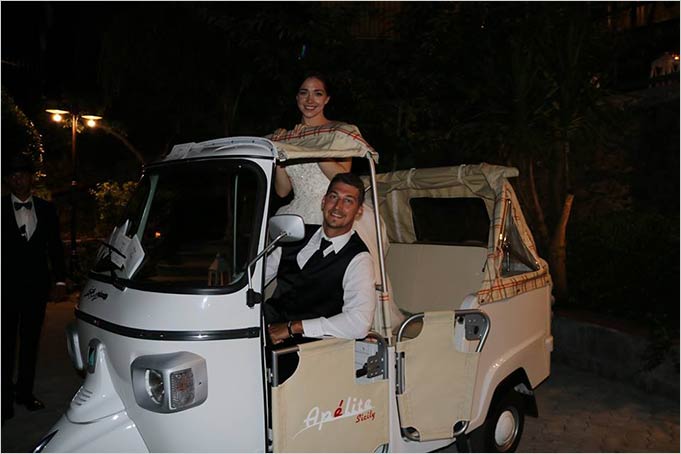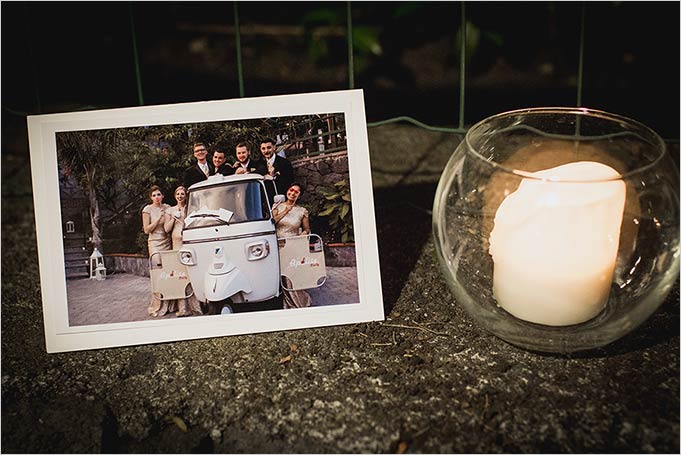 After wedding reception dinner the party started with the cutting of a beautiful wedding cake! It was white and red perfectly following the theme of the wedding. Right after that bride and groom's first dance on the notes of a wonderful romantic tune. All the guests danced all night long admiring a magnificent fireworks display.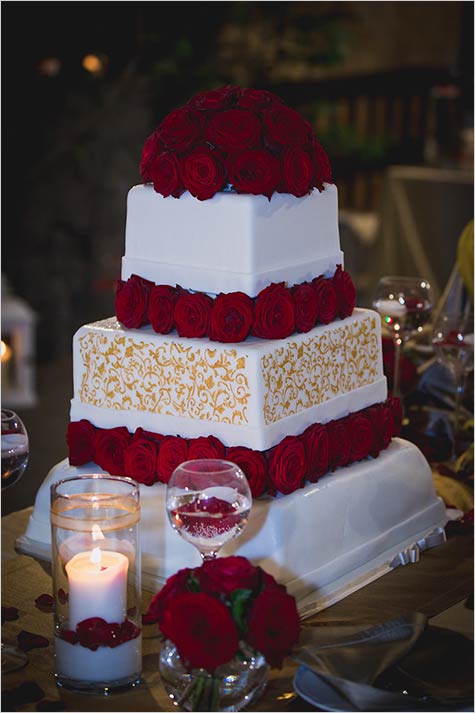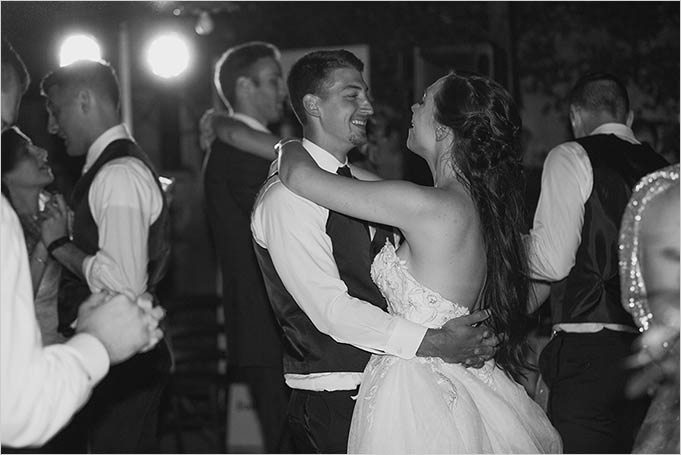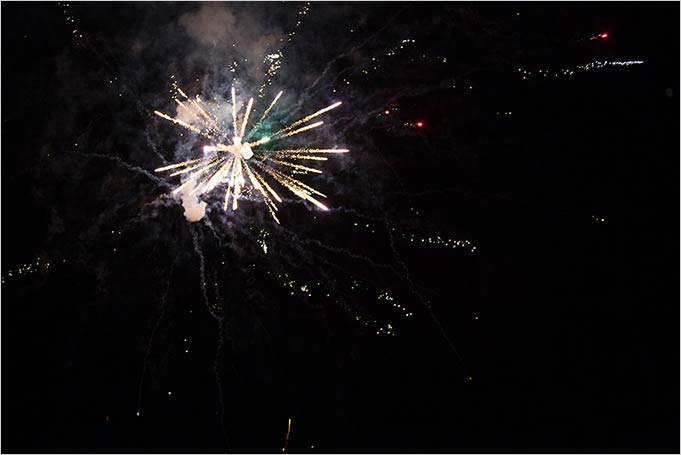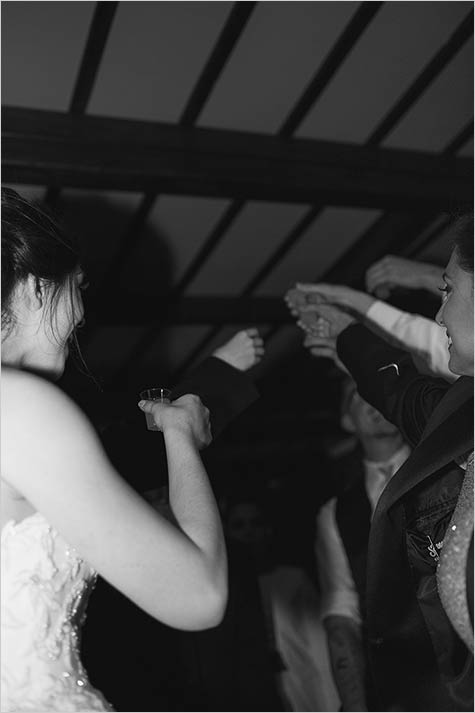 As wedding gift to all guests bride and groom gave their the the "bomboniera". Bomboniera (wedding favour) is a traditional Italian custom to leave a memory of the wedding. It is usually accompanied by sugared almonds. There are five of them inside that represent health, wealth, happness, fertility and long life.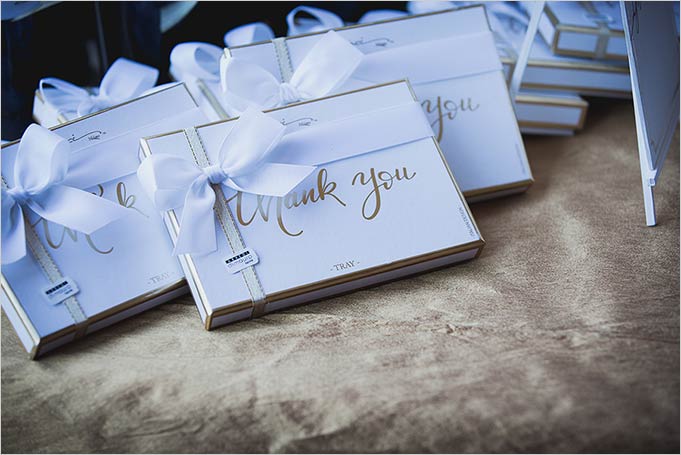 This is exactly what we wish to Angela and Charlie that chose wonderful Sicily for their Italian Wedding!
A special thanks to Richelle Lamarr – bride and groom wedding photographer – came directly from the United States to take these amazing wedding photos. Thanks for giving us these beautiful shots!