A destination wedding in Trani: one of the most beautiful location in Apulia
Trani is surely one of the most heart touching wedding destination in Puglia. It is also known as the pearl of Puglia and it is ready to host your destination wedding in Italy overlooking its amazing historical artistic view. Trani has been the coast landmark for the sea trade among East/West for centuries. It's the destination which has made Romanico Pugliese an inner architectural theme by preserving its space inside the stunning cathedral. Trani is the city of white stones, magnified by the sun rays reflecting baroque churches and 19th-century buildings.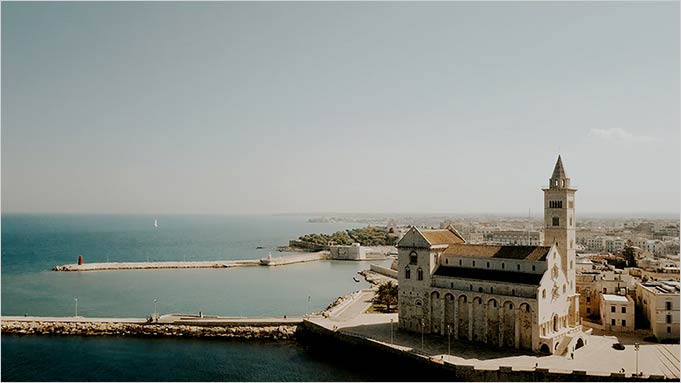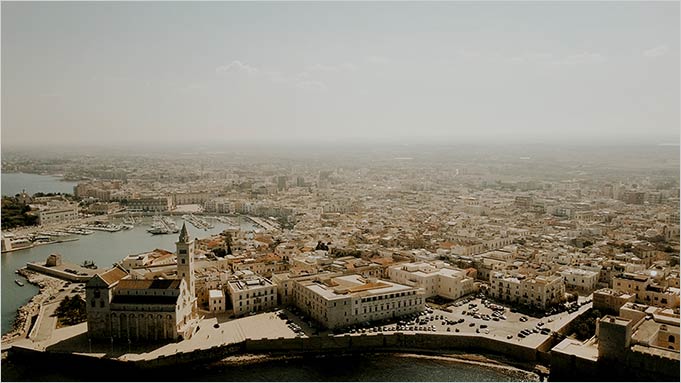 Trani lies in province of Bari and it overlooks stunning Adriatic sea. It is located just next by a small bay where a there is a sheltered seaport. It's one of the finest equipped yachting ports on the Southern coast, and for long time, it has been a vital landmark for the international and national sporting sailing.
The authentic vibe of Trani will amaze you. It has a fishbone Norman urban structure. Amazing monuments and exceptional building dated back to the Swabian age, witness a noble past.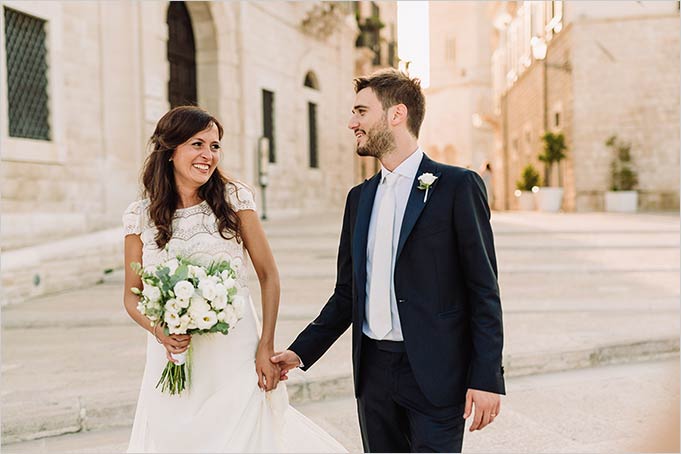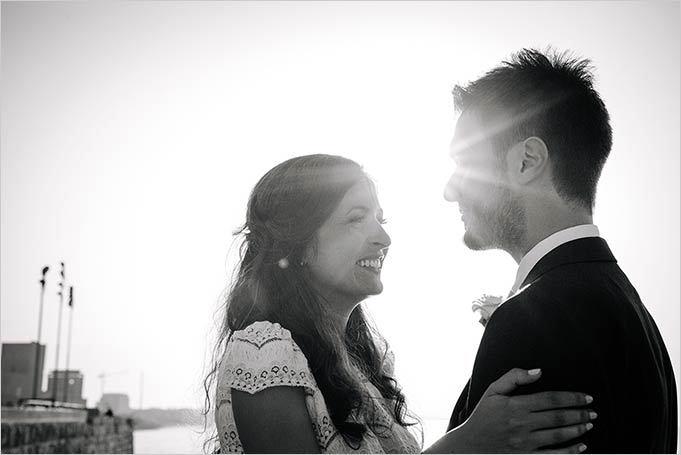 Thanks to Antonio Di Rocco for sharing with us some pictures and thanks to Federico Cardone for telling us with his frames the city of Trani.
Catholic wedding in Trani: the Cathedral of San Nicola Pellegrino
You can celebrate your Roman Catholic wedding in Trani in one of the wonderful historical churches. However antique Cathedral of San Nicola Pellegrino might be your perfect ceremony venue. It's one of the finest Romanesque themed building in Puglia. It is hhe outcome of superimposing of 3 buildings which were built on a similar spot. A dual flight of stairs precedes the Cathedral, flanked by a 13th Century Church tower. It is simply breathtaking!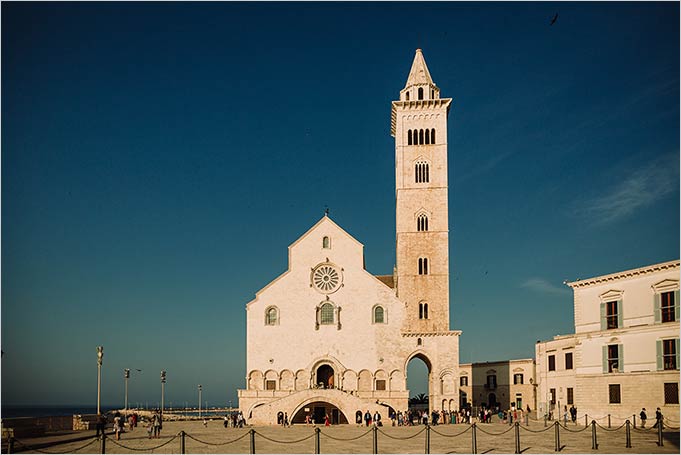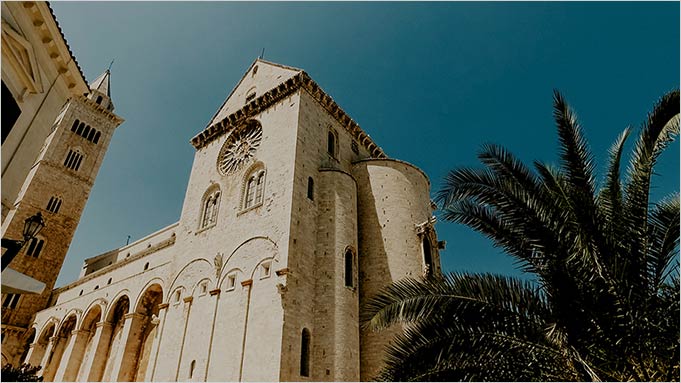 Church facade is decorated with white rose marbles and a gorgeous rose window. A notable bronze portal provides access to the church. The interior part is a bit simple but complete of charm and elegance. The ideal spot for a romantic Italian church wedding.
If you wish to set your wedding photographs in an exceptional venue, you can pick Villa Comunale of Trani. It's surely the perfect setting: one of the most charming European fields on the sea. In its fascinating garden, you'll have the most refined finest photos for your romantic wedding album while enjoying the stunning surrounding Apulian panorama.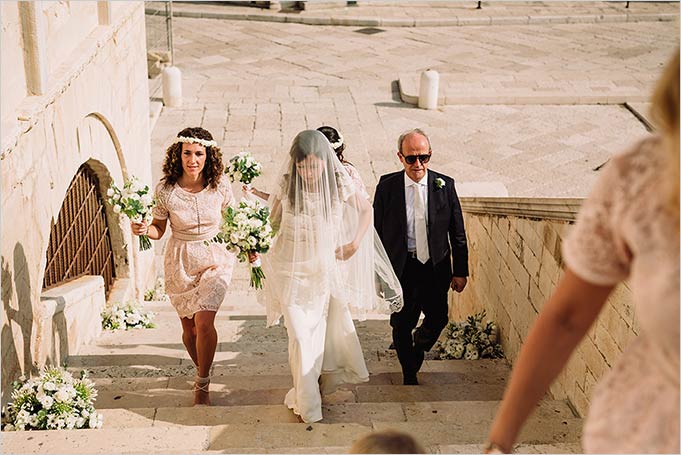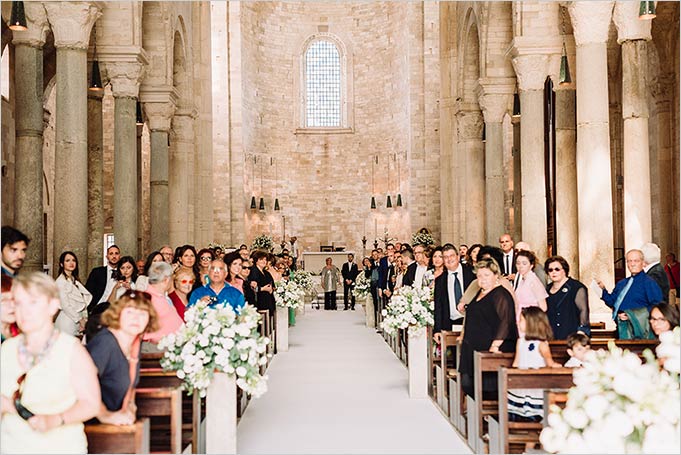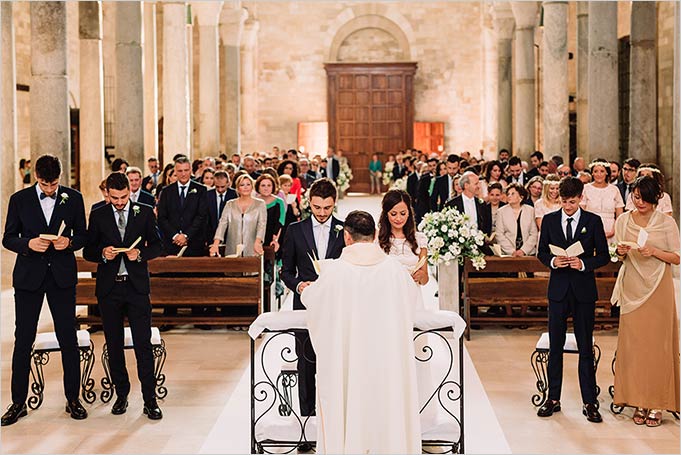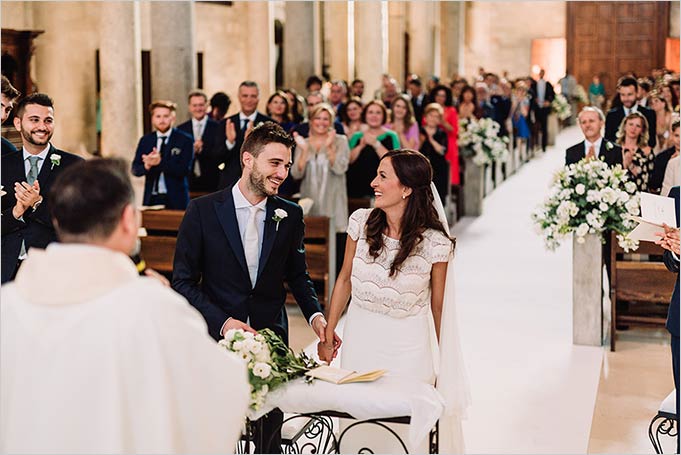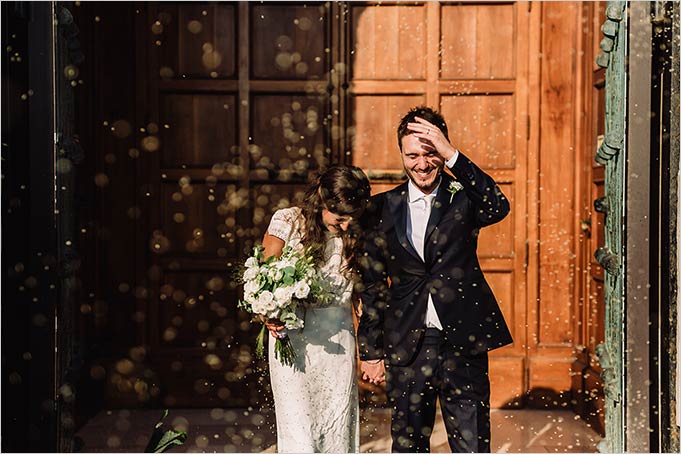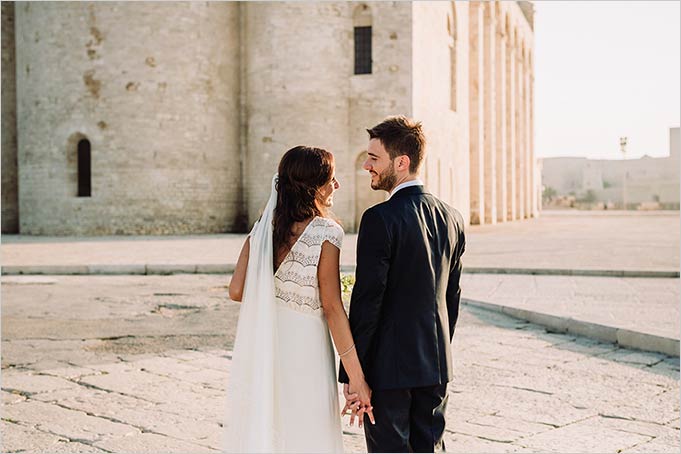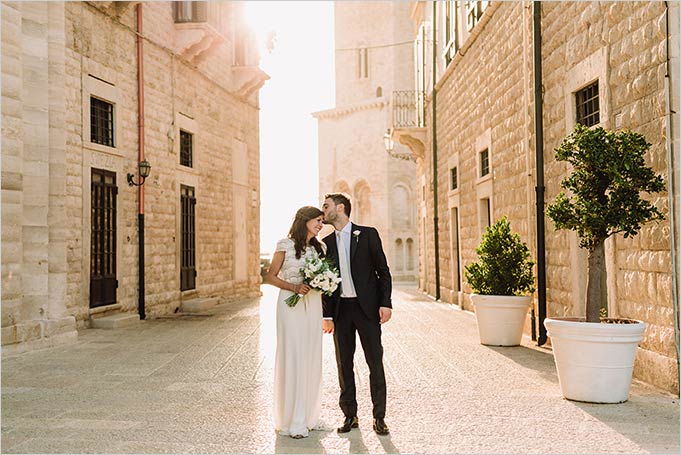 Wedding reception in Trani: the Swabian Castle
For your wedding reception,
Swabian Castle
is perfect! It has been built in 1230 and it's located right by Adriatic sea and in front of the Regal Cathedral. With its 4 amazing quadrangular towers: it still stand up its Grand Splendor.
For your destination wedding in Trani, Puglia, we suggest to try wonderful
local fish dishes
and
Moscato di Trani
, one of the most ancient and noble
Apulian Wine
.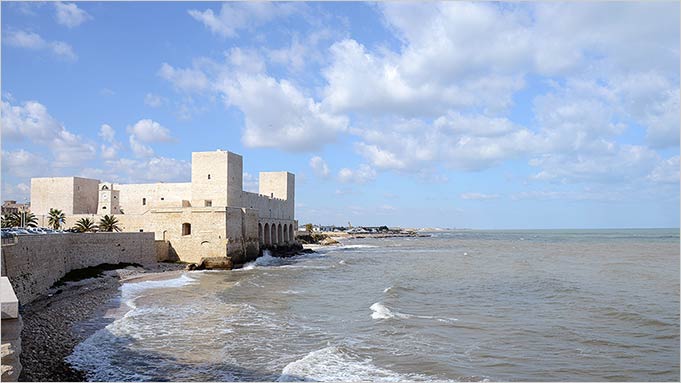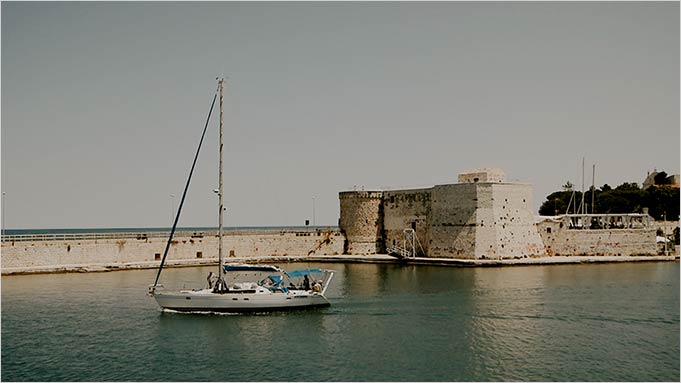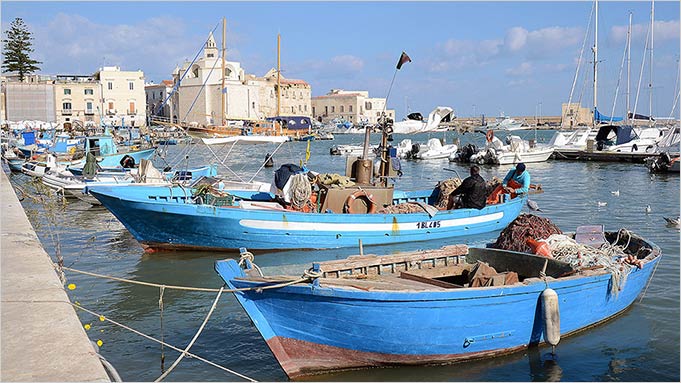 This town offers unique emotions!
If you want a real Italian experience for your destination wedding adding true southern Italian style to your event, choose Puglia and you will be amazed. Great food, unique scenery and wonderful people characterize this ideal place.
Here there are many wonderful wedding venues to choose!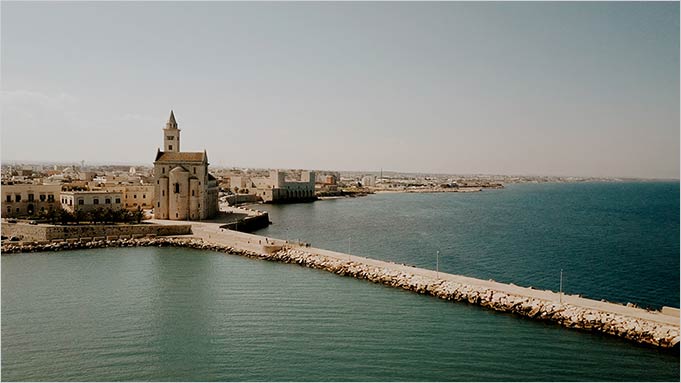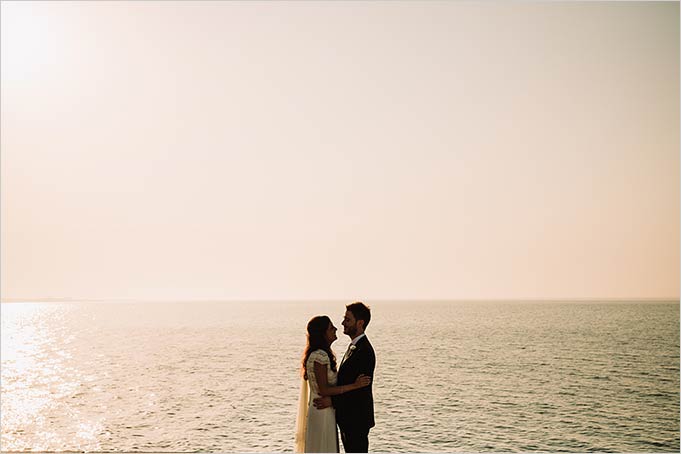 Contact us for further ideas and information! We are waiting for you to let you live your wedding in amazing Puglia!