A Real Italian Beach Wedding "Made in Apulia"
Who said that a wedding on the beach must lead us inevitably on the other side of the world?
Fabulous Italian beaches and seas are waiting for you, and today we would like to talk about Apulian sea and coastline and the long golden beaches of this Italian Southern region.
With this post we would like to give you a dreamy alternative in Italy which is famous and appreciated not only for its seaside, but also for its art, food, wines and much more. It is definitely a place that your guests will appreciate for many reasons.
It could be lovely elope for two, but it could also be a real party that combines the wedding day and a relaxing holiday for your family and friends.
If you think that the sea is the right place for your wedding, Apulian land and its seaside are waiting for you.
We are professional wedding planners and coordinators born in Apulia. Our native land has given us so much and continues to give us lots of emotions. We work as wedding coordinators helping our couples to make their seaside wedding in Apulia come true. We will love to let you know all fabulous Apulian destinations where you can organise your perfect Italian seaside wedding.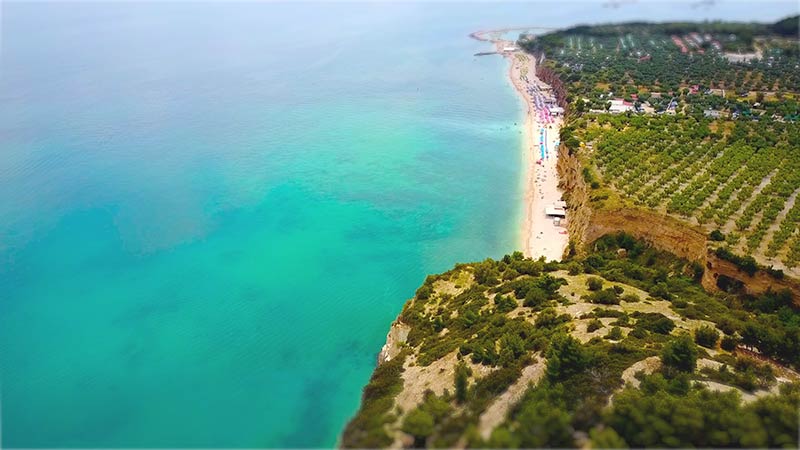 A Real Italian Beach Wedding Made in Apulia
An amazing beach wedding in Apulia
Imagine your wedding to be made with a warm summer sun, golden beaches and clear sea where you can mirror in. Apulian coast it is the right destination with its nearly 800 km of beaches.
White sand beaches, coves, caves and overhanging cliffs of rare beauty will allow you to explore untouched areas.
Many couples have chosen to stop their research here, as soon as they discovered Apulian sea, beaches and lidos where you can plan both your ceremony and party.
Manuela and Vincent chose a late August sunset to say I do on the beach. Family and friends arrived in Apulia (or as we say in Italy, in Puglia) from different countries.
Two young guys who really wanted an informal wedding with a predominance of white and essential but elegant elements to create a charming romantic atmosphere.
Above all, our role as wedding planners was guiding them in this adventure and let them discover all the beauty and charm of this brand new wedding destination. Apulia region has certainly facilitated this research. The result was this beautiful beach wedding in Apulia!
The sunset gave way to a real beach ceremony just on the sand. All guests were really excited. Bride and Groom were really moved but at the same time relaxed. Apulian environment help them to reach a lovely serenity. All was enhanced by the sunset, the appropriate time to fully enjoy the beauty of the landscape.
Poufs, sofas and stems of palm trees
Candles, flowers and white and soft curtains, for the construction of the ceremony canopy. Poufs, sofas and stems of palm trees for a simple yet elegant set up of the banquet.
Fresh local fish cooked at the moment could not miss. Typical Apulian dishes as well as fine Italian cuisine to suit all palates accompanied by red and white wines from Apulia : Primitivo, Negroamaro and Salice Salentino. Apulia is the land of wonderful Italian traditional cuisine.
After the cut of the wedding cake lit by a brazier on the beach, family and friends left their shoes to continue to party until dawn to the sound of music.
In the heart of everybody a lot of joy and countless memories undoubtedly registered as made ​​in Apulia.
A special thanks to Ph. Sonia Ippolito for the beautiful images.
For any information about your Beach Wedding in Apulia please CONTACT US.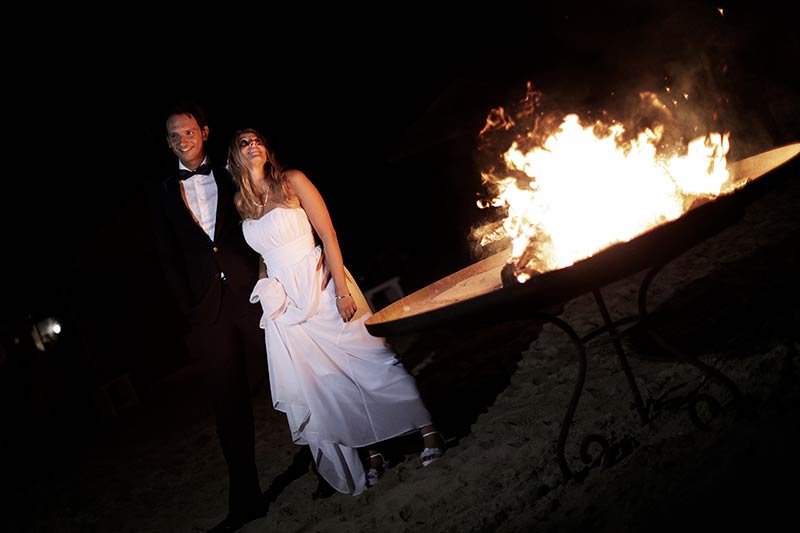 Did you enjoy the wedding we planned in Apulia?
Contact us, we will be happy and proud to plan your special wedding in Apulia!