A very intimate wedding in Ravello on Amalfi Coast
Today I would love to tell about romantic wedding of Sarmite and Kaspar. A beautiful couple coming from Riga in Latvia. They decided to plan their legal civil wedding in one of the most beautiful villages of Amalfi Coast: Ravello.
Ravello is one of the most attractive destinations on Amalfi Coast. As the matter of fact it perches high above Amalfi, overlooking Mediterranean Sea. It is the ideal destination for a very intimate wedding.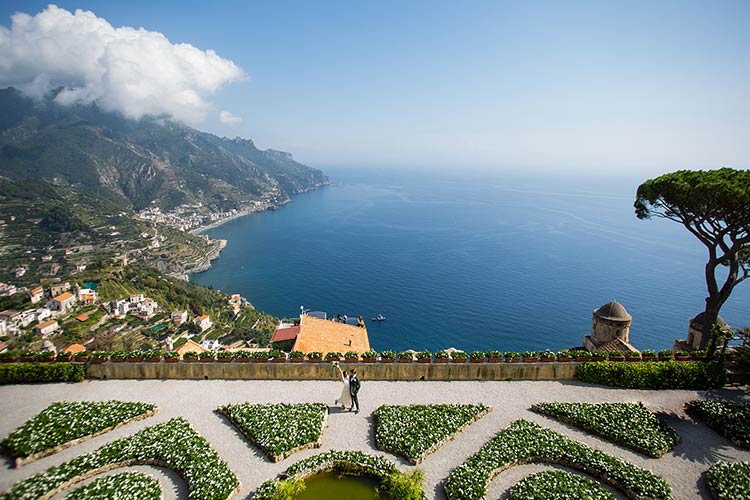 INTIMATE WEDDING IN RAVELLO
Ravello the idea destination for weddings and honeymoons
Ravello is very famous for its views and its gardens. It is was used to be part of Republic of Amalfi. Nowadays it is a peaceful historical village: must for weddings and honeymoons too.
The most known wedding venues in Ravello are: Villa Cimbrone and Villa Rufolo. Both villas have amazing panoramic gardens. They are open to the public in all their beauty. You can wander through tropical plants and enjoy fabulous views over Amalfi coastline.
Ravello also has an impressive cathedral: venerable Duomo. It's dedicated to San Pantaleone whose blood is a treasured relic and supposedly liquefies every year. Wow!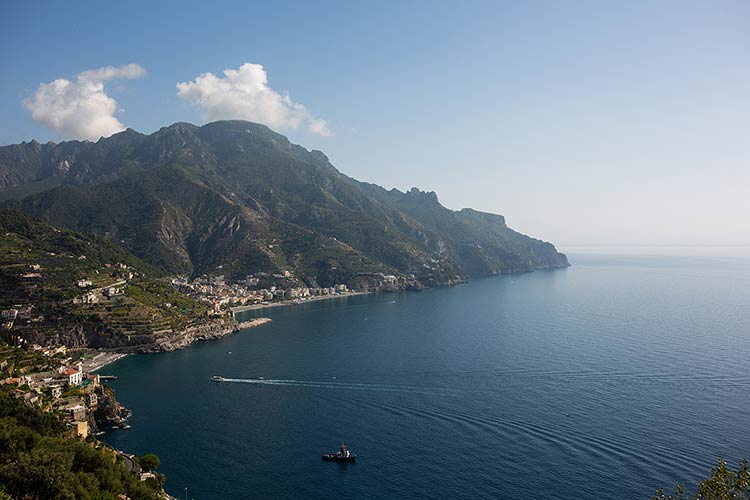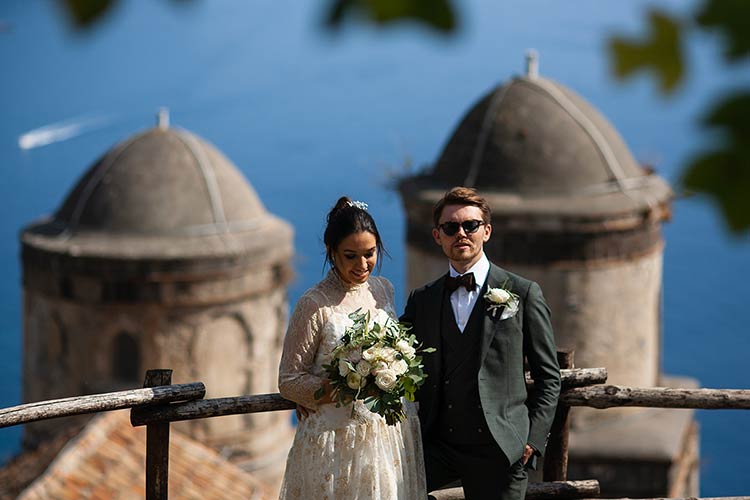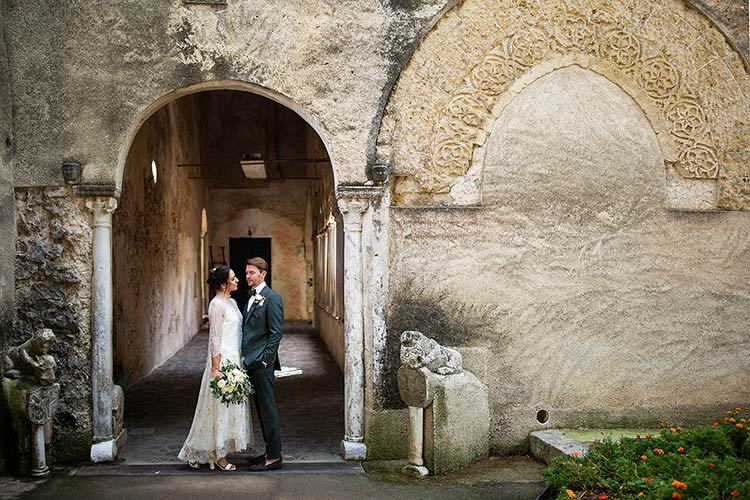 INTIMATE WEDDING IN RAVELLO
A Civil Ceremony in Ravello
Now let's go back to Sarmite and Kaspar and their very intimate wedding in Ravello on Amalfi Coast. They chose Principessa di Piemonte gardens for their civil ceremony.
Gardens are open air facing Mediterranean Sea with an extraordinary landscape over the bay.
Town hall allows legal civil weddings, in the garden. It is for sure one of the most beautiful venues to have an open air legal civil civil ceremony.
As the matter of fact is also one of the most popular town hall all over Amalfi Coast.
Wedding ceremony was embellished with two rich floral compositions in white and green flowers on a high stand that matched the bridal bouquet color. Sarmite wore a lovely and romantic off white lace dress that perfectly matched her elegant bridal bouquet.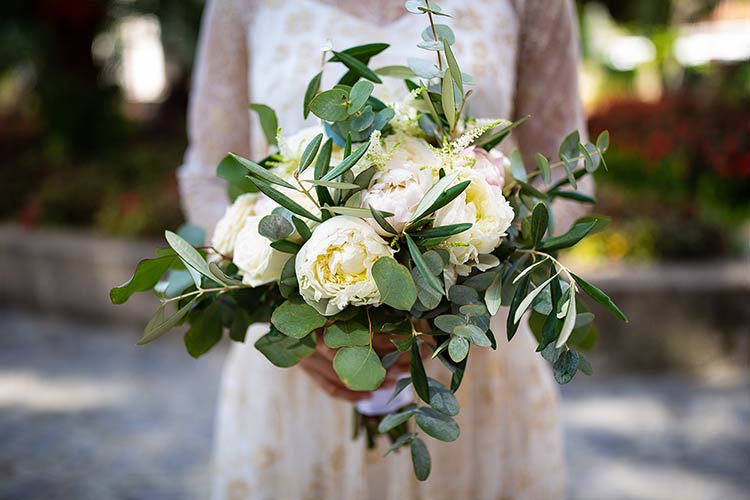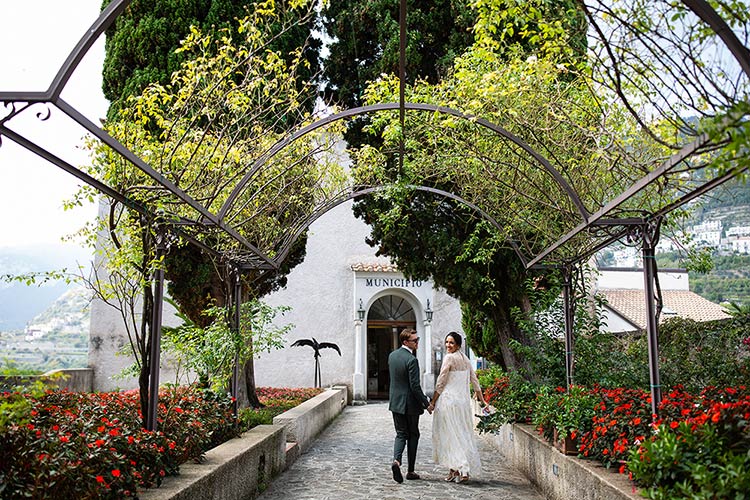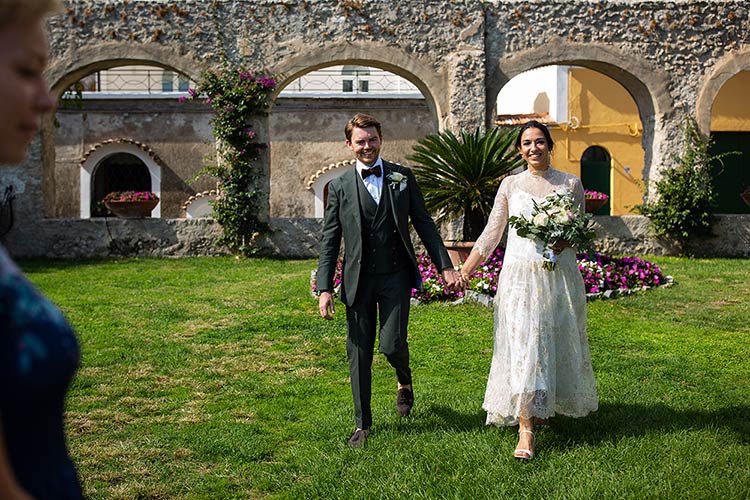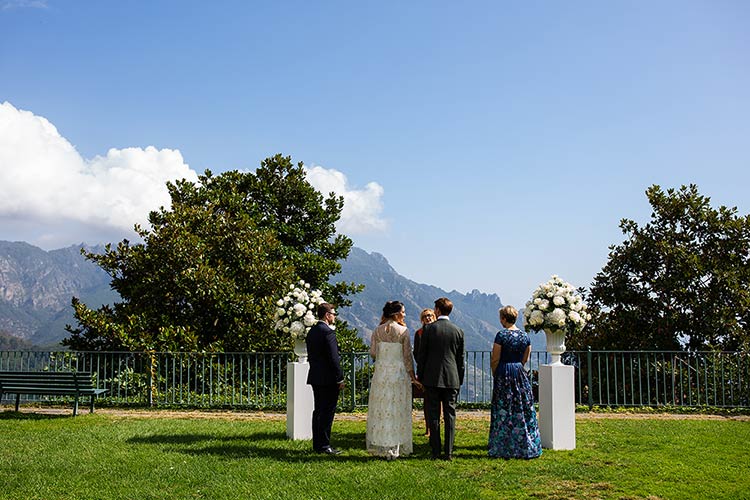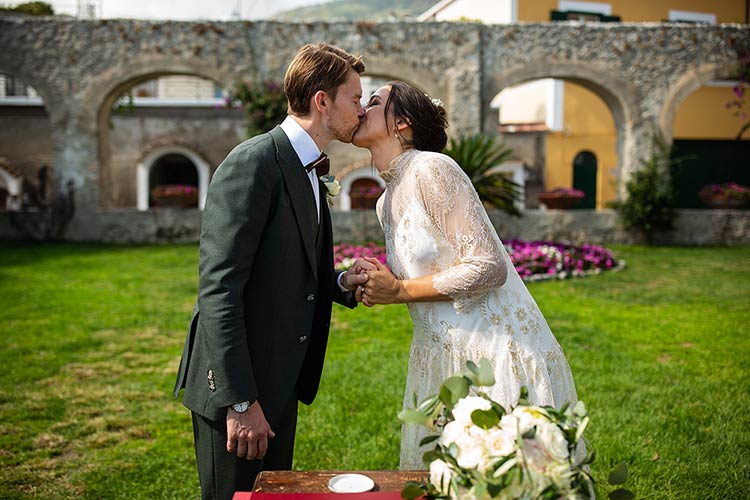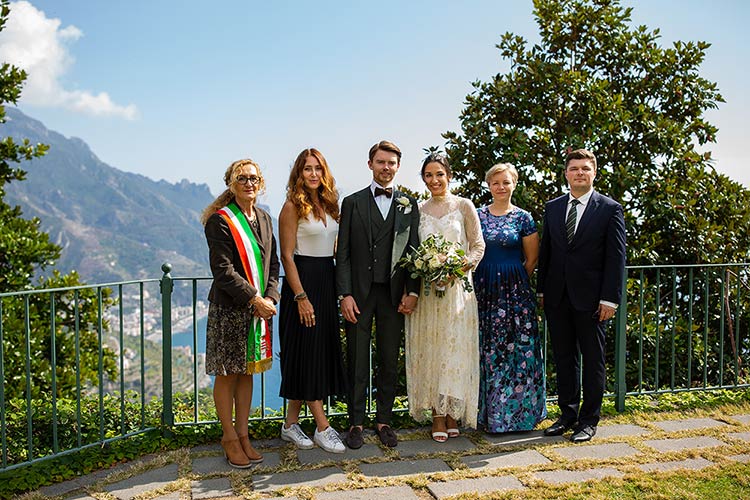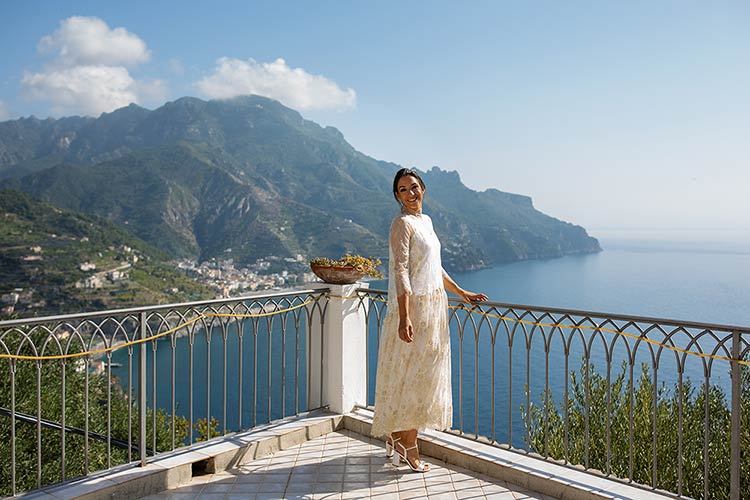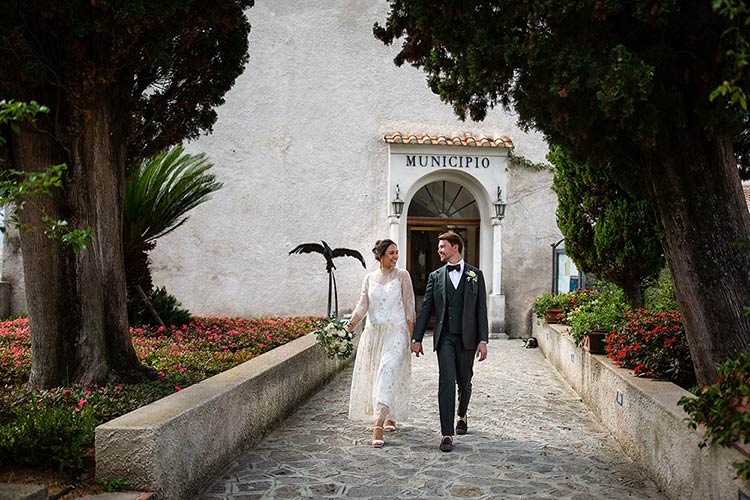 INTIMATE WEDDING IN RAVELLO
Wedding photos in Ravello on Amalfi Coast
After the ceremony Sarmite and Kaspar walked down in the little roads of the village with their wedding photographer. All Ravello corners are full of charm and history. They decided to close their wedding pictures tour at wonderful Villa Rufolo,. Villa Rufolo Gardens are also known as Garden of the Soul. Bride and groom had the chance to take their wedding pictures along the enchanting paths. They were surrounded by exotic flowers and plants and amazing view on Mediterranean Sea. The perfect setting for a very intimate wedding in Ravello on Amalfi Coast.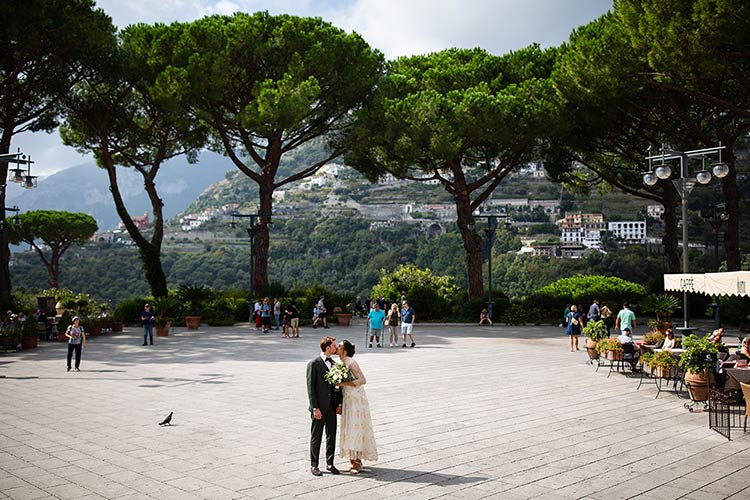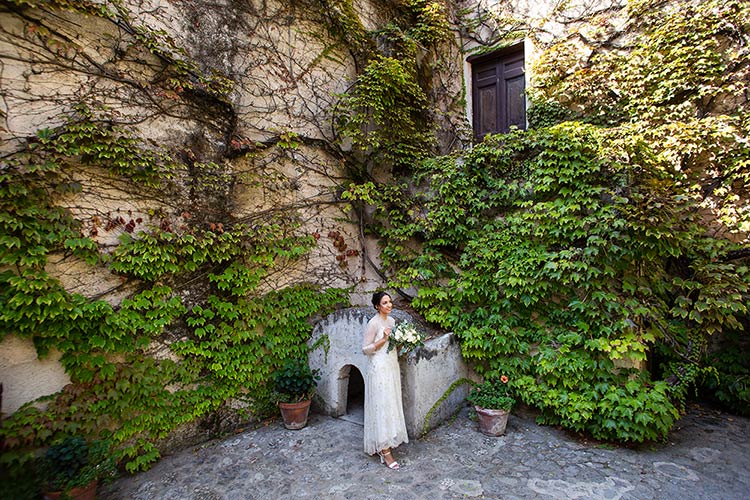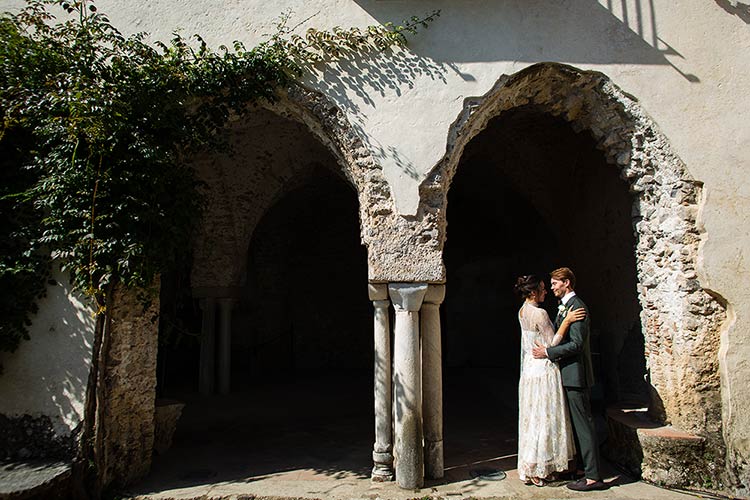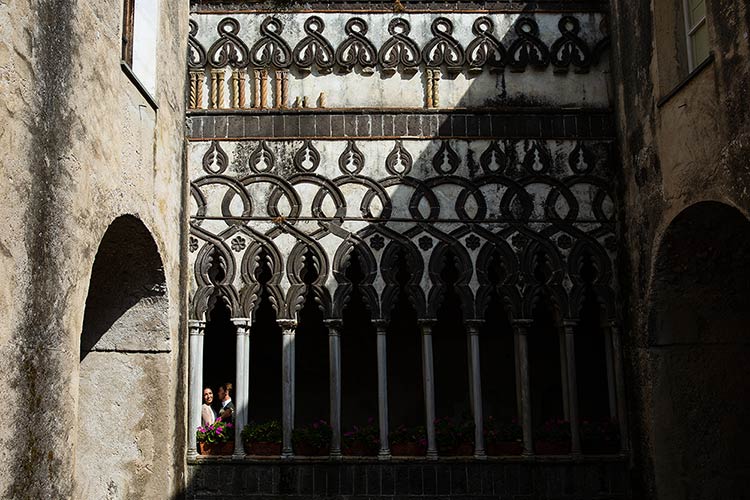 INTIMATE WEDDING IN RAVELLO
Villa Rufolo Gardens in Ravello
Villa Rufolo garden is located in a central position in Ravello village. It stands on two levels. You can reach them following a tree-lined avenue with a distinctly Victorian air.
Ancient walls, almost hidden by cypresses and lime trees, lead to the Moorish cloister. You can savour noble lines of the monument architecture before descending few steps down to the first level of the garden.
Redolent atmosphere infuses you with the spirit of the Romantic garden, with echoes of Boccaccio's stirring poetry.

Villa Rufolo garden is dated back to 13th century. However the first project was developed during a medieval time. Only a few traces remain of the original shape. They recall the garden Boccaccio described on the first day of his famous work Decamerone, During Romantic age, Francis Nevile Reid, a Scottish philanthropist and expert on botany and ancient art, chose Villa Rufolo as his summer residence. He began to stock the garden with various species of exotic plants.
In May 1880 Wagner visited Ravello and "discovered" the enchanted garden of Klingsor. As he had imagined it for his opera Parsifal, villa Rufolo entered in history. This makes it a very special setting for a very intimate wedding in Ravello on Amalfi Coast.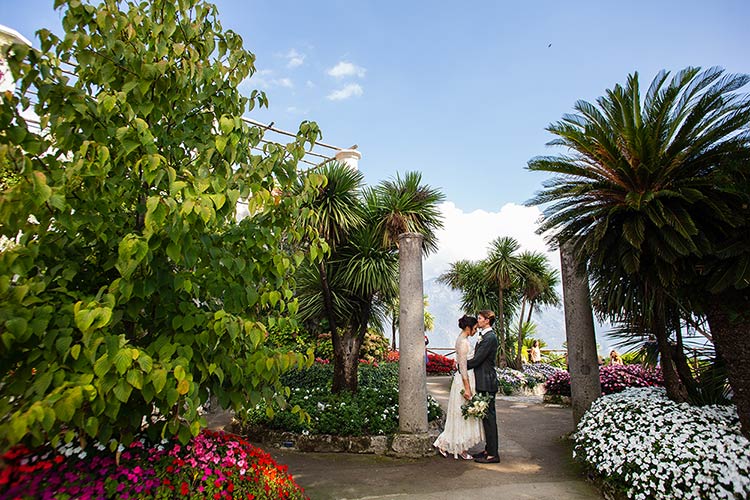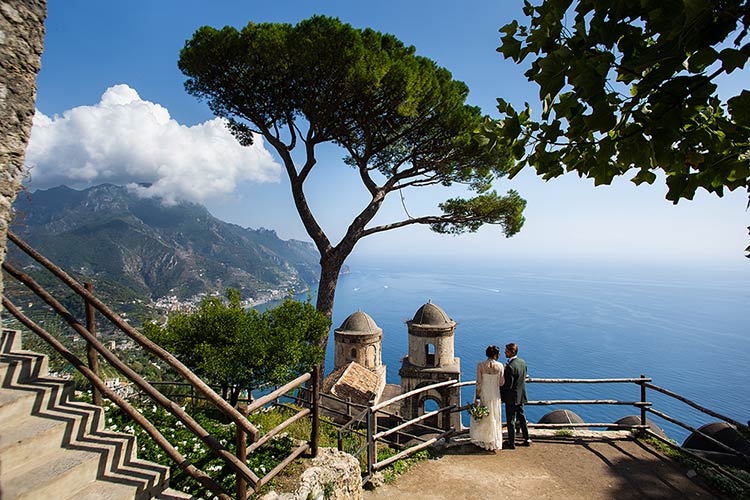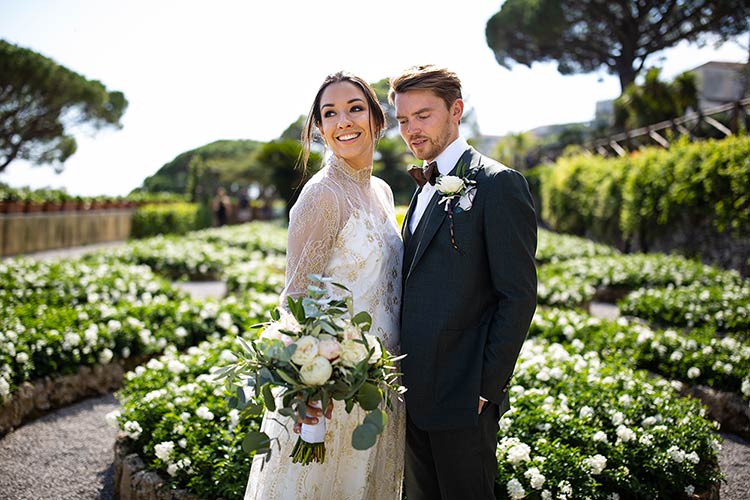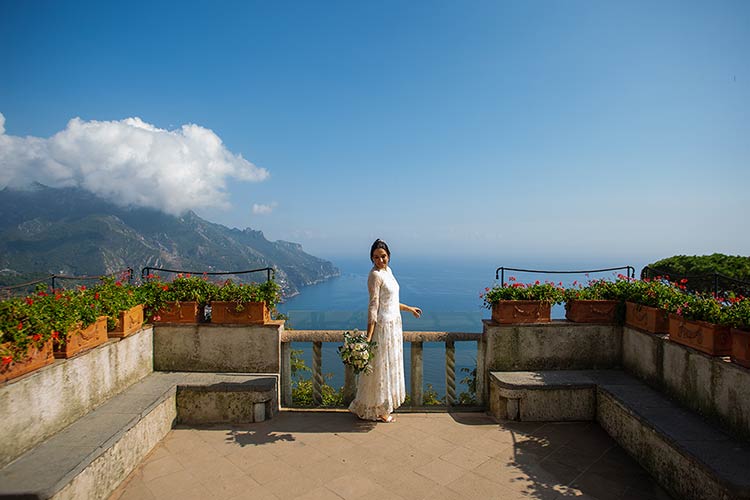 INTIMATE WEDDING IN RAVELLO
A romantic wedding dinner in Ravello
After their wedding photos at Villa Rufolo discovering all spots of Villa Rufolo, Sarmite and Kaspar left to reach their wedding reception venue. They opted for a romantic restaurant over Mediterranean Sea.
It's been such a great experience meeting two beautiful people such as Sarmite and Kaspar. I was glad to plan for them a very cute and a very intimate wedding in Ravello on Amalfi Coast.
.
A big thanks to Gaetano D'Auria for his beautiful beautiful pictures of Sarmite and Kaspar's intimate wedding in Ravello.
Did you enjoy the wedding we planned in Ravello?
Contact us, we will be happy and proud to plan your special wedding on Amalfi Coast!