Getting married in the city of love: Venice!
Ah, Venice! The most romantic destination in the world!
Any couple's dream is to tie the knot in this wonderful Italian city.
When you think about Venice you immediately think about evocative journeys along the narrow streets of this ancient Sea Republic, the so called calli, enchanting squares, majestic buildings, and most of all its uncomparable lagoon.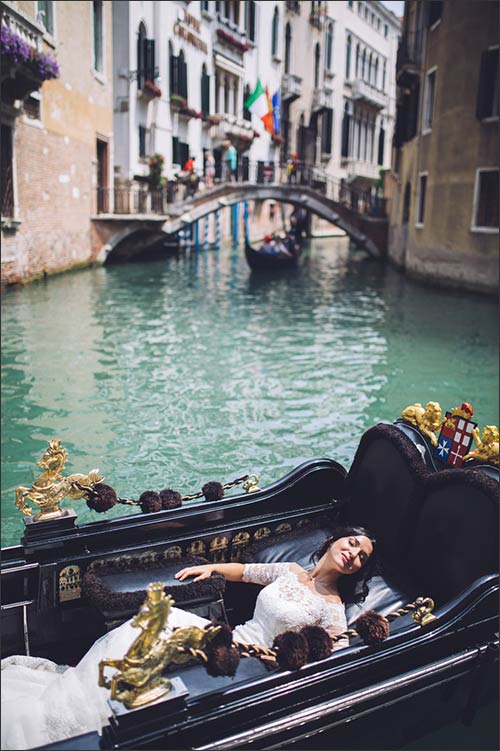 Fulfill the dream of a lifetime: get married in Venice, the most iconic Italian city!
Venice is one of those places where time seems to have stopped many years ago. Centuries ago.
Walking along streets of this
iconic Italian city
is one of the most amazing experiences to try at least once in a lifetime.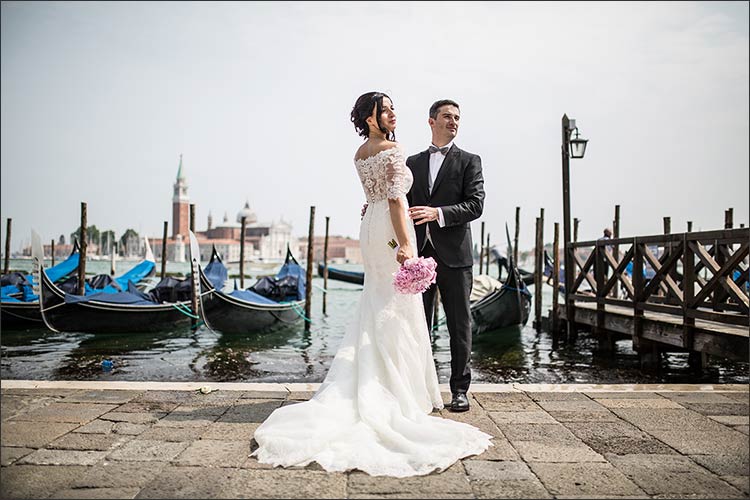 The city of Casanova, of Venetian Carnival, of colourful amazing masks.
The city of stone bridges, of Gondolas, of many hidden gems.
Picture you and your partner, hand in hand, looking over Piazza San Marco at sunset.
You can simply do as Dinara and Marco did. They chose Venice for their romantic wedding. Thanks to great pictures taken by Noemi Mazzucchelli their memories will last forever!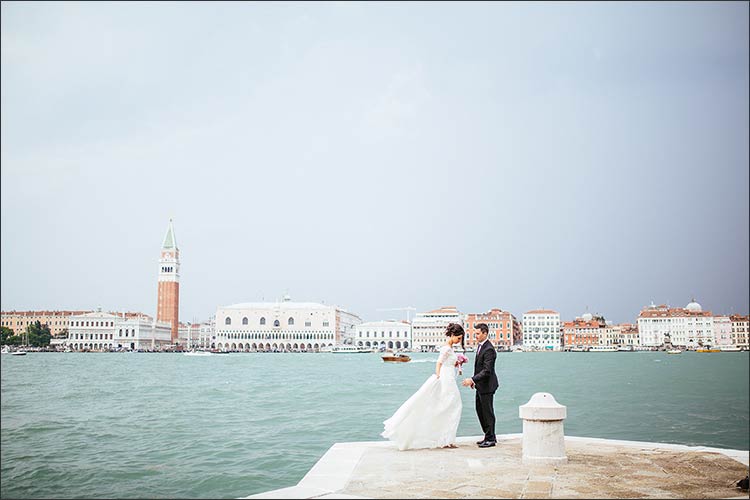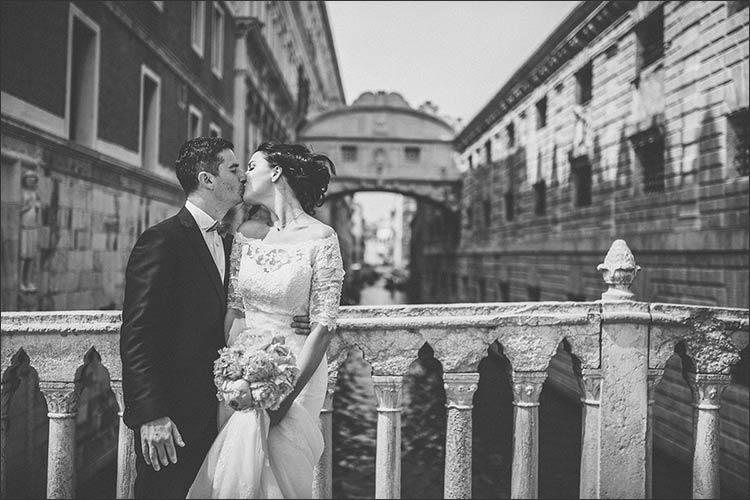 Dinara and Marco have been together since 2010, they met in Poland, in Warsaw.
Their love journey started there. Since then they lived in three European countries, making their home there, working, learning different languages and meeting great people who become their friends, learning different languages and joined them to their wedding in Italy. They now live in Budapest – Hungary.
For Marco their Italian wedding was a sort of coming coming back to his roots. As the matter of fact he is Italian. He was born in Treviso, not far from Venice actually. For Dinara the venue was a dream she is Ukrainian but literally in love with Italy!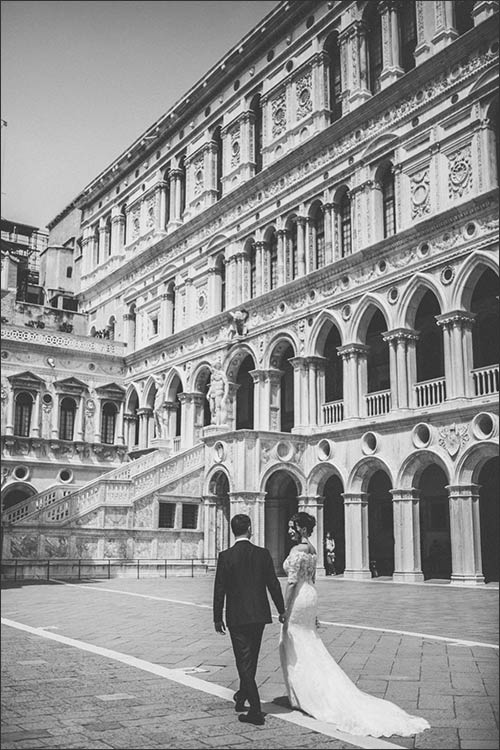 They were assisted by a wedding planner to prepare they whole wedding. For their staying in Venice they could not choose something different than one of the best Hotel: Luna Baglioni. Their hotel combined perfectly what they had in mind: a charming ancient Venetian Palace of 16th century with a fantastic view over Venice Lagoon.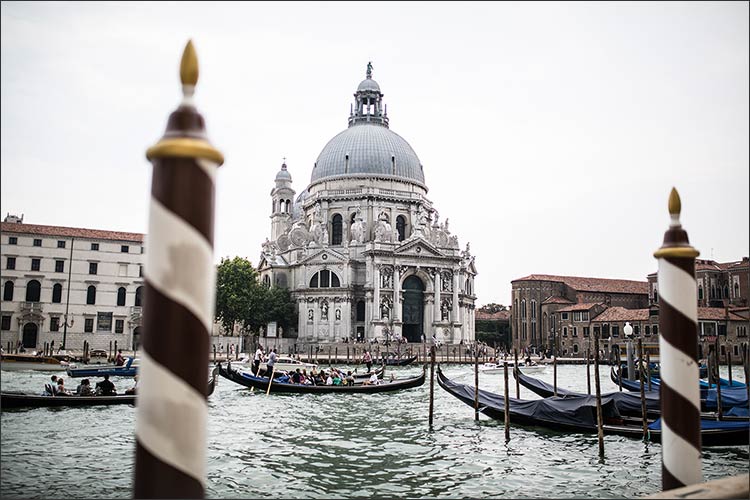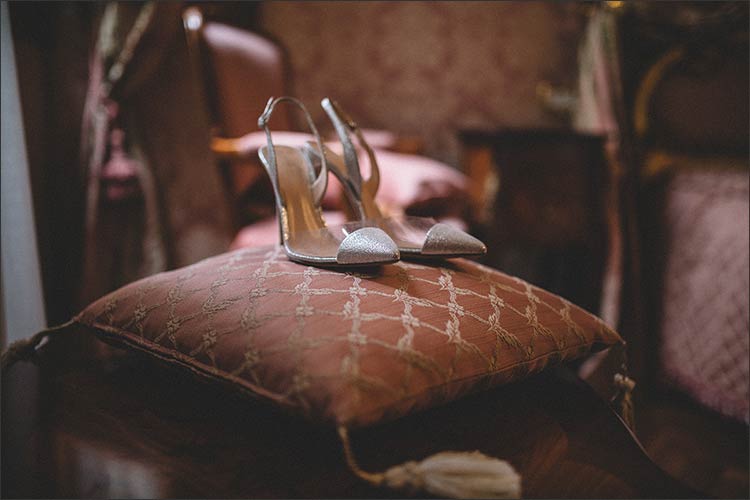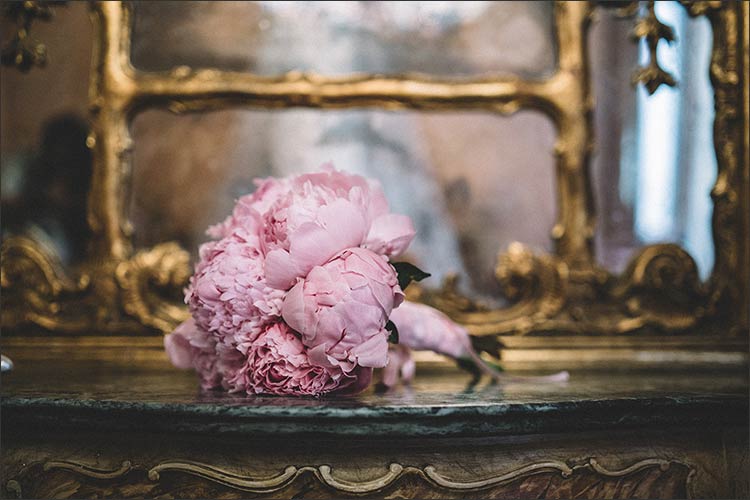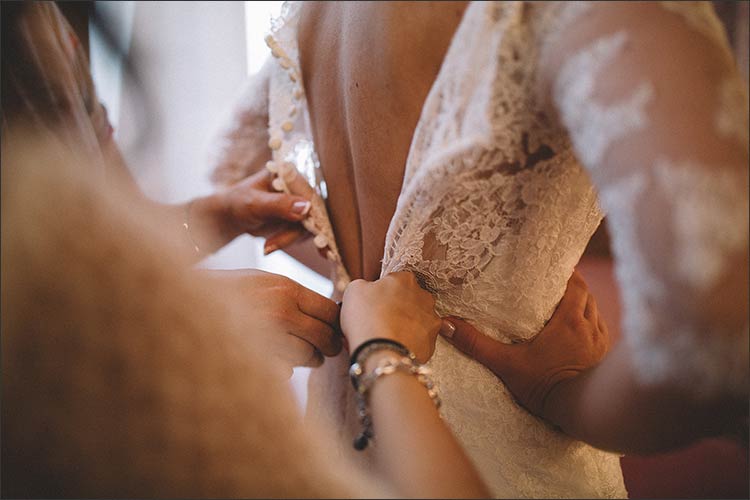 On the day of the wedding Dinara wore a wonderful dress by Pronovias. She ordered it directly from Spain.
 She was simply stunning in it and perfectly matched Venetian romantic style she breath in Venice.
In Venice you can really feel like walking in the streets of history, riding a Gondola or wearing a Carnival mask.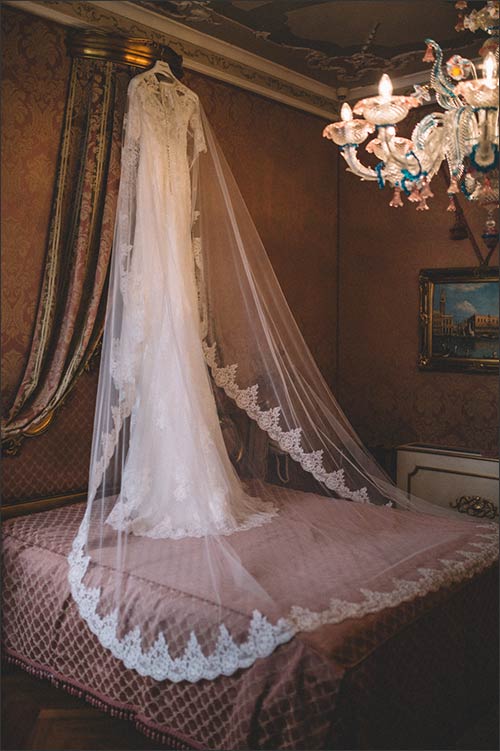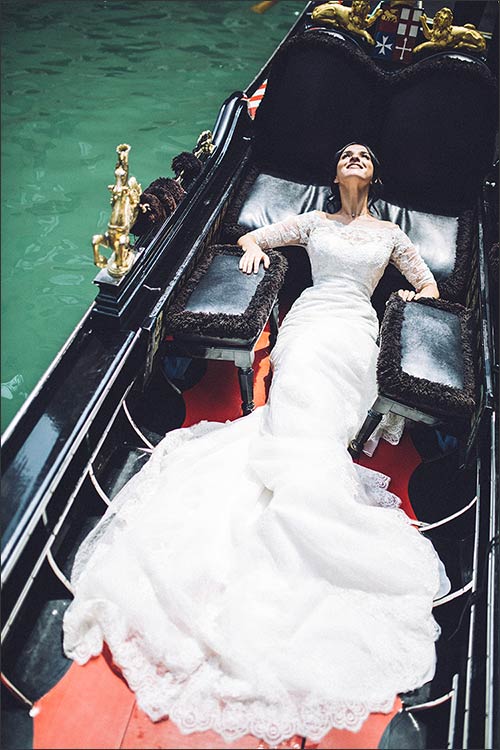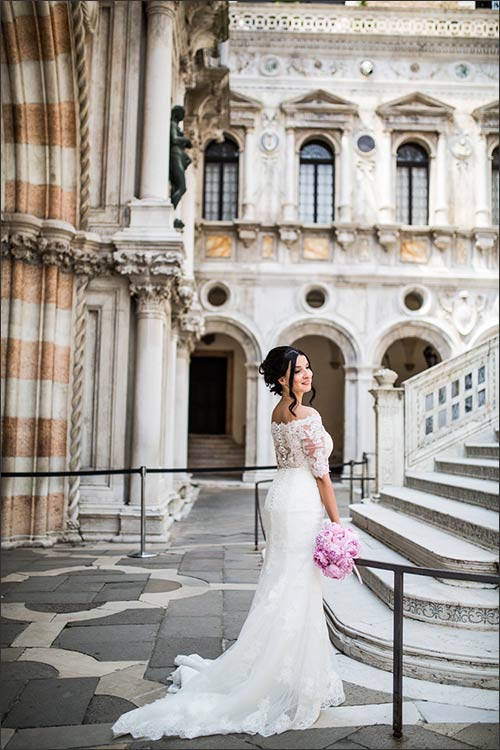 Let us tell you what you can do in Venice on your wedding day!
After some snaps in the most beautiful square of Italy you can jump on a
gondola
, the symbol of this legendary city.
You can do like Marco and Dinara having their family and friends with them or decide to elope and live your romanic dream in Venice alone.
You will feel like a princess with her Prince charming. Let the gondola take you through all canals of Venice. You'll discover magic corners and surprising places you'd never see from the mainland.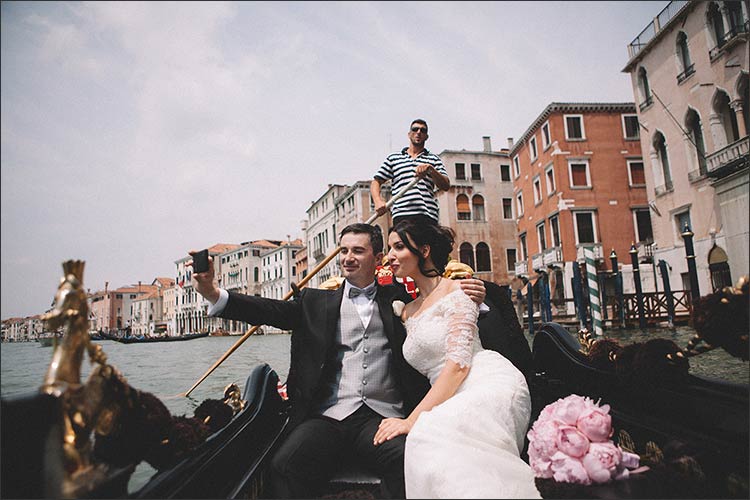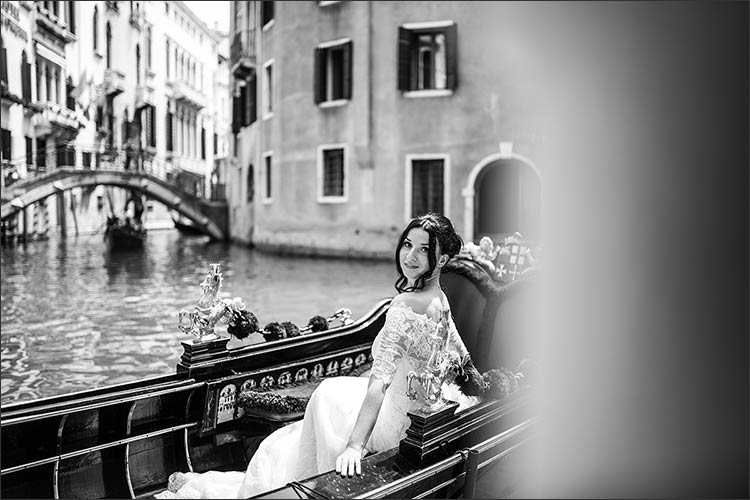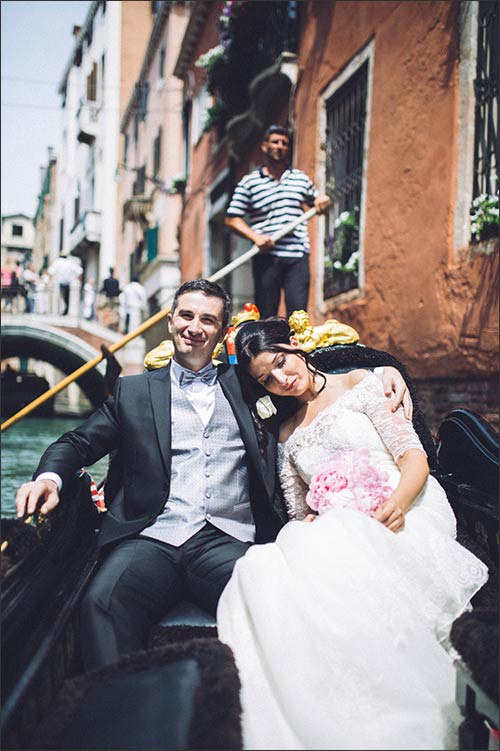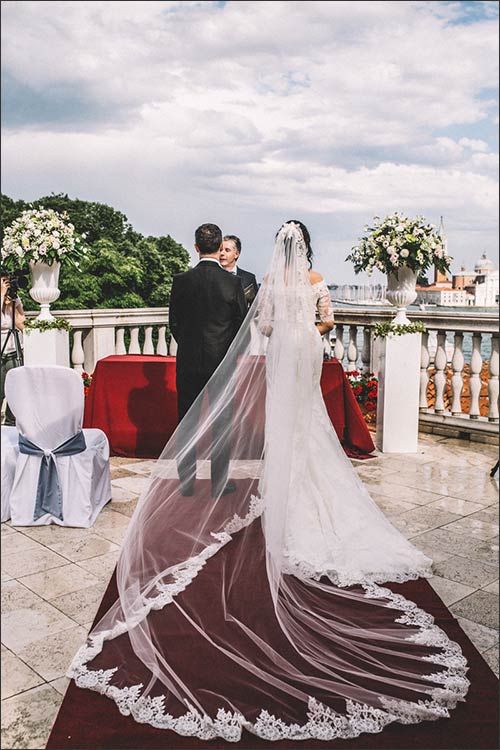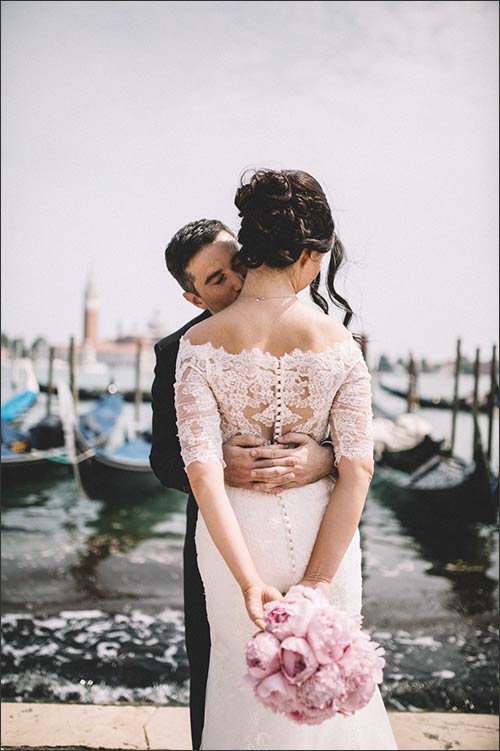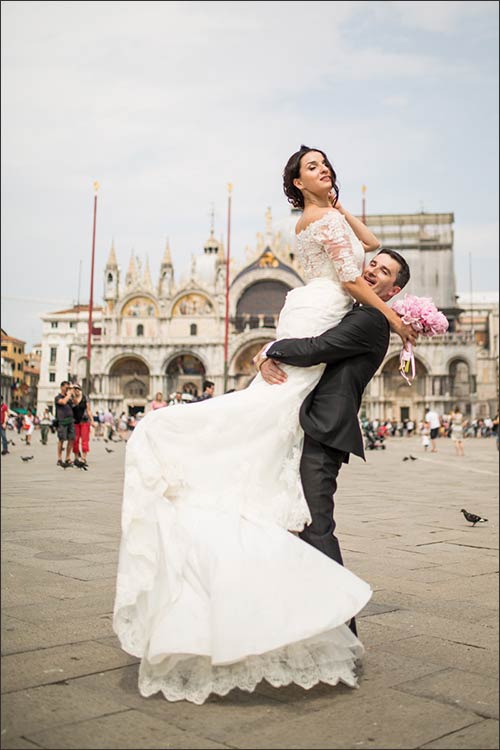 In Venice there are many wedding venues that perfect to host the most romantic weddings.
You can choose an ancient Palazzo with a traditional Venetian look: a colourful façade, enriched with 14-century sculptures, arch-shaped windows and arcades on the ground floor.
Even better if it overlooks Gran Canal, with huge windows and bright salons, all decorated with precious tapestries and beautiful paintings.
How magic would it be dancing with the man of your life surrounded by such a unique beauty?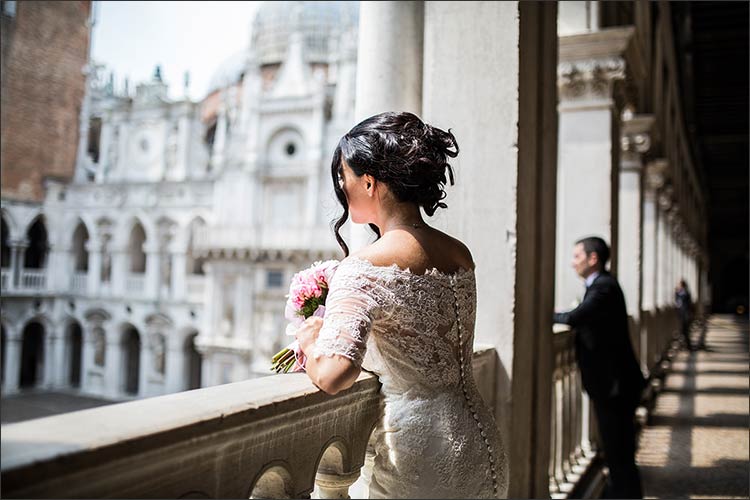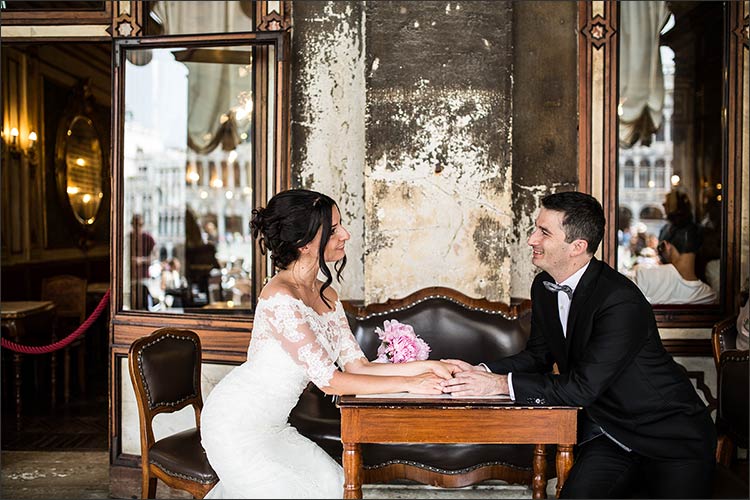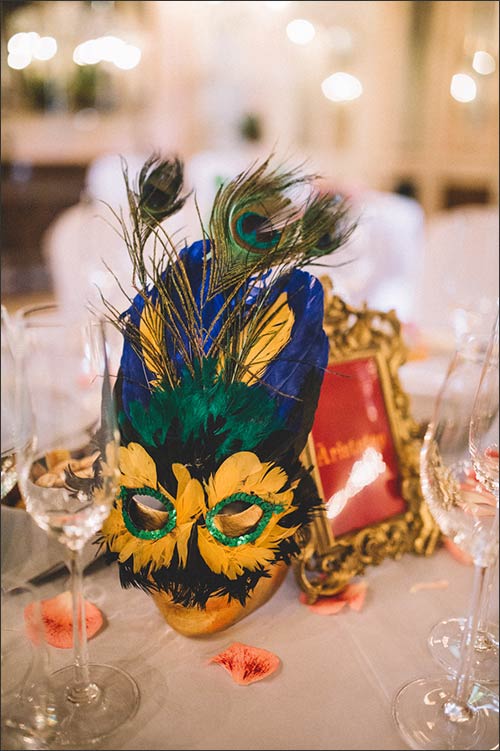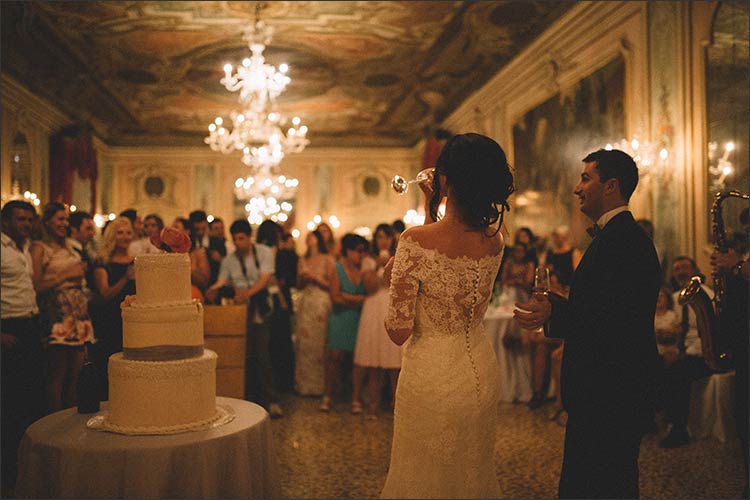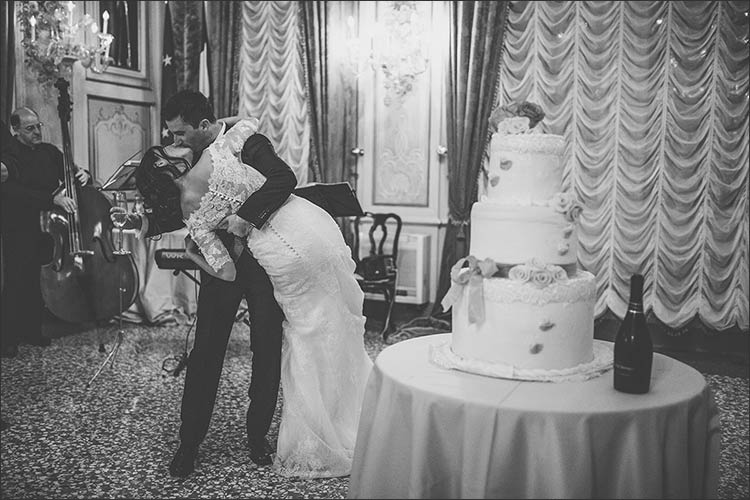 Getting married in Venice is like making a leap back in history, offering your guests the time of their life, touching Italian passion with your own hands.
What a privilege will be getting married surrounded by history and pure love.
For the most important day of your life just do as Dinara and Marco did: Say I do in Venice, the most beautiful place where to celebrate your unforgettable wedding.