An intimate wedding in Venice
Are you looking for some inspiration for a wonderful intimate wedding in Venice? I can tell you the story of a beautiful event rich of emotion and fun. Rebecca and Alireza flown from Canada to Venice to elope in this enchanting city.
Their civil ceremony took place at Palazzo Cavalli, an amazing palace located in the heart of the city.
A round bridal bouquet with English roses with several tones of pink perfectly combined with romantic bridal dress.
I can't thank enough the amazing photographer Facibeni. He captured amazing images of this wonderful civil wedding in Venice and gave us a perfect idea of the magic atmosphere of the day.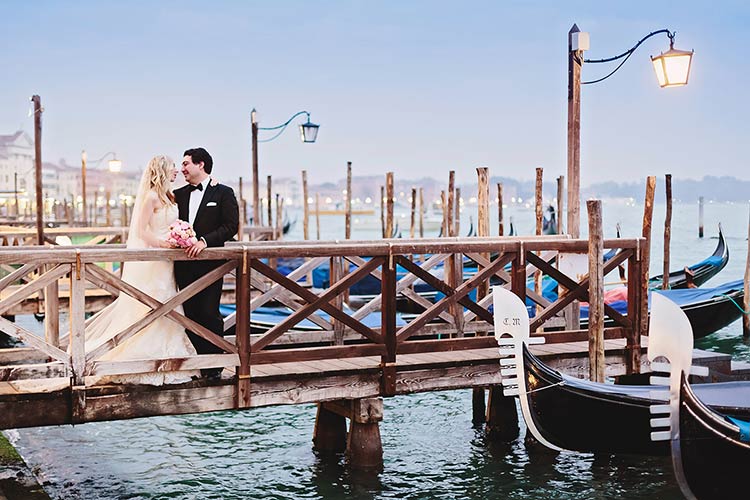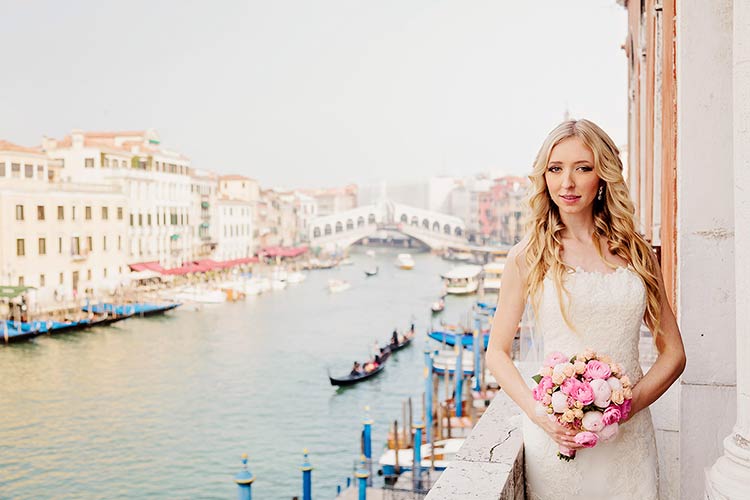 An intimate wedding in Venice
A romantic photo-shoot before the wedding ceremony
The couple got ready in a lovely hotel in the heart Venice. That is the essence of an intimate wedding in Venice. While Rebecca got ready, Alireza had some photos around the city waiting for his bride.
Once ready, she appeared on top of the bridge, it was a great surprise for Alireza! Very emotional!
Hand in hand they both walked towards the City Hall. It was an exciting walking through the city! They took the chance to see the most beautiful corners in St. Mark square and have wonderful photos there. They arrived in front of the Town Hall palace, they were ready for the most magic moment of their wedding in Venice!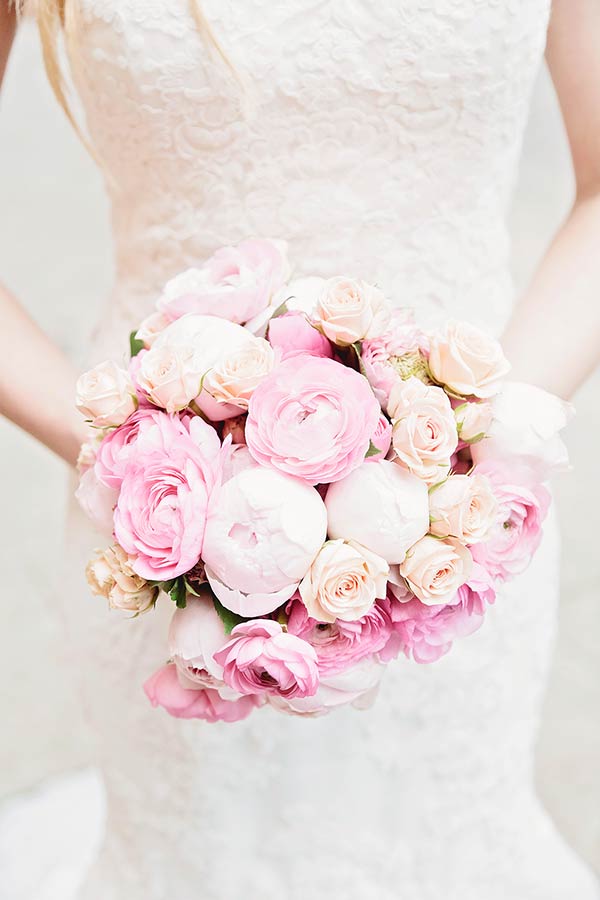 An intimate wedding in Venice
A civil ceremony at Palazzo Cavalli
Civil wedding ceremonies can be planned at Palazzo Cavalli. It is an ancient palace built back the 16th Century. It lies walking distance from famous Rialto Bridge and it overlooks Canal Grande. From its large window you can really enjoy one of the most breathtaking view in Venice and I think in the world!
Rebecca and Alireza were so excited! They walked up the ancient staircase and they finally arrived at the first floor. The sound of the violin introduced their arrival and their wonderful civil wedding in Venice could start.
After the ceremony bride and groom took some photos at the balcony of the palace with Rialto bridge in the background. It was really a magic as only an intimate wedding in Venice can be.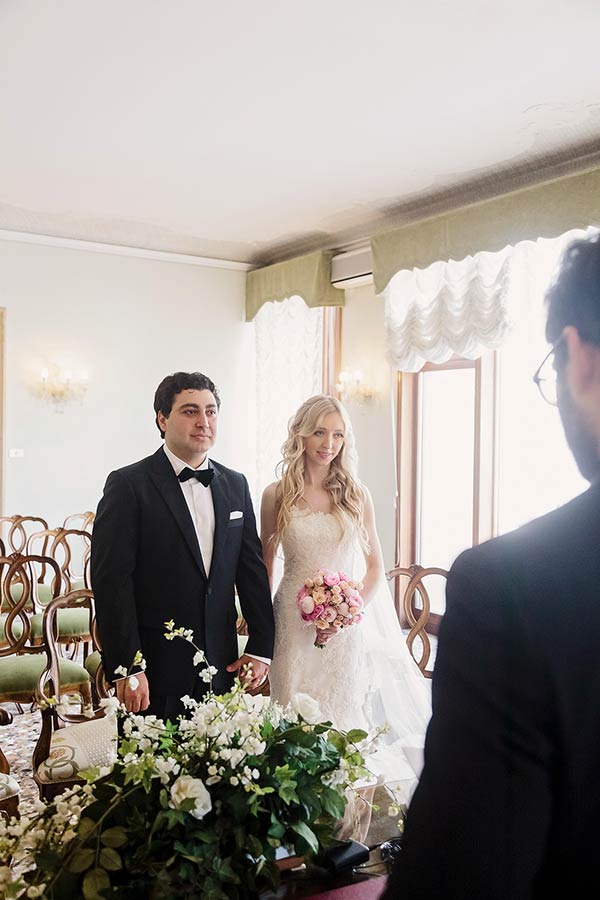 An intimate wedding in Venice
A wedding toast ovelooking Canal Grande in Venice
After the ceremony Rebecca and Alireza continued to walk in the city. They stopped at Rialto Bridge. Photographer took for them a photo with beautiful staircase and the ancient shops as background.
After that, they enjoyed a wedding toast on a terrace overlooking Canal Grande, no better way to celebrate an intimate wedding in Venice.
They enjoyed a stunning view over the famous Salute church and San Giorgio island in the Lagoon. But the most enchanting moment was the sunset in St. Mark square and a photo with a gondola in the background is absolutely the must!
I'm sure Rebecca and Ali will keep a special memory of this special day in Venice.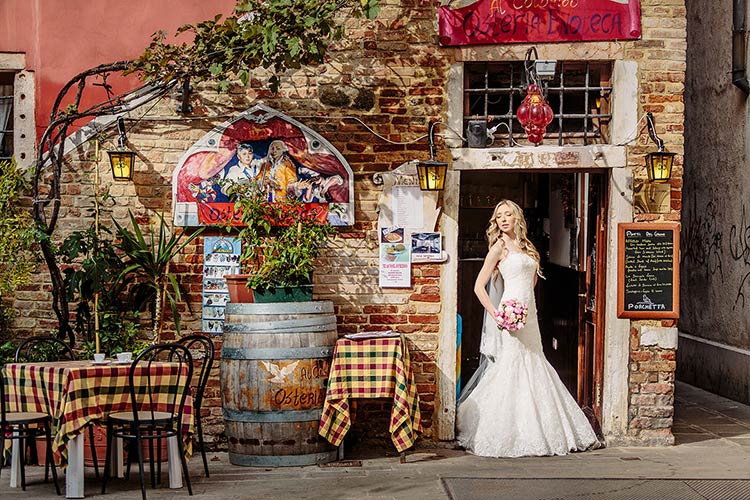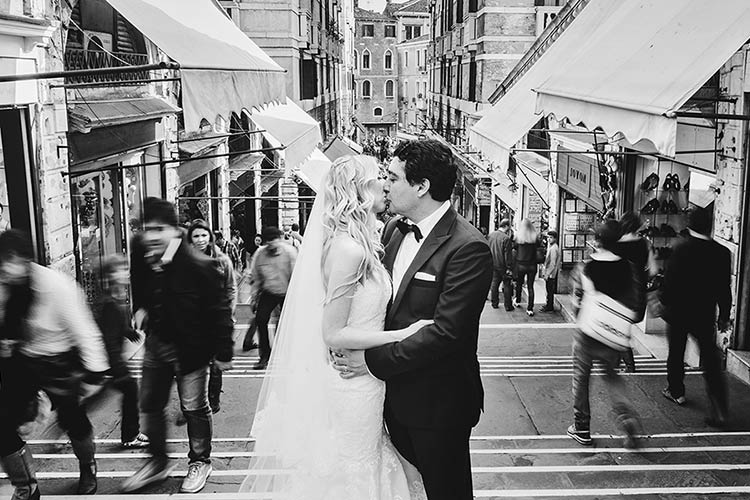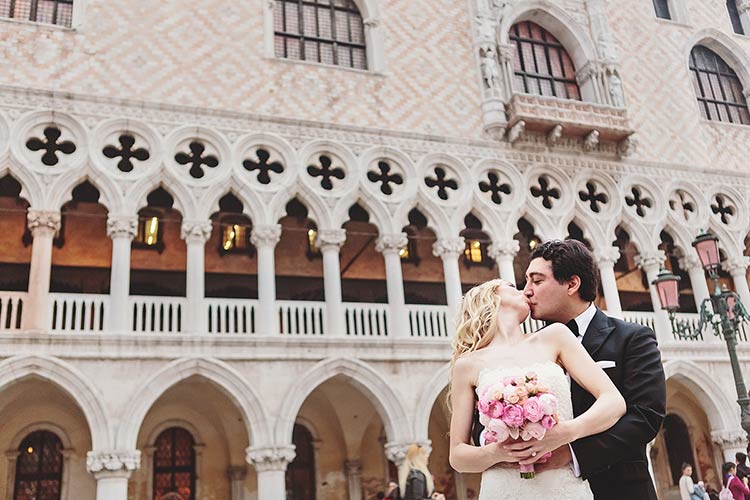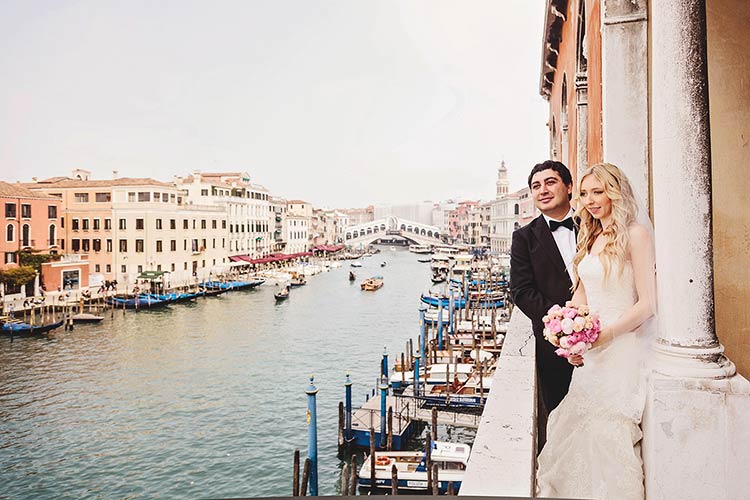 A special thanks to Facibeni photographer and his beautiful Venetian imagesI If you are looking for a intimate wedding in Venice do not hesitate to ask for further information and ideas!
Did you enjoy the wedding we planned in Venice?
Contact us, we will be happy and proud to plan your special wedding in Venice!