A fairytale wedding in Amalfi Coast overlooking Capri island
We are pleased and happy to share with our readers a real fairytale wedding: Miray and Kerem's special day on Amalfi Coast.
Kerem and Miray are both from Turkey but living in US. They contacted us as they wanted to have their wedding overlooking the sea in a real authentic Italian spot. We were so pleased to make their dreams come true!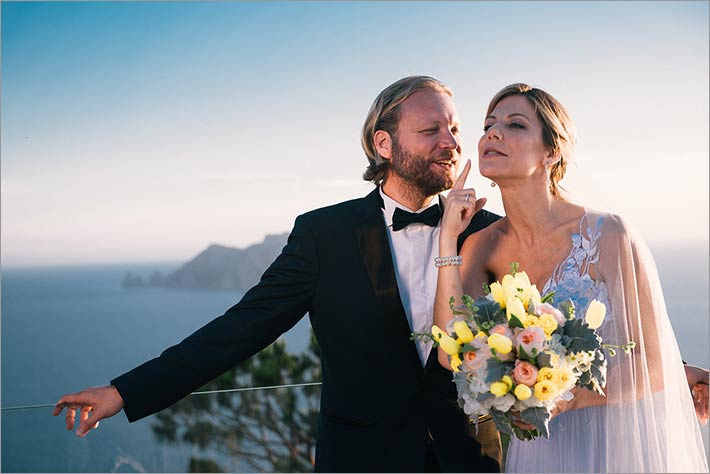 They had clear ideas: they wanted to spend their special wedding day on Amalfi Coast and they wanted a real modern and elegant venue to tie the knot.
After some initial proposal, we found the perfect spot for them. A luxury hotel located just few kilometers from Sorrento which is one of the most famous villages of Amalfi coast. It gives its name to Sorrento peninsula.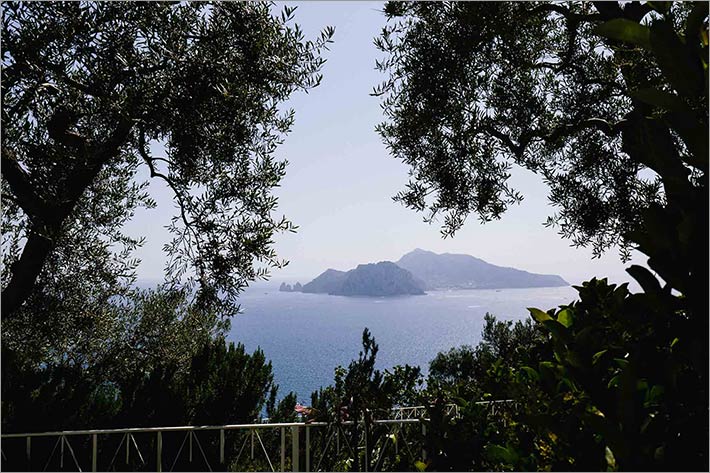 Sorrento is located on a tuff rock over the sea overlooking the horizon. On top of the rock, deep green greenery harmoniously mingles with colours of the town. For ancients, Sorrento and Sorrento Coast were the land of the mythical mermaids, who tempted seamen with their songs. Therefore, the name of the town Sorrento possibly has its origins from the word sirenide (sirens).
Indented coasts of Sorrento are made of hidden creeks, small bays, rocks and beaches, a landscape that frightened mariners of the past. Today these coast is the real touristic resource of Sorrento, the pearl of Campania region.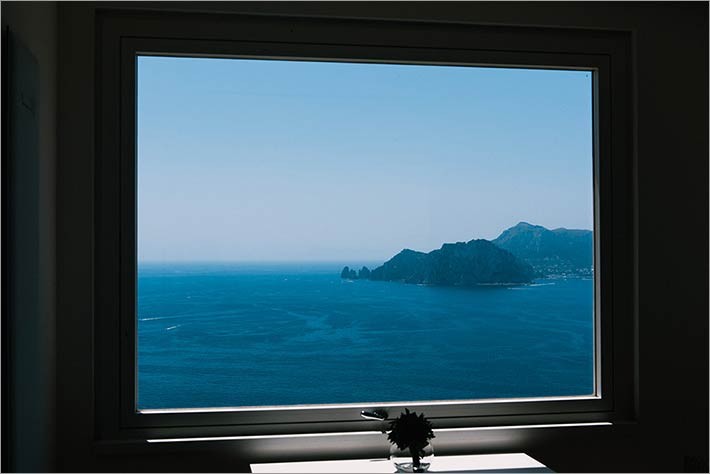 Wedding venue we chose for our bride and groom, on the other hand is a luxury boutique hotel with a stunning modern all white terrace just in front of the gorgeous island of Capri.
Miray and Kerem decided to have all their guests accommodated in the hotel so that they could spend two days all together in Amalfi Coast wonderful environment.
Wedding style they chose was really fresh and simple. They decided to use traditional Amalfi Coast colours so yellow first of all, orange, red and white, all mixed together in a natural and informal way. So warm and beautiful!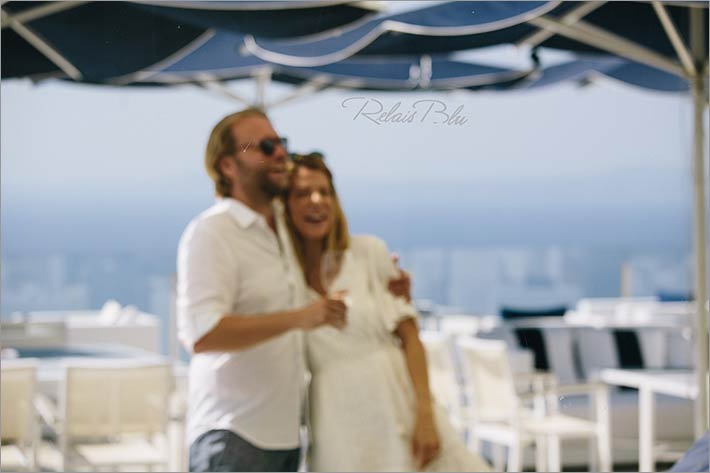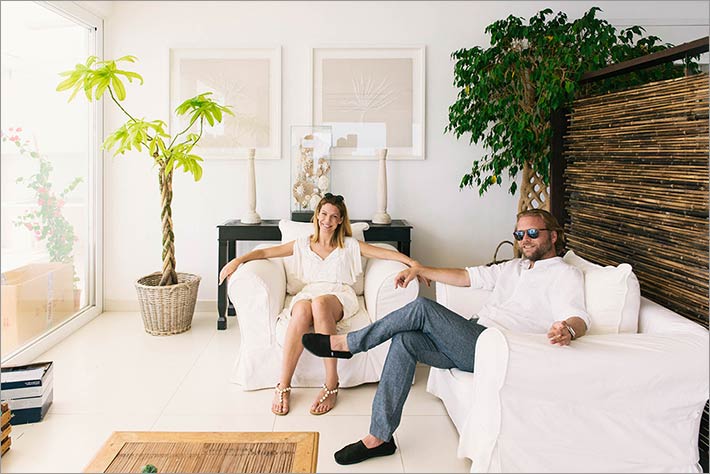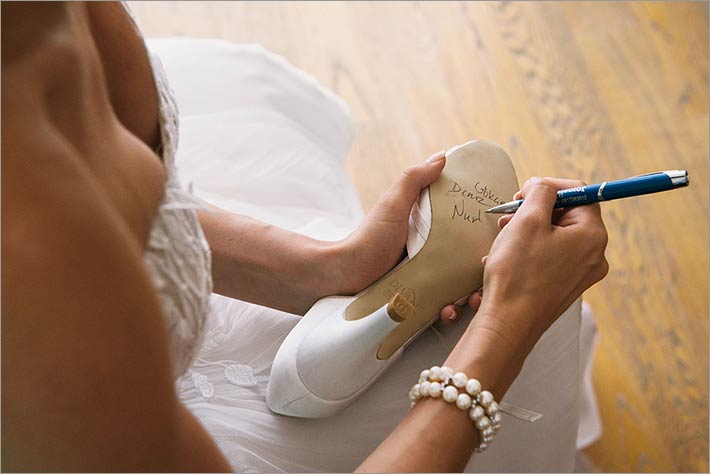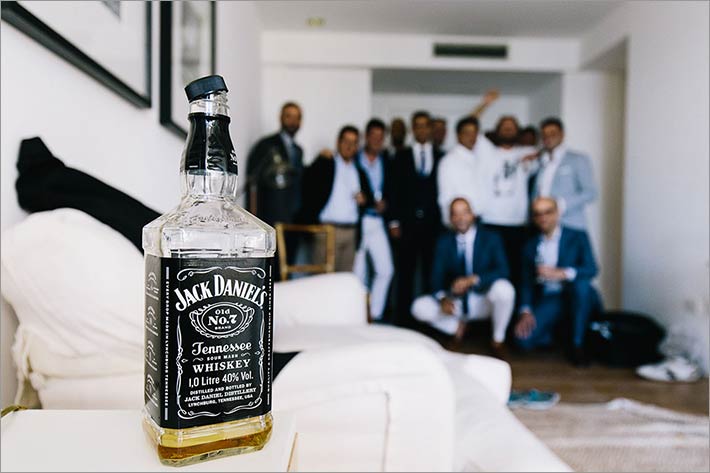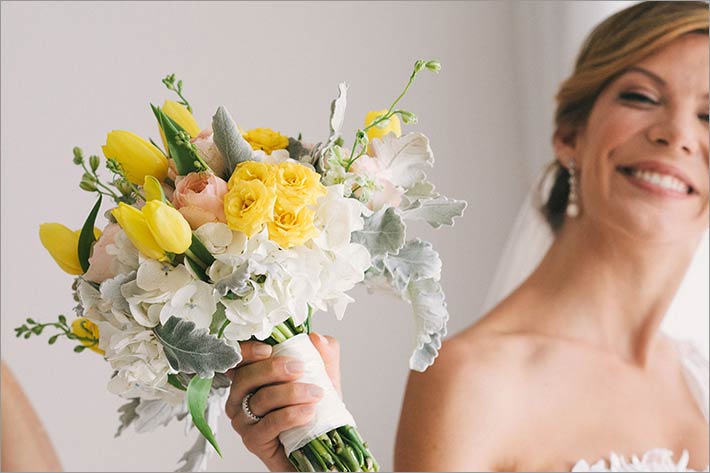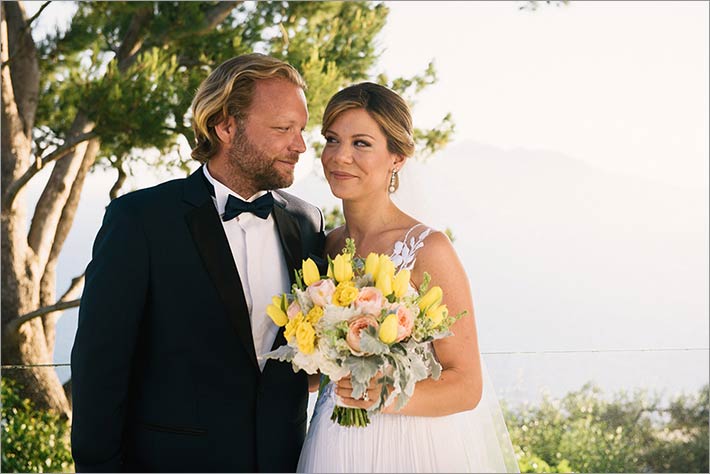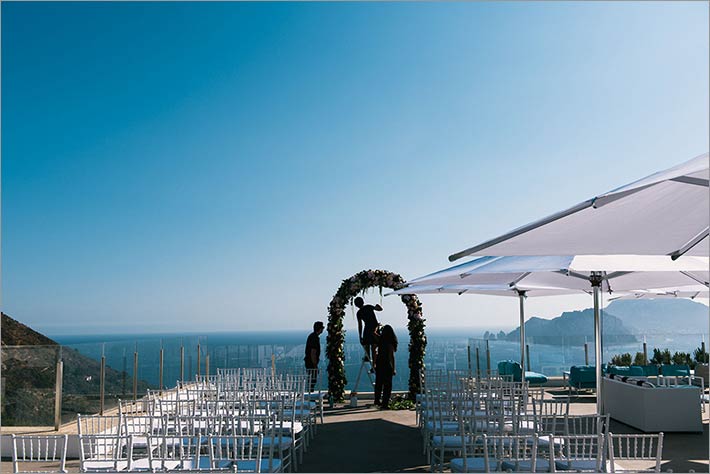 Wedding ceremony was performed by an American pastor. It took place on the upper terrace of the venue. Wedding ceremony decor involved a flower arch in white, light pink and green. Few bouquets along the aisle and a carpet of petals. Very simple but elegant and of course the landscape of the sea and of Capri as a background enriched the whole vision.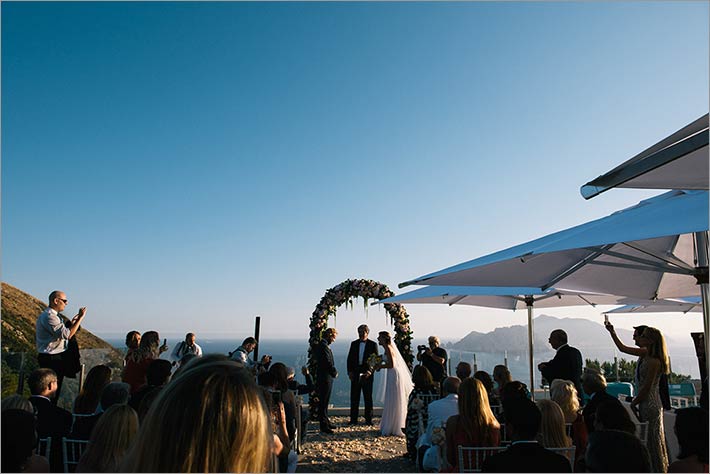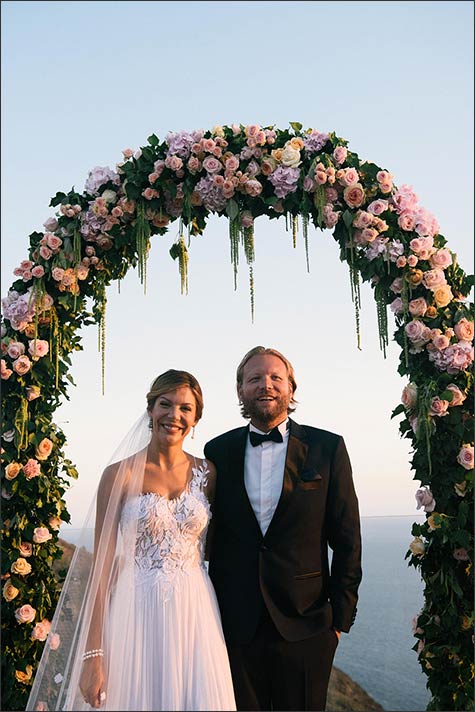 At the end of the wedding ceremony we invited all guests for the rich aperitif on the main terrace. They were welcome by lounge music, soft light of sunset and waiters with different types of delicious appetisers on their trays.
As a matter of fact, the venue has a Michelin starred chef, food is a real Italian experience.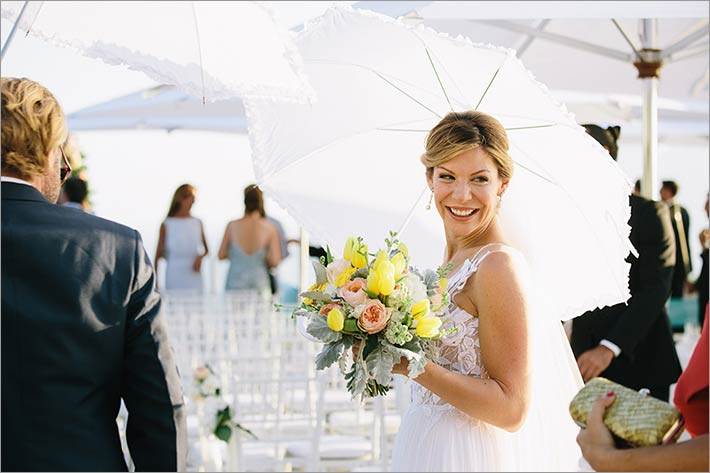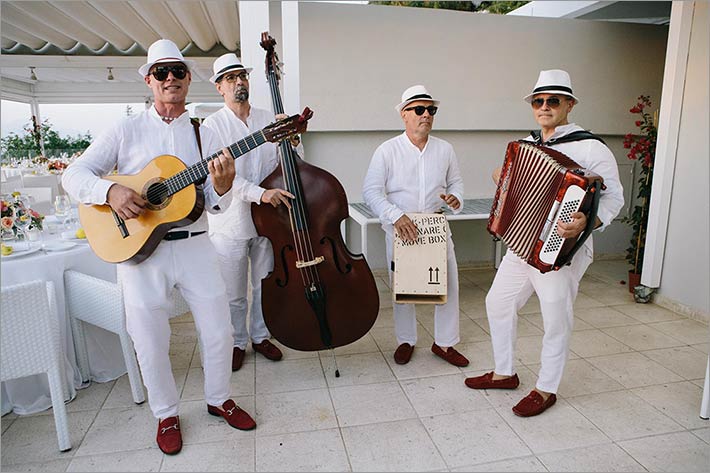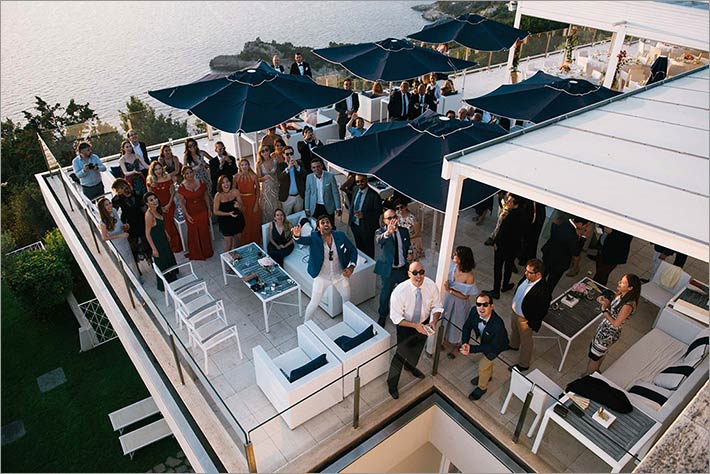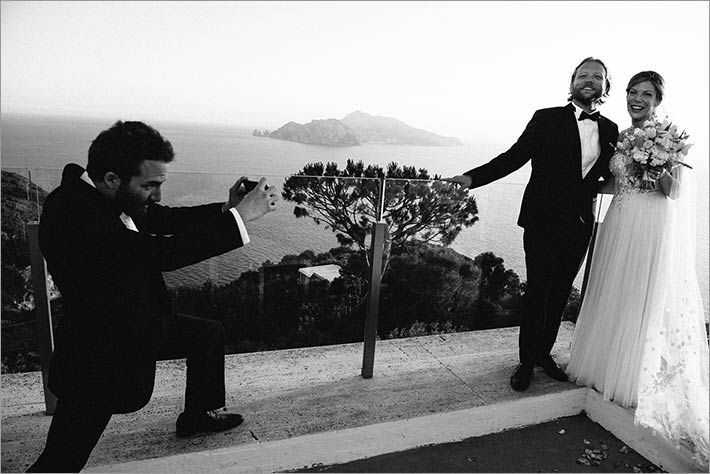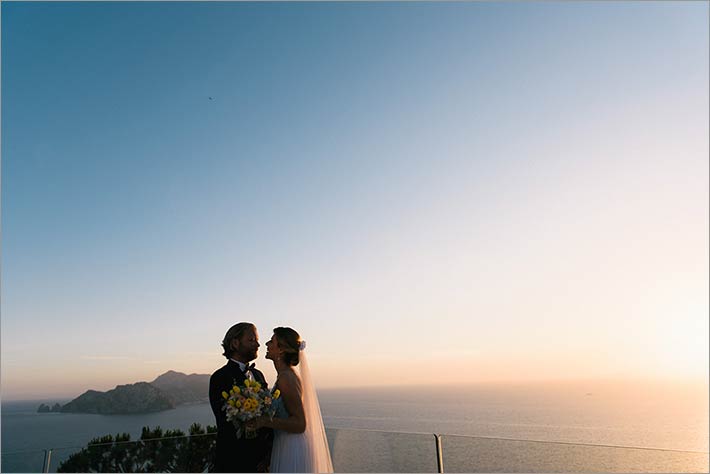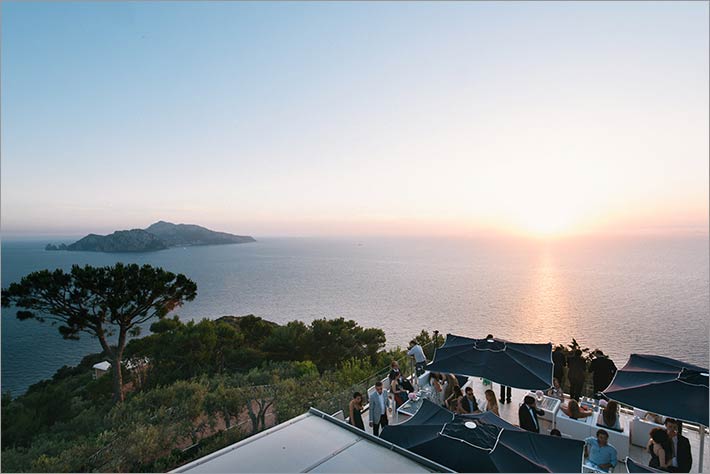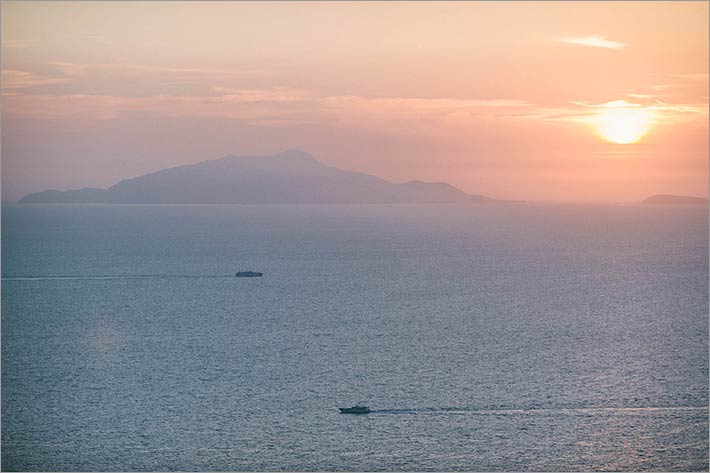 After the welcome aperitif all guests moved to the main terrace. All tables were decorated with centrepieces in bright colours such as red, yellow, orange and purple with romantic tea lights enlighten the table. A yellow lemon on each plate gave the Amalfi coast touch to the wedding.
Do enhance all with a more romantic touch, we decorated the whole perimeter of the area with lots of glass vases of different height with water and floating candles. The final result was stunning!
Bougainvilleas plants in purple decorated all pillars, giving the idea of being set into a natural garden.
The wedding cake was served at the end of the wedding reception dinner. It was a white layered cake all decorated with purple and red big peonies with its base surrounded by small candles.
After the cut of the wedding cake, party began with bride and groom's first dance. Then the dj started making people dance up to early in the morning. Group booked the venue in exclusive use for them.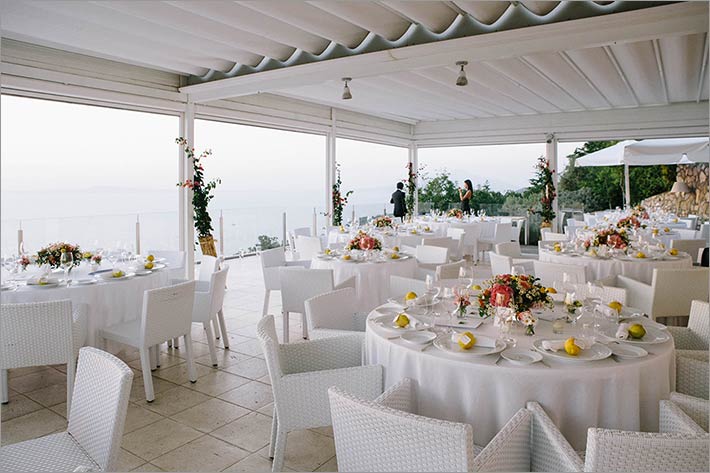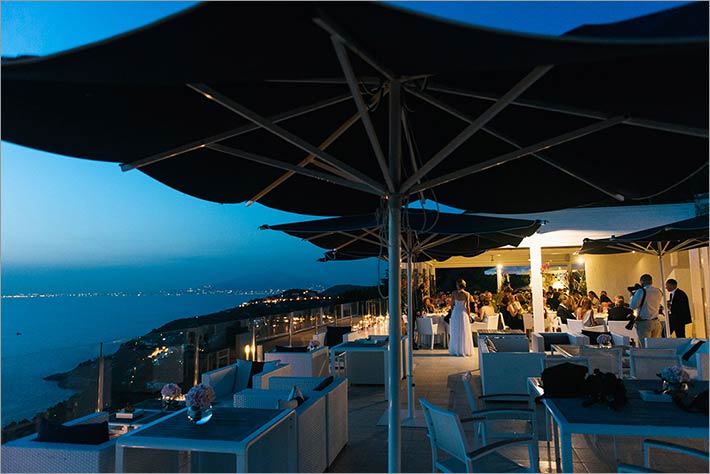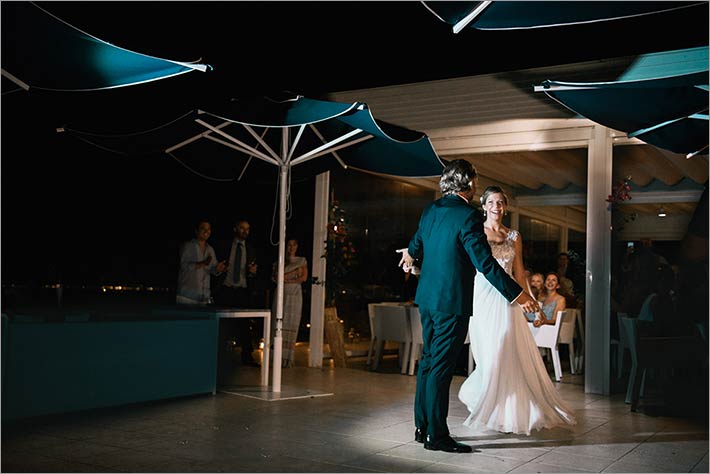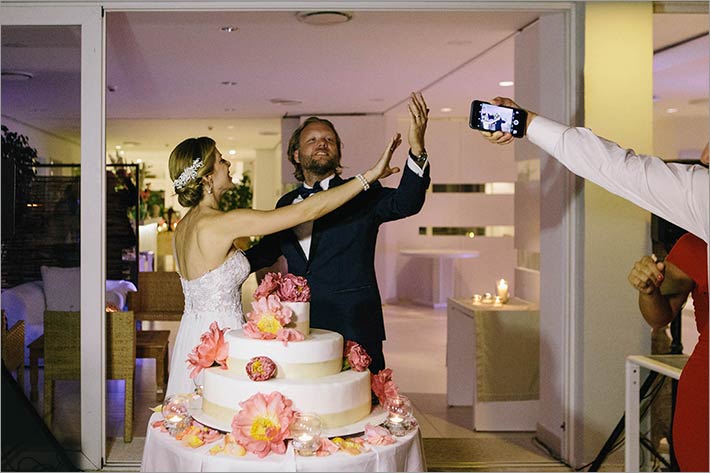 It's been an amazing party, wedding guests enjoyed the landscape of Capri island with its romantic lights dancing and relaxing on white couches drinking a cocktail. A great atmosphere and a great wedding party to remember.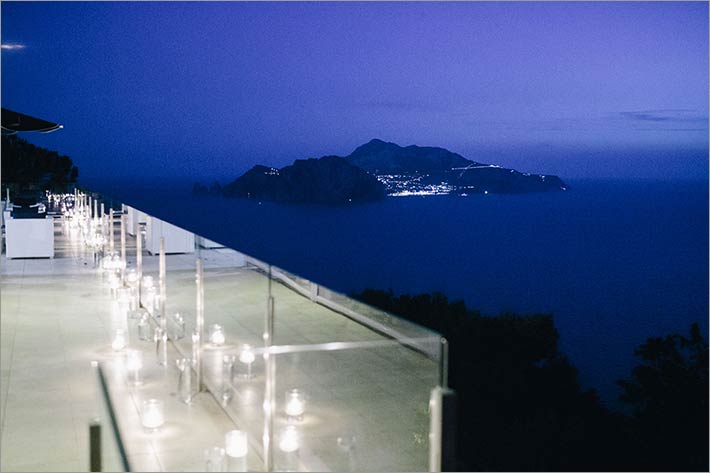 We wish to thank ALESSANDRO ZINGONE for the amazing pictures of this fairytale wedding in Amalfi Coast overlooking Capri island.