Wedding at Castello Tafuri, an amazing venue in front of beautiful Sicilian sea
Posted at 15 March 2020
in
Sicily
Today I'm pleased to tell you about Guia and Mario's wedding at Castello Tafuri in Sicily. Working in Sicily gives me the chance to organise weddings in charming destination all different one from the other Guia and Mario's wedding is surely one of them.
Our bride and groom decided to plan both wedding ceremony and reception in a single venue: Castello Tafuri. The castle is overlooks the sea. It stands on a rocky cliff over the bay of Portopalo di Capo Passero, on the southern tip of Sicily, in province of Syracuse. The venue is located in a unique and exclusive position. It is just in front of the island of Capo Passero and next to the ancient Bruno di Belmonte tuna fishery. It stands out on a blue and crystal clear sea.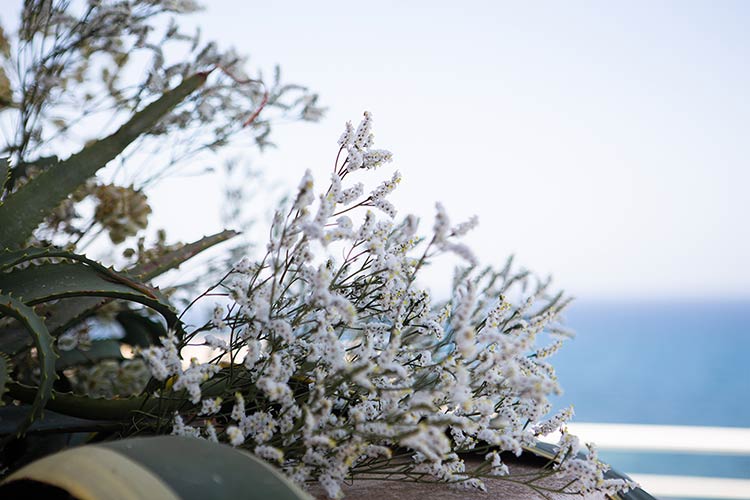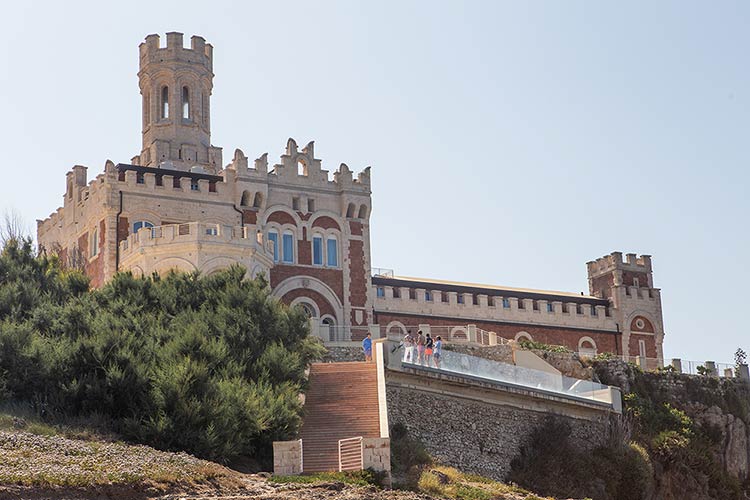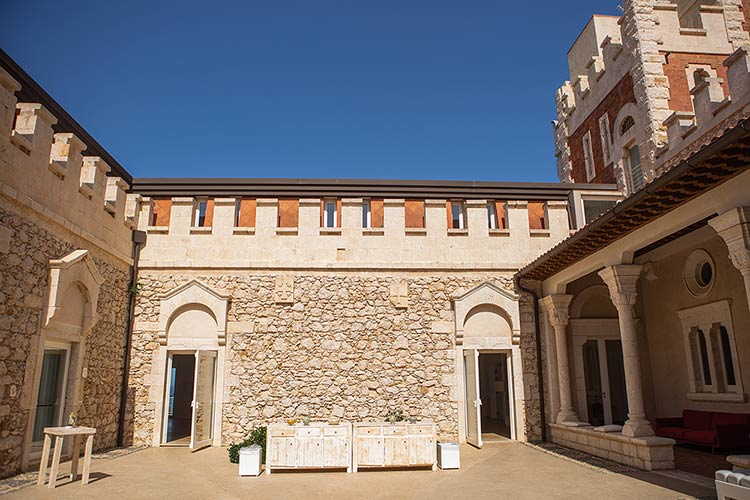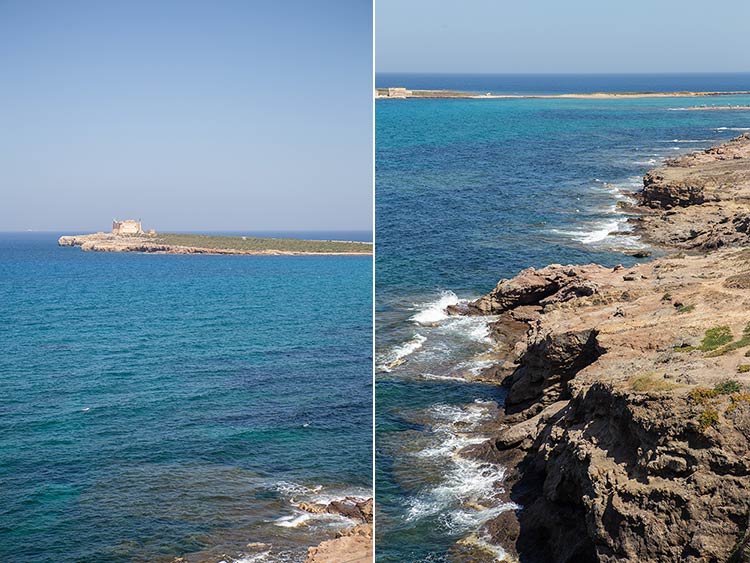 Wedding at Castello Tafuri in Sicily
A civil ceremony in front of beautiful Sicilian sea
Bride and groom chose to celebrate their civil ceremony in one of the big terraces overlooking the sea. An enchanting panorama that left guests and friends without words. Everything took place in a relaxed and informal atmosphere. The arrival of the bride got everyone really excited. Her beautiful bridal bouquet made of craspedia flowers enchanted everyone! Their yellow color in contrast with the blue of the sea gave a burst of joy and happiness.
The whole wedding ceremony was incredibly emotional. But the most exciting moment was the exchange of wedding vows. The emotion in groom's eyes moved everyone.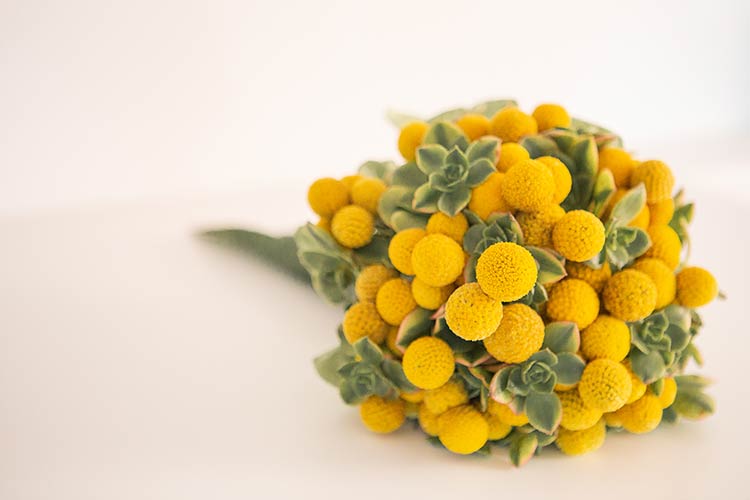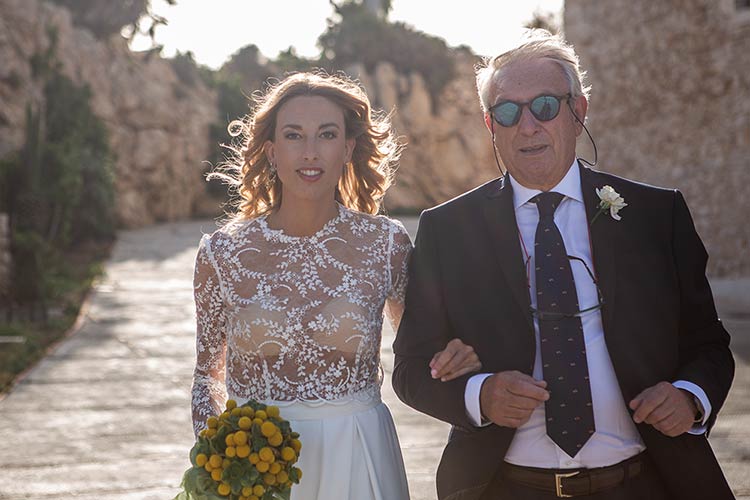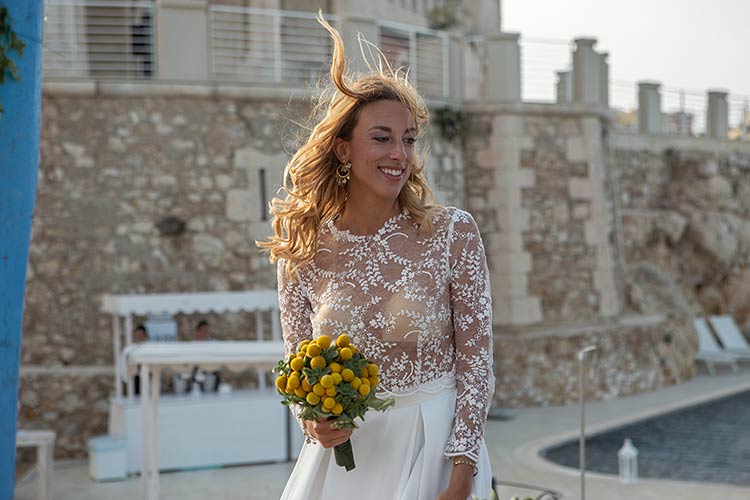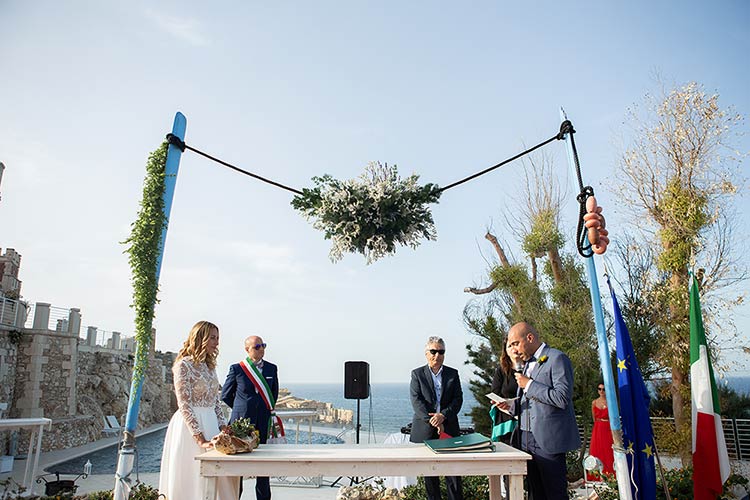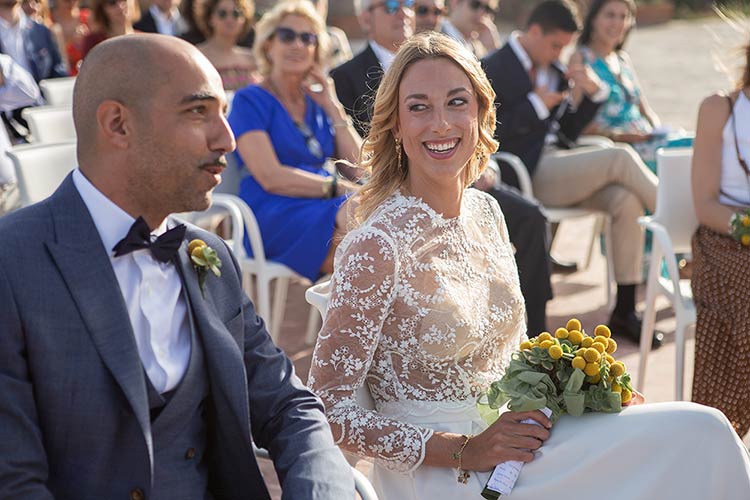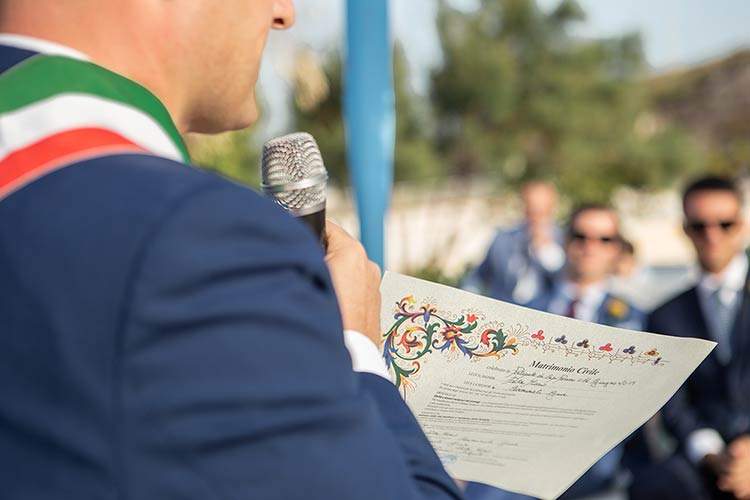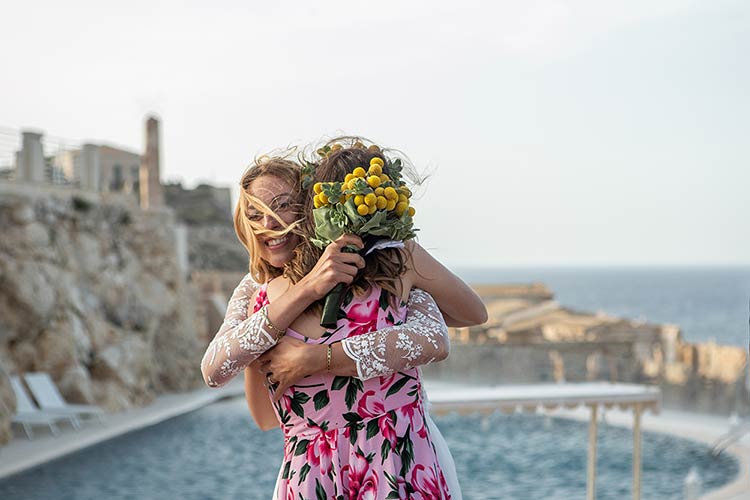 Wedding at Castello Tafuri in Sicily
A real wedding in a typical Sicilian style
After the traditional wedding pictures with friends and relatives by the infinity pool overlooking the sea. All guests moved to the terrace of the castle where there was a beautiful imperial table ready for them. Here the colours and scents of Sicily were all well represented. Wedding floral Arrangement were made of broom flowers, a typical flower that grows on the volcanic soil of Volcano Etna, aromatic herbs and lemons. The wedding reception table was even more beautiful with the small favours that the bride and groom wanted to give to their guests: a terracotta tile decorated with a Sicilian style. Just loved it!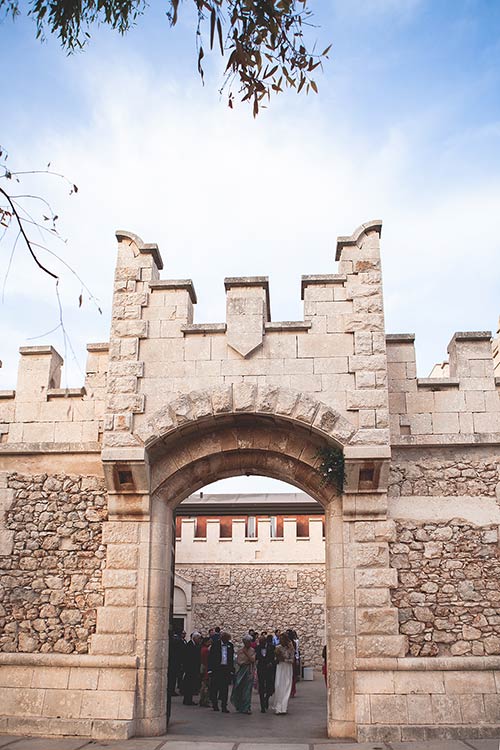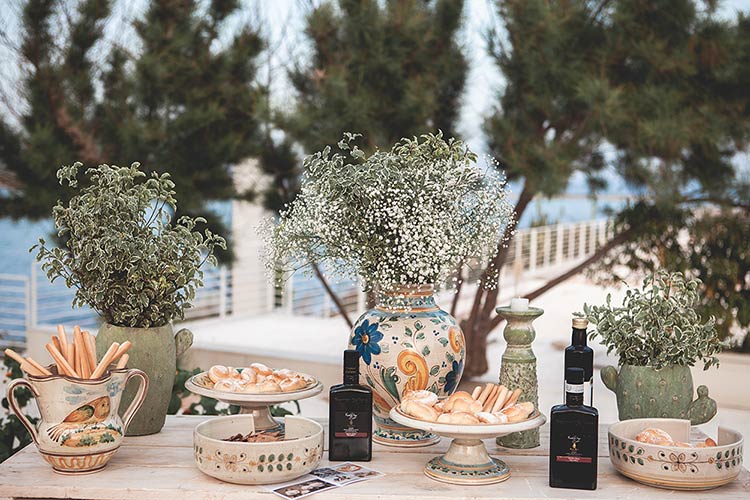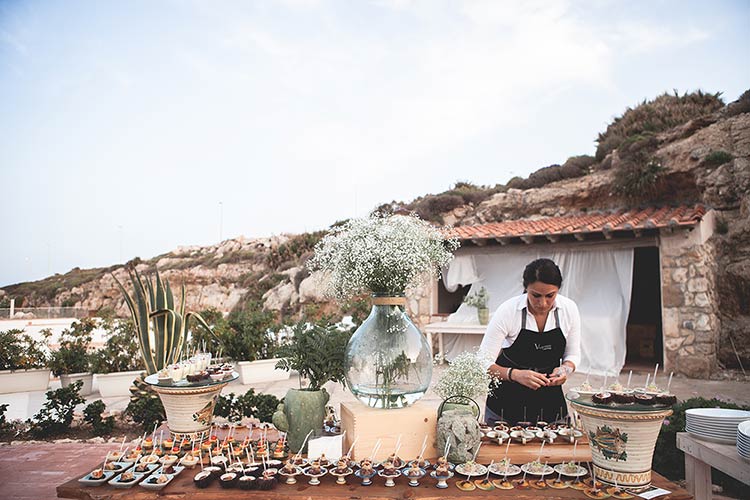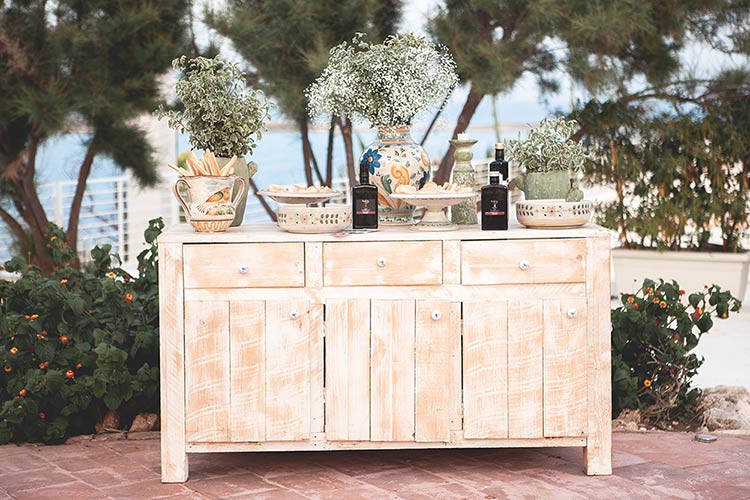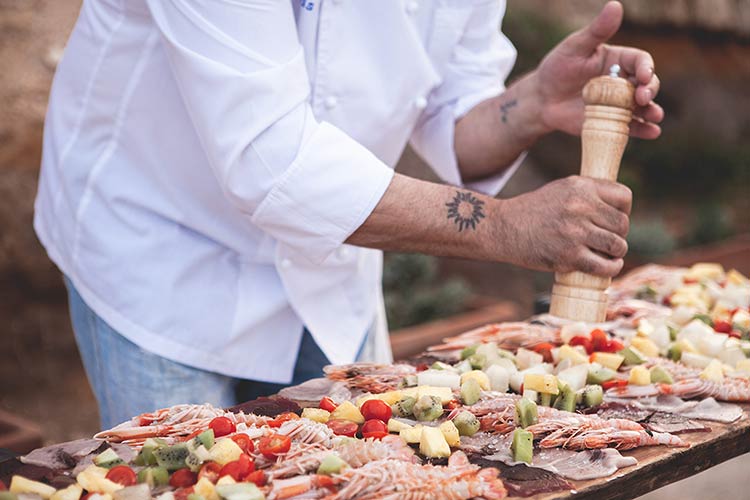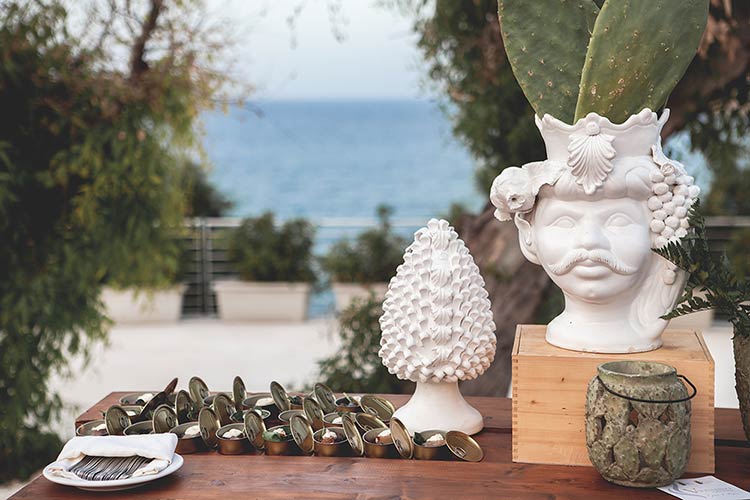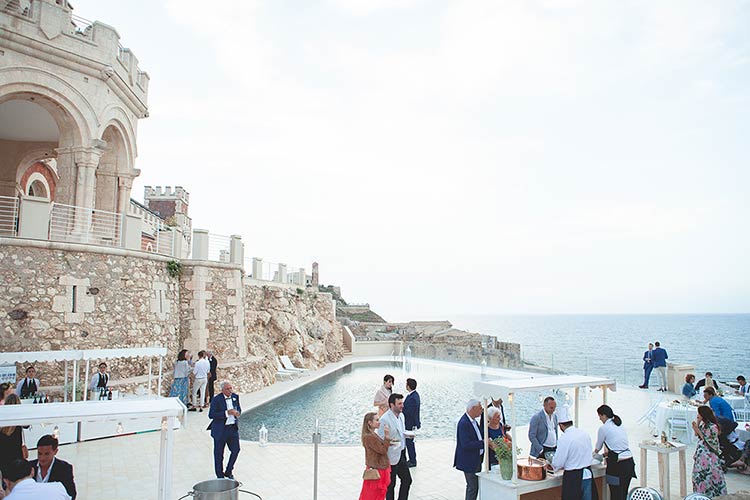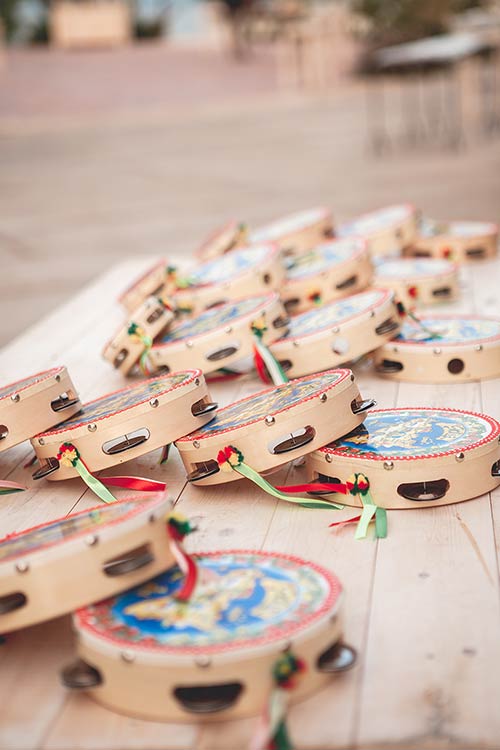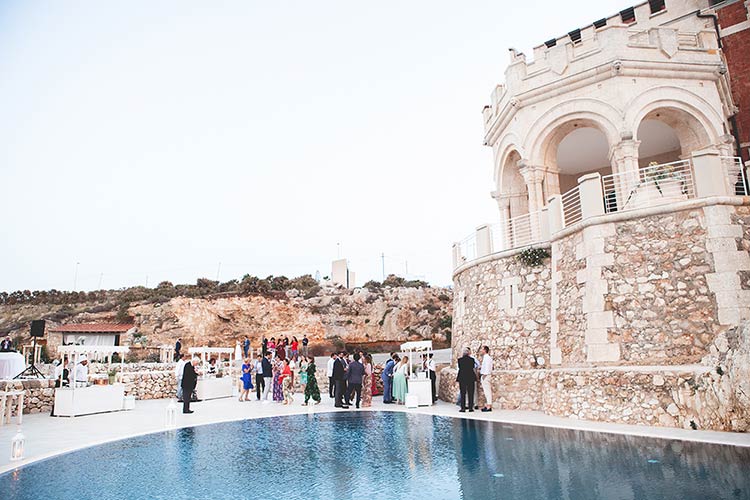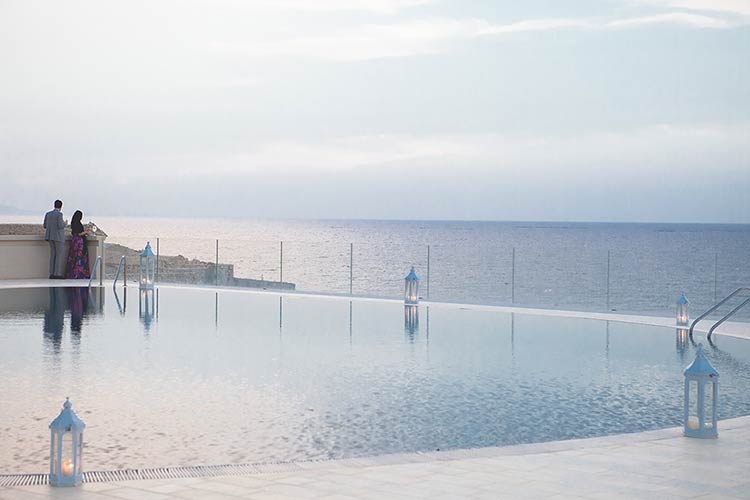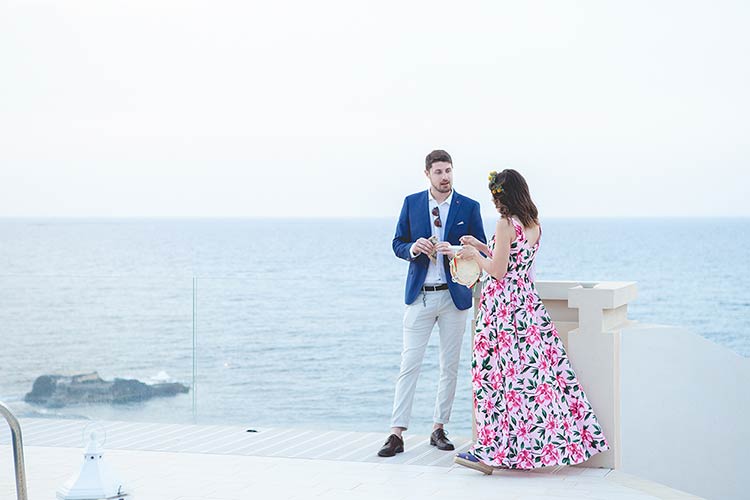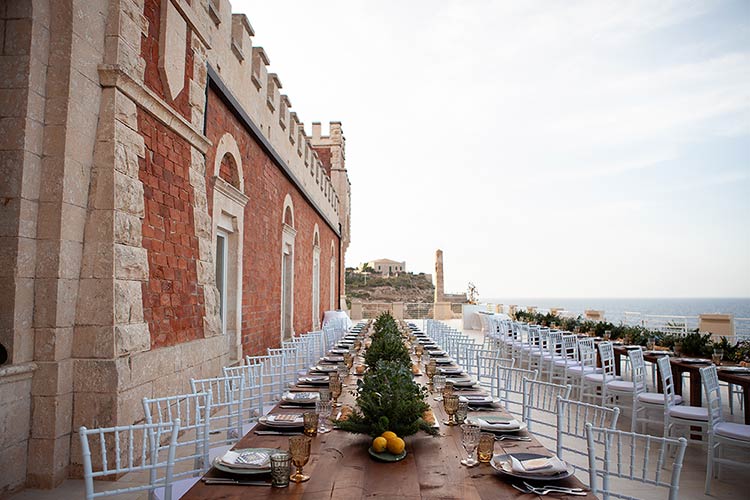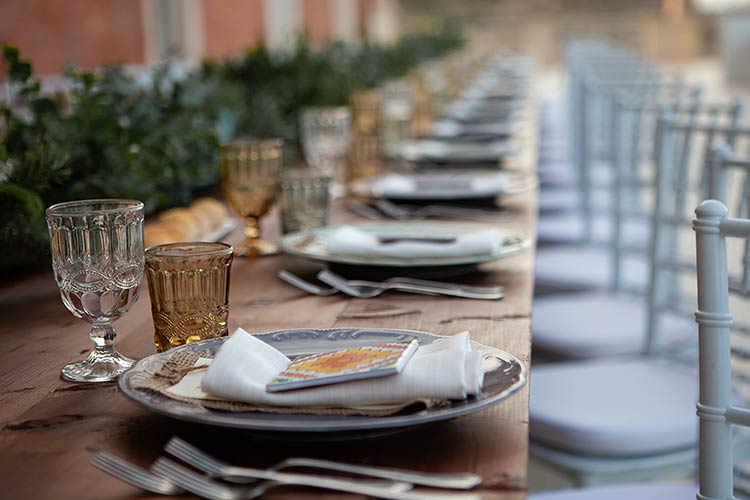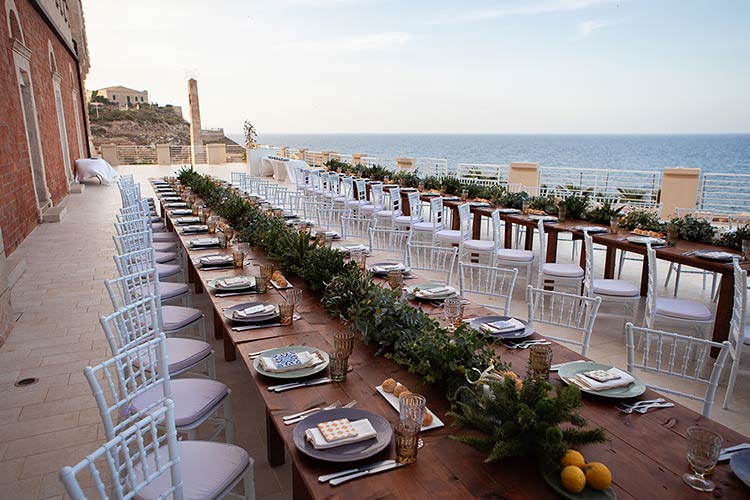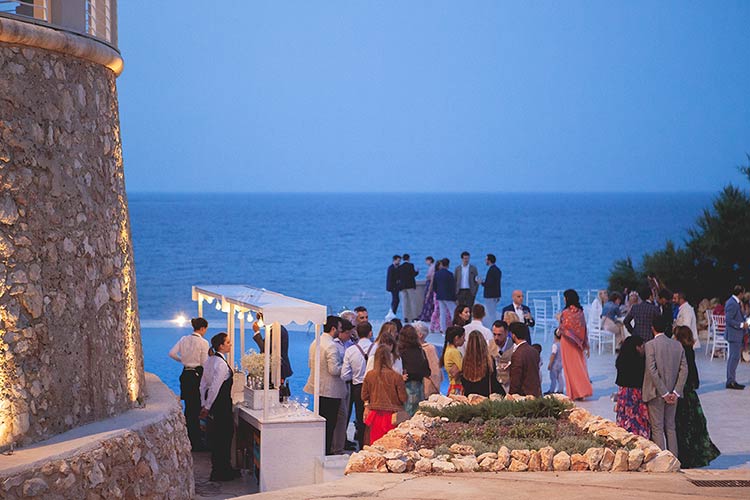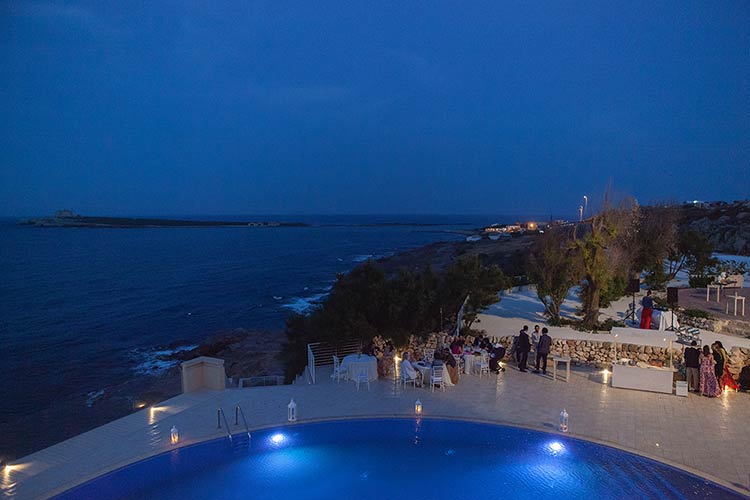 Wedding at Castello Tafuri in Sicily
Wedding reception at Castello Tafuri, a traditional Sicilian castle
Under a starry sky wedding reception dinner began with a large welcome buffet made of traditional Sicilian dishes. Cutting of the cake moment was really appreciated by all guests. A large natural wooden table in front of olive trees made the atmosphere just magic. Bride and groom really enjoyed every single second and every single picture in front of this large cake decorated with traditional Sicilian designs.
After the cutting of the cake we opened sweet buffet bug with the traditional Sicilian confettata, a tasting of sugared almonds in various types such as almond an pistachio. A deliciousness that everyone really liked. The funniest moment was surely the beginning of the dances! Bride and groom and all their guests went wild in Sicilian dances using the famous tambourines. Fantastic!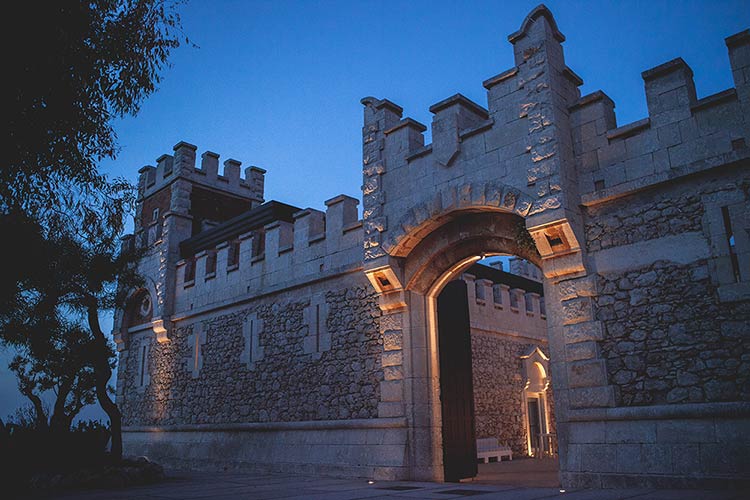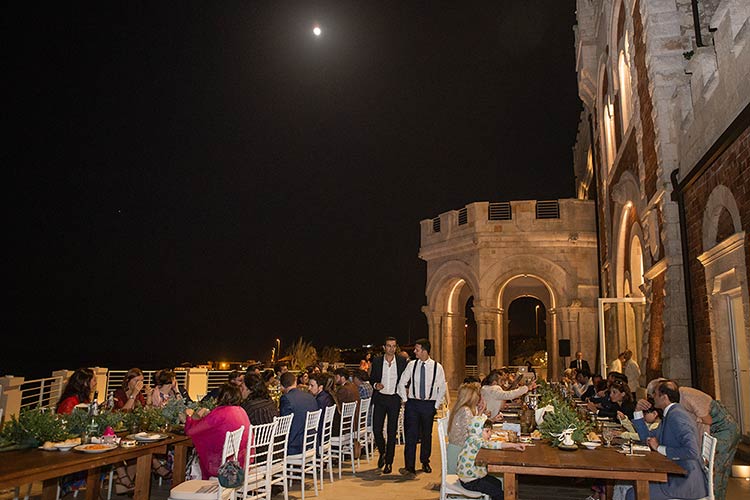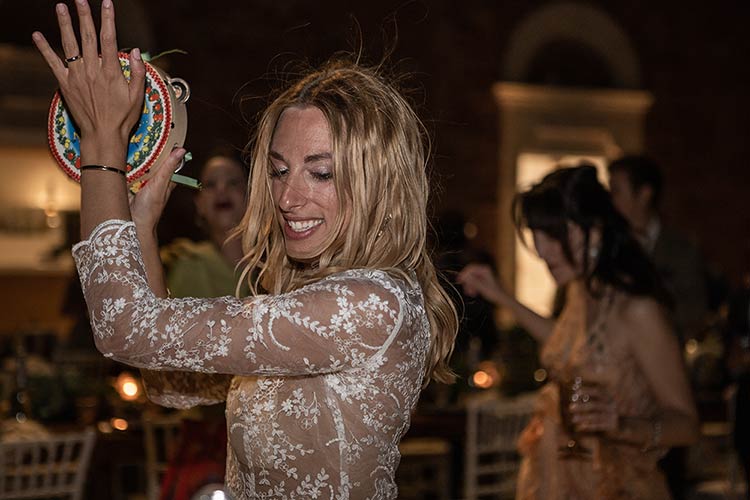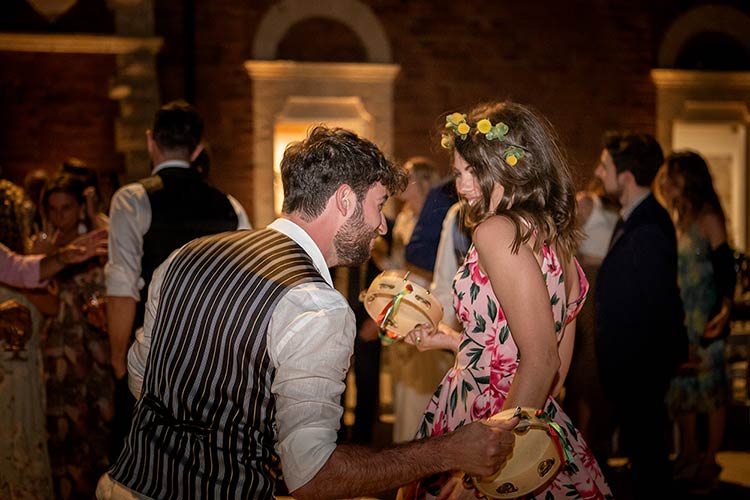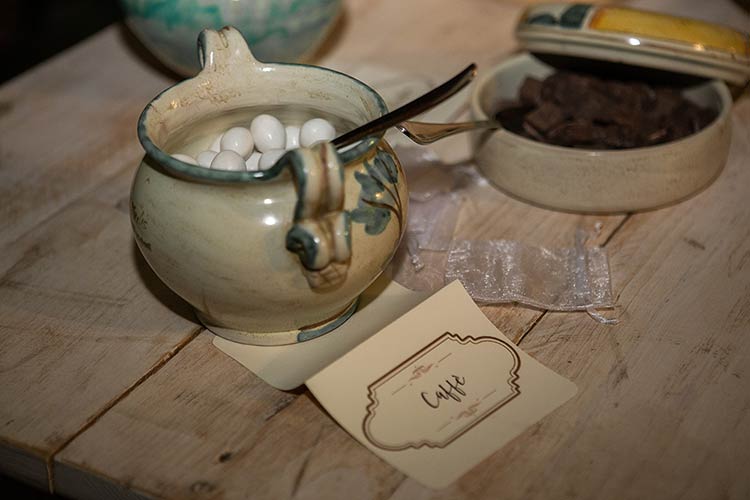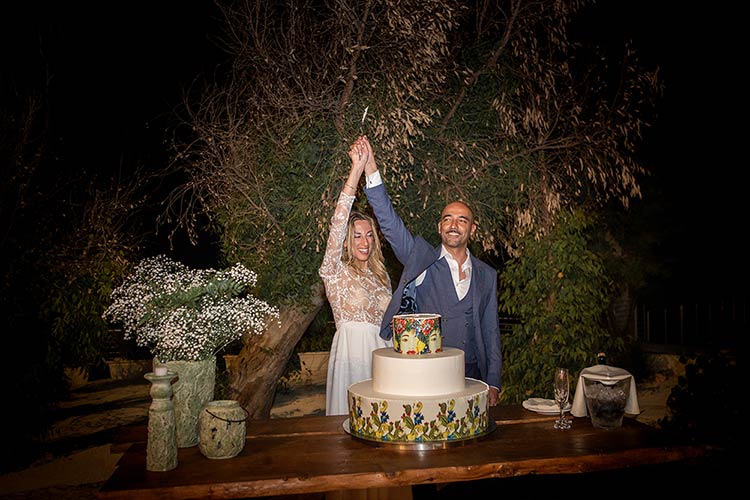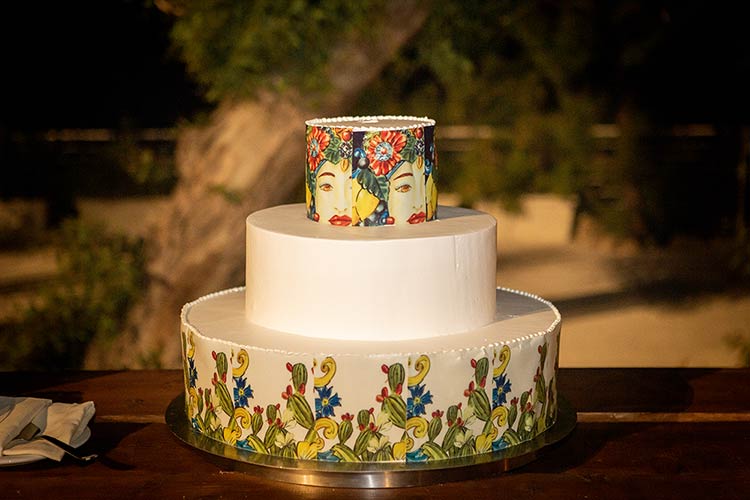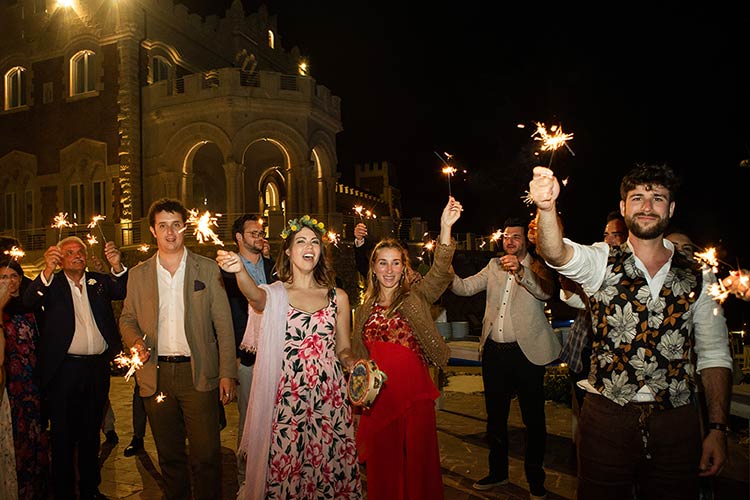 A special thanks Karen Boscolo photography to take these amazing photos of Guia and Mario's wedding at Castello Tafuri. Thanks for giving us these beautiful shots!
Did you enjoy the wedding we planned in Sicily?
Contact us, we will be happy and proud to plan your special wedding in Sicily!