A stilish elope in Positano
Lili and Luke are a lovely couple coming from Australia. They decided to tie the knot in one of the most romantic villages of our Bella Italia: Positano on Amalfi Coast. The opted for an intimate event, a stylish elope in Positano.
Positano is one of Italy's most romantic vacation spots and one of the top Amalfi Coast towns to visit. It is located at the centre of the famous Amalfi Coast south of Naples. Just across the town there are Le Galli islands, three little islets. Legend says it was the residence of the mythical Sirens from Homer's Odyssey.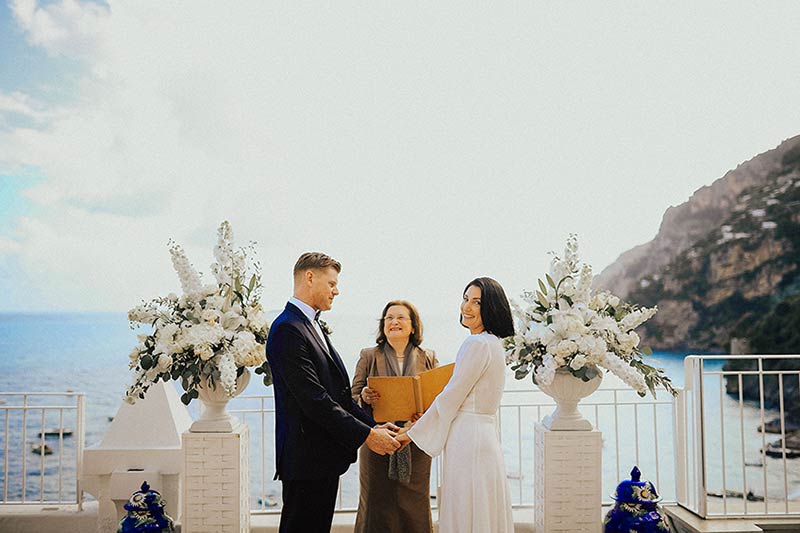 The closest airport is Naples. The best ways to get to Positano are by boat or by bus. Positano can be reached by bus from either Sorrento or Salerno, both of which can be reached by train from Naples. So all very easy!
Ferries to Positano leave from Sorrento, Amalfi and Salerno although less frequently outside the summer season.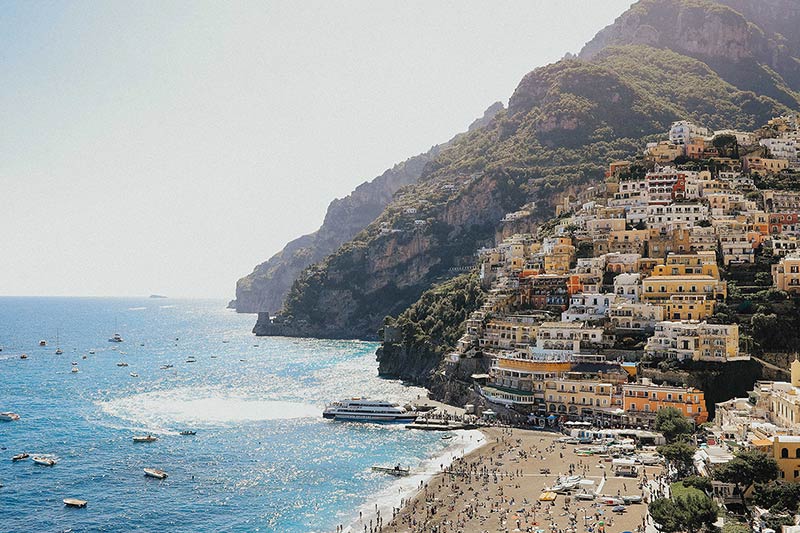 Positano a dreamy destination for your wedding
Positano was built vertically on the face of a cliff. It started out as a fishing village and it became popular thanks to famous writers and artists visiting the island in the 1950's. Today it is a fashionable resort yet still retains its charm. Positano is a pedestrian town and its pretty pastel-colored houses with flowers make it very picturesque. Because of its mild climate, it can be visited year round although the high season is April – October.
Swimming in the crystal clear waters and get some sun on the beaches, both pebbles and sand, are tops on the Positano to-do list.
By the seaside, you can shop or have a fantastic seafood meal along Spiaggia Grande.
Stroll along Via Cristoforo Colombo and enjoy the shops, luxury hotels, cafes, and fantastic views.
Positano has many high-end fashion boutiques and Moda Positano is a recognised fashion label all over the world. It's also a great destination to buy sandals and footwear. Shoemakers can make shoes on request while you wait. A perfect choices for your Italian wedding shoes! Limoncello, a lemon alcoholic drink, is popular all over the Amalfi Coast and this could be the perfect drink for your wedding toast or wedding favour.
Lili and Luke's romantic elope in Positano
Now let's go back to Lili and Luke's romantic elope in Positano!
They decided to have their beautiful wedding ceremony on the terrace of a private suite at the hotel Villa Boheme. It's a luxury hotel located in Positano with a stunning view of the bay.
Lili had clear ideas about her wedding decorations: she wanted soft and natural flower compositions both for the ceremony and for her bridal bouquet.
She wore an elegant minimal wedding dress that underlined her beauty and it matched perfectly the soft colours her wedding bouquet.
After a touchy ceremony, bride and groom cut a delicious little wedding cake, decorated with flowers matching the whole wedding style. After this little precious moment for them bride and groom had some wedding pictures inside Positano, along the narrow beautiful streets full of coloured shops.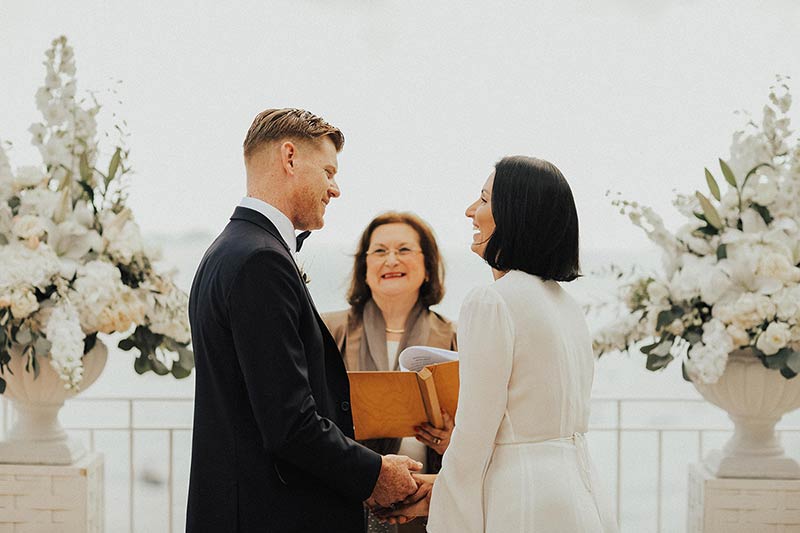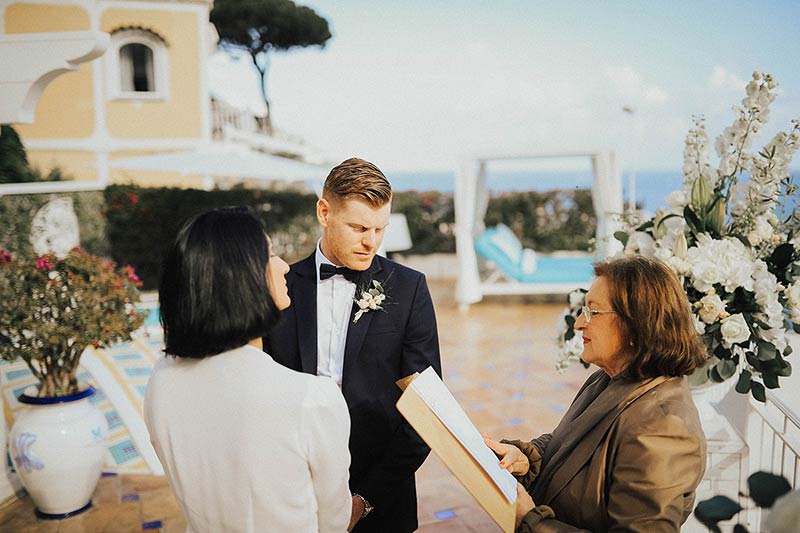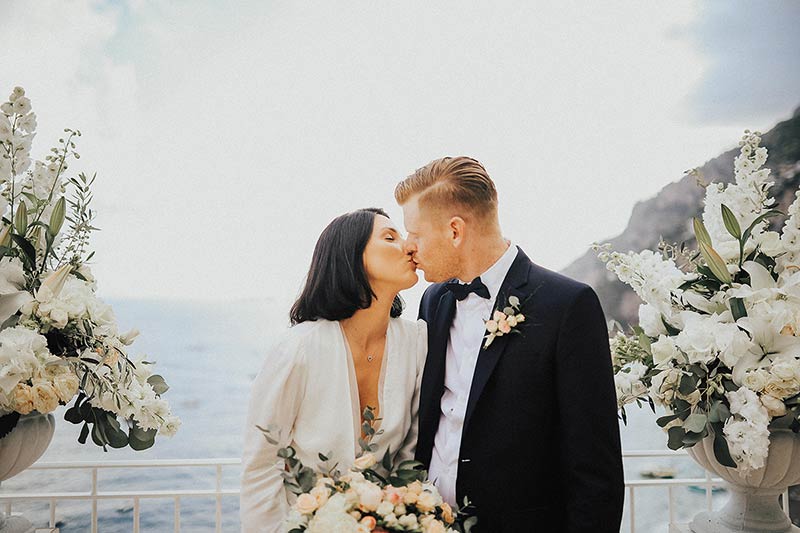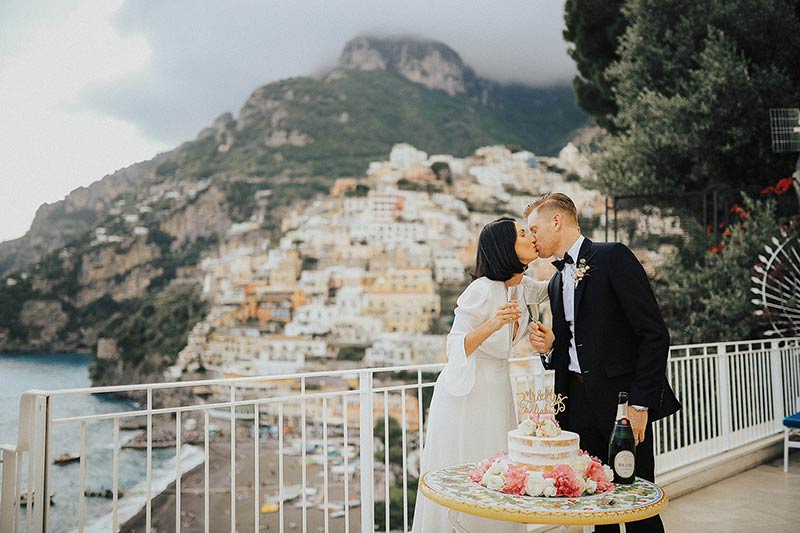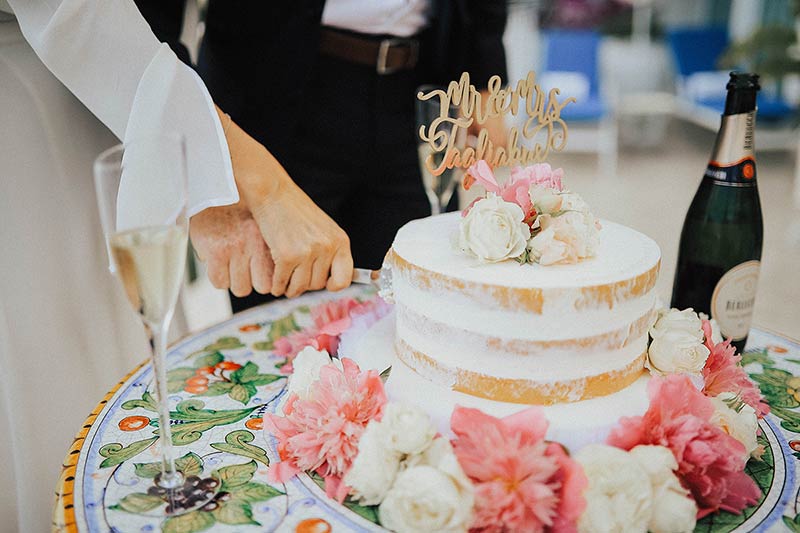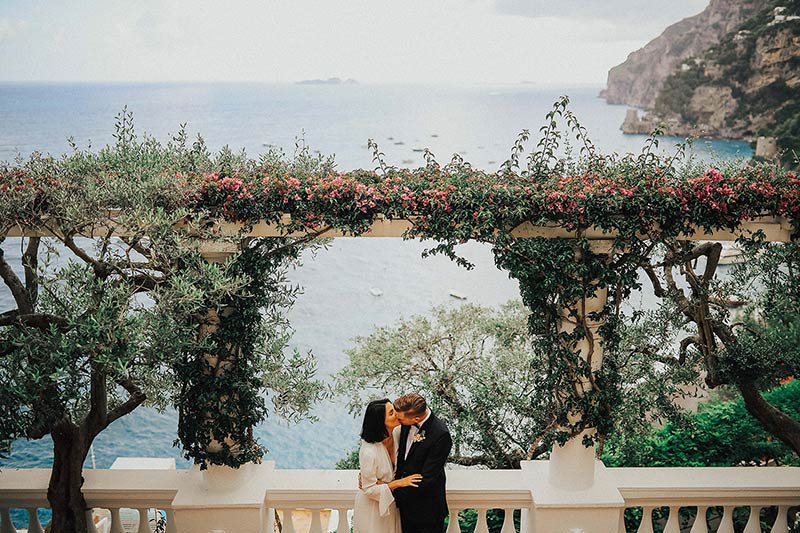 An amazing boat tour at sunset
Once they arrived at the harbour the opted for some pictures on the beach and a tour with on a boat, where the wedding photographer had the chance to take amazing wedding shots.
At sunset, with that sea and that landscape, the moment was absolutely unforgettable.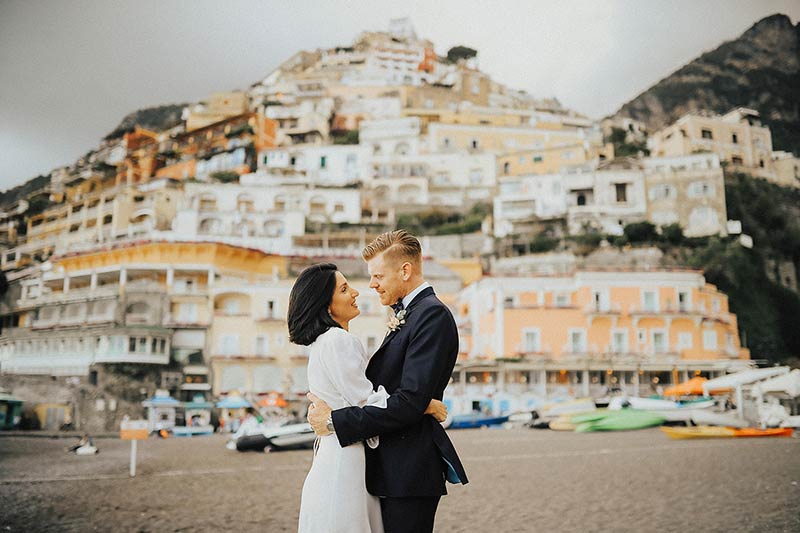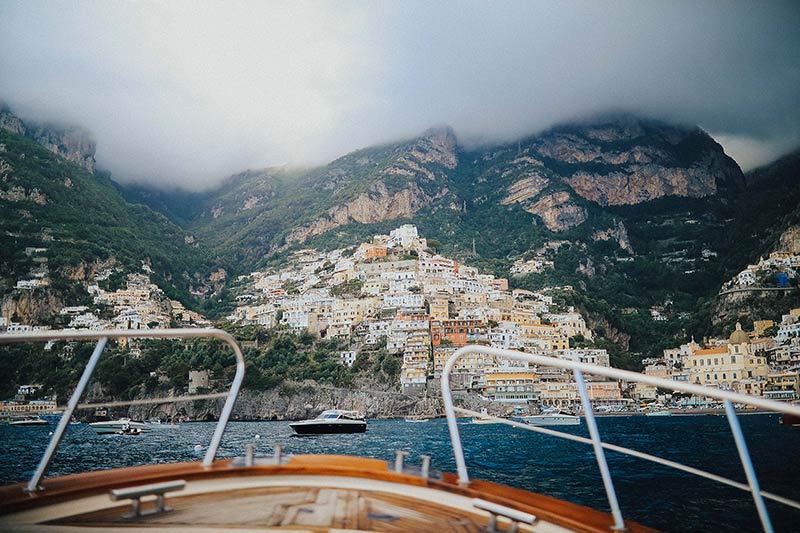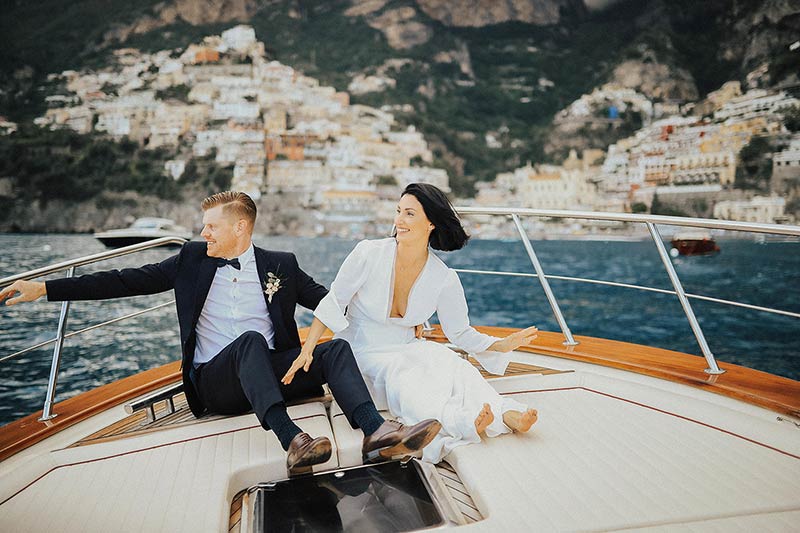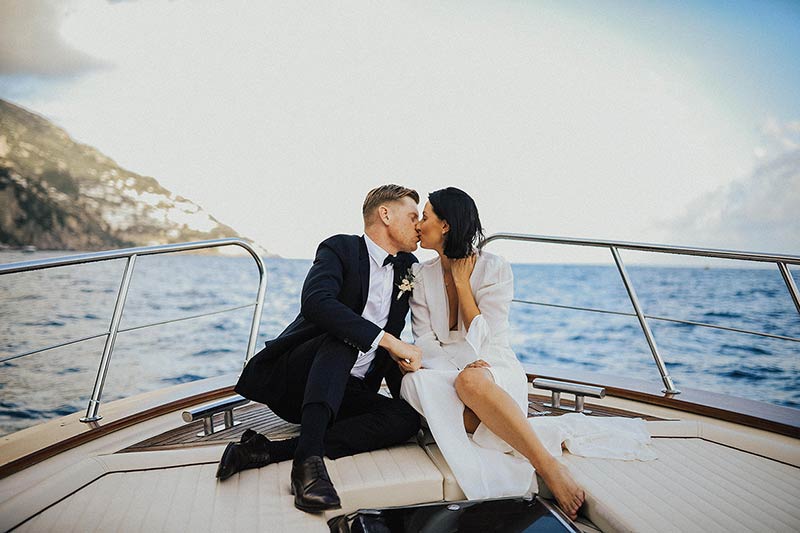 Bride and groom got back to the harbour and they reached their wedding dinner venue. We chose elegant Rada restaurant, facing the sea and beautiful of Positano by night. What a great way to end a stylish wedding in Positano!
We wish to thank Ivan Lastorina for the amazing wedding pictures.
Did you enjoy the wedding we planned in Positano?
Contact us, we will be happy and proud to plan your special wedding on Amalfi Coast!