A Festival Wedding… Fellini style in Puglia!
A wedding like a country party is definitely one of the most fascinating and loving trends that Puglia has to offer during summer months.
A real feast for the bride and groom and for all their guests. An Italian feast where people will discover traditions, history, folk tales, tastes and customs of Southern Italy old villages. Just like being in a Fellini movie!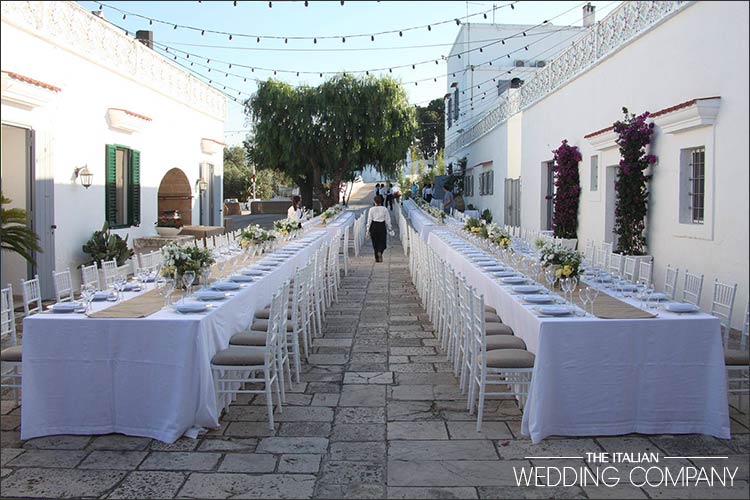 In an intimate quiet atmosphere that you can experience in Apulian villages like Cisternino, Locorotondo, Ostuni, Martina Franca and again, Ceglie, Monopoli, Fasano, Savalletri. These are only some of the most precious Apulian villages.
All of them are very well connected and close by to the two main airports of Brindisi and Bari. What you are waiting for?
Warm and sunny Puglia is waiting for you!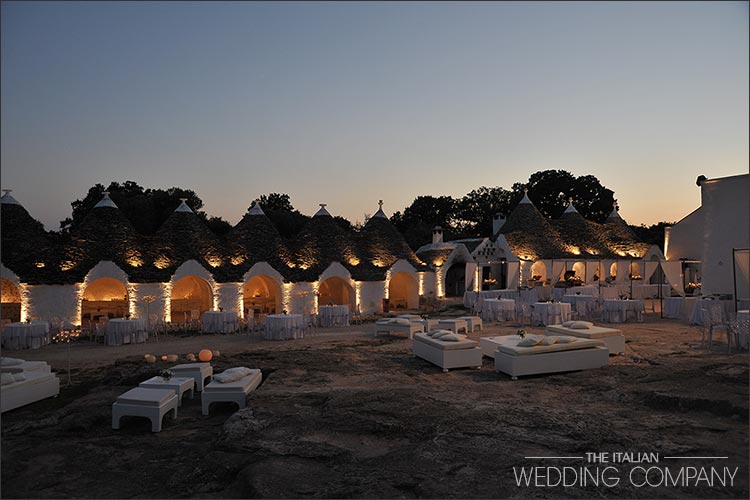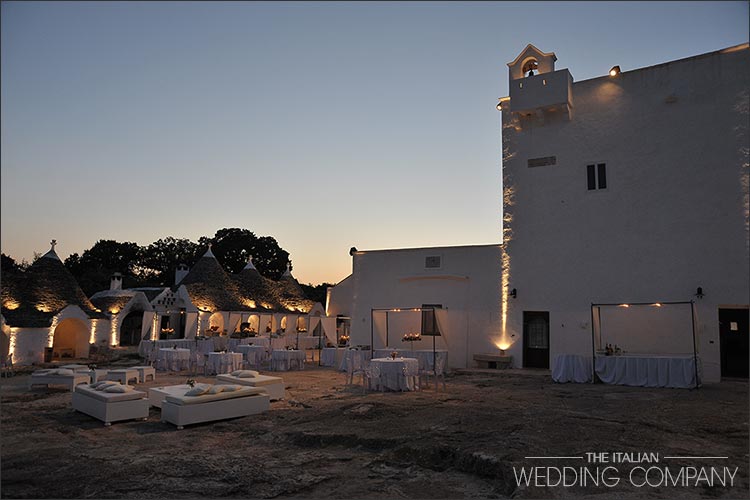 If you have the chance to visit these wonderful destinations you will easily get lost among the vineyards, mosaics bordered by dry-stone walls, vast olive groves, fruit orchards in old farms, old farmhouses and mansions and our typical Apulian houses: trulli. They could be the perfect atmosphere for a traditional Italian wedding!
In these natural settings you could easily plan a vintage style wedding or a country chic themed wedding.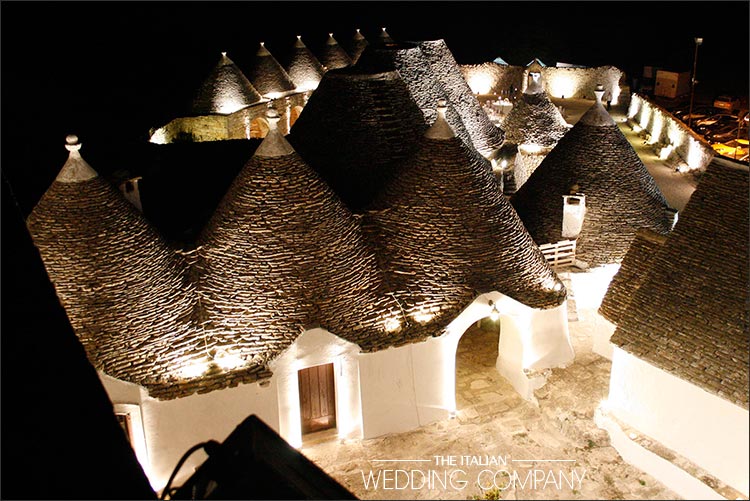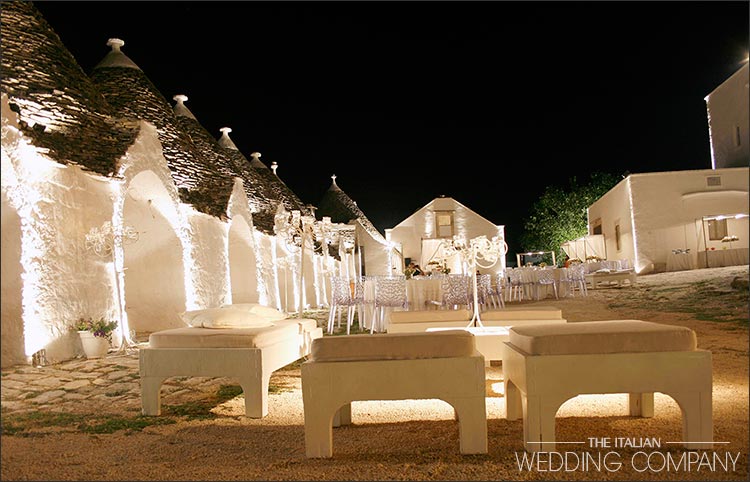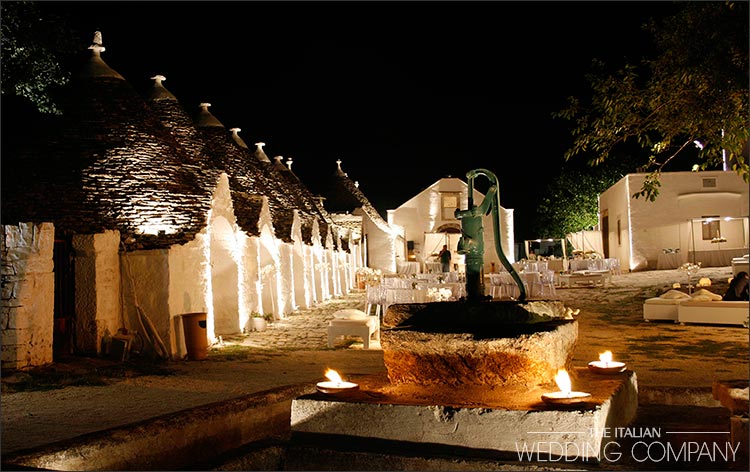 Thus a square of an old farmhouse, an atrium of a complex of trulli, could be the right place for your ceremony or better for a wonderful feast. Festive decorations for a simple but stylish wedding.
We will create a festive atmosphere with long wooden tables of conviviality, hospitality and joy of being.
You could mix guests of all ages and also kids to experience a wonderful Italian familiar style wedding. Your Apulian wedding will be remembered by all as a party in which patterns and formalities are absent.
Wedding decorations can be done with simple wildflowers as they are taken from the field, poppies and ears of corn or why not? Baskets of fruit freshly picked from neighbouring fields.
Wicker chairs or long wooden benches for your aperitif, simple white linen tablecloths, or embroidered cottons ​decorated by expert hands of elderly Apulia ladies to cover the large wooden tables of your wedding reception.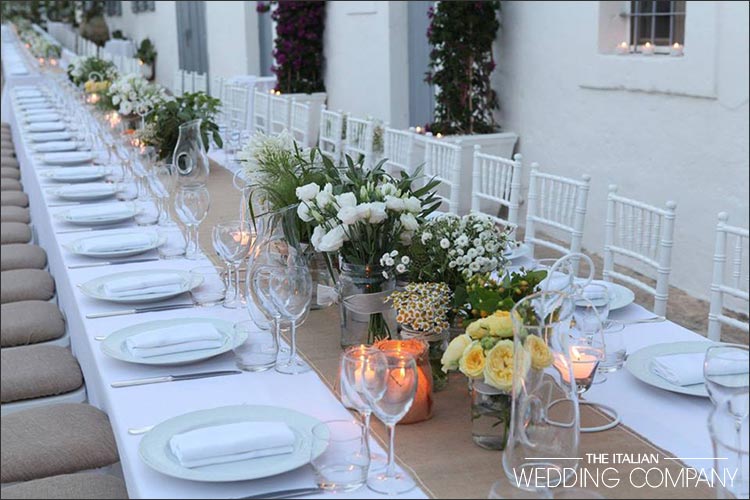 Architectural lighting or fairy lights will play an important role to create a warm atmosphere. In Puglia we have the so called luminarie. They are all handmade wood lights decorations featuring multi colourful light bulbs.
Now you will really feel to be in a Fellini movie. Isn't it what you always dreamt?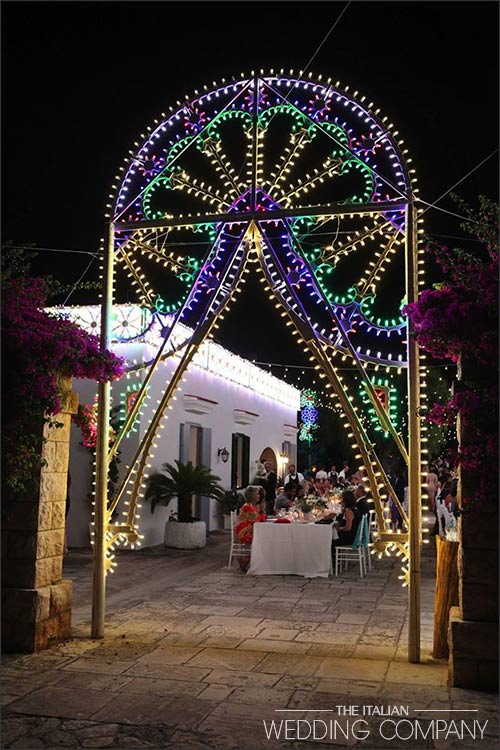 Luminarie in Apulia is a very old tradition. It has been always done to decorate small, family-run shops during festivities and passed down from generation to generation up to our days.
Now you can really use Luminarie – traditional Apulia architectural lighting or fairy lights – for your wedding. It could be a very special touch for your evening reception.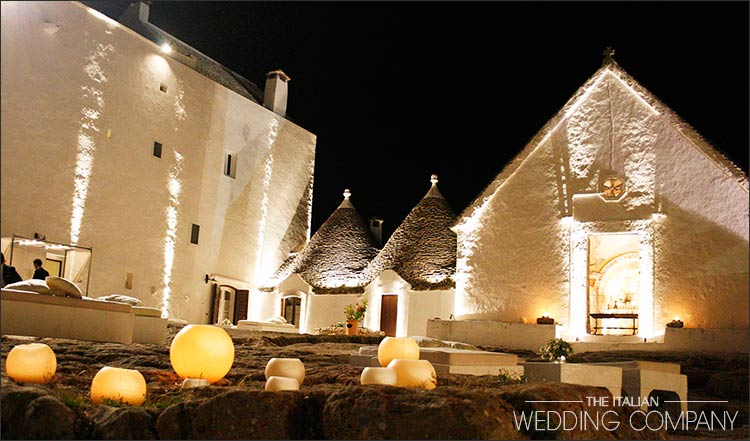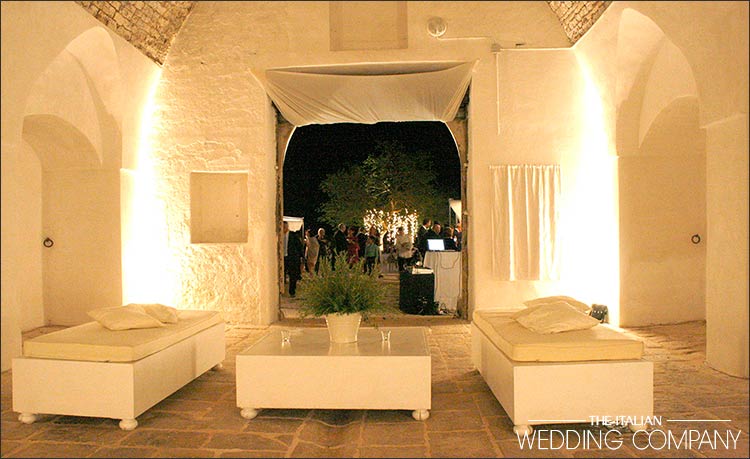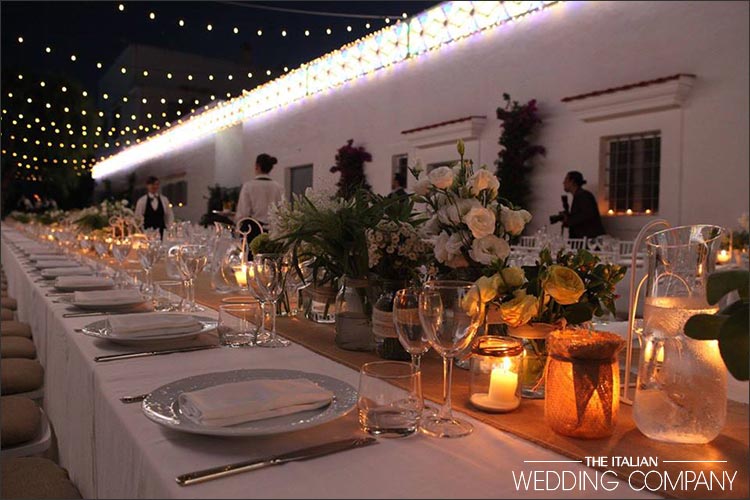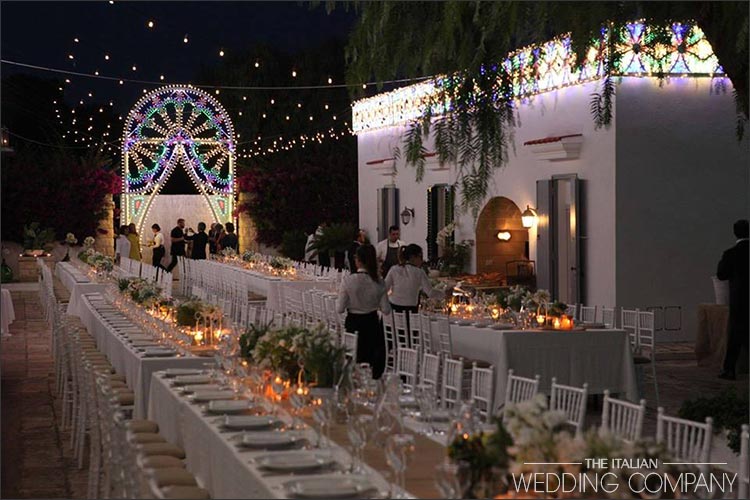 On your wedding meal you will taste traditional Apulian food and wines and and all ingredients will be local and eco friendly.
Bread and white pizzas will be cooked in wood-burning ovens that are very easy to find in these Apulian rural venues. Dairy products of the area, famous mozzarella and burrata, local meat, famous orecchiette fresh pasta – that we can translate into small ears – and inevitable local red wine with its sharp flavour.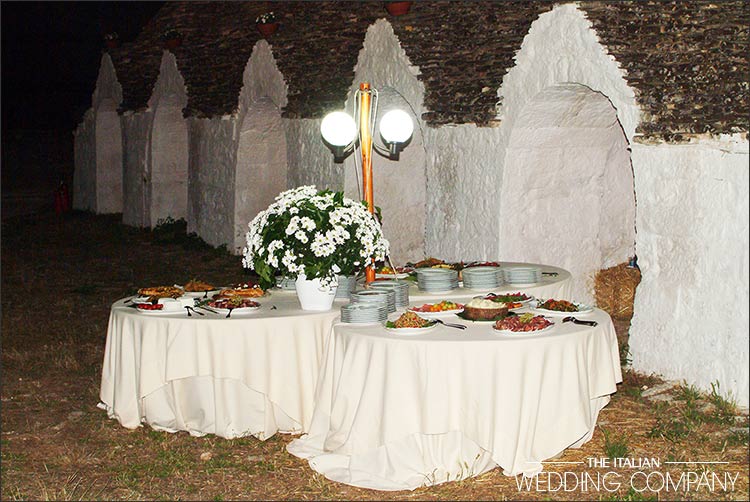 Your traditional wedding cake could be a simple and romantic one tiered cake as per Italian tradition, decorated with seasonal flowers or fruit.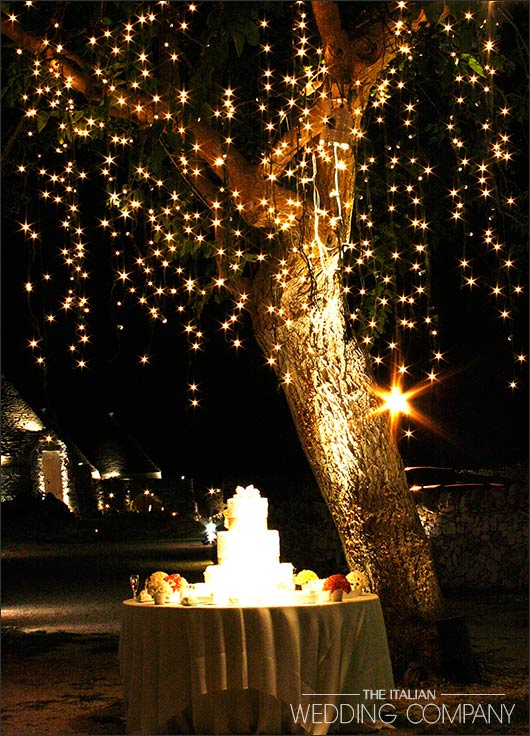 And what about the music?
A small band will play songs of our southern tradition, accompanying dances and folk dances like taranta and pizzica.
The upbeat sound of percussions and hands clapping will make you dance as you never did!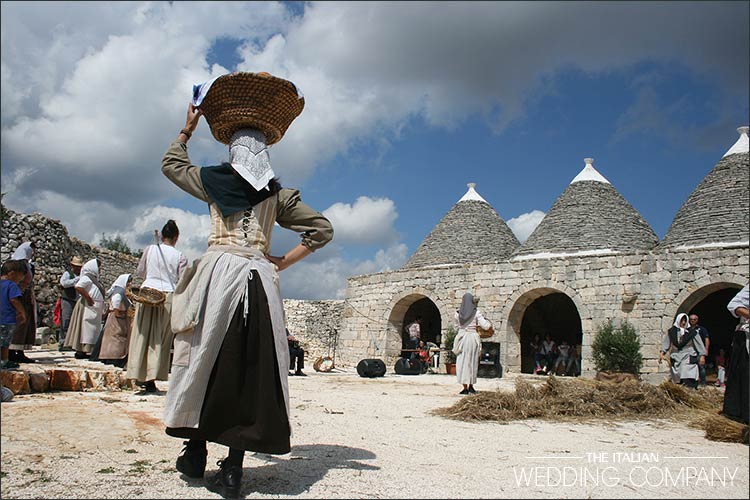 Everything in your wedding will be like a real village festival or just like in a Fellini movie.
Your guests will be completely involved and you will all love with sounds, colours, lights, flavours and scents of your Made ​​in Apulia wedding!
CATERING EQUIPMENT AND FURNITURE HIRE BY BUSSOLINI GROUP SRL